In your bag No: 520, Andrew Roos
A bit later than usual, but never fear, I always have something lovely for you. And todays bag is lovely. With a great Bronica setup for you all to drool over. Check it out.

Thanks for an interesting and informative website – I especially enjoy your brief overviews of various classic cameras, as well as the "In Your Bag" posts. So I thought I would send you my bag in case it is of interest.
I live in Durban, South Africa, and my real love is landscape photography. I started off with a DSLR about five years ago, but switched to film at the beginning of last year, building myself a small darkroom in the walk-in closet in my bedroom. My bag is a Lowe Pro Fastpack 200 which has two main compartments: a padded one with dividers for camera equipment, and an un-padded upper section that can be used as a day-pack. This suits me very well as I love hiking in the Drakensberg mountains.
My camera is a Bronica ETRSi which is quite small and light for a medium format (6 x 4.5) camera. It uses leaf-shutter lenses, which are fantastic for landscape photography because when used with mirror-lockup there is virtually no vibration from the shutter, so a light weight tripod can be used even for long exposures. I use the 40mm f/4, 75mm f/2.8 and 135mm f/4 PE lenses. These are roughly equivalent to 24mm, 45mm and 80mm lenses with a 35mm camera. I prefer the 135mm to the more common 150mm because the shorter close-focus distance allows it to be used for detail shots. My light meter is the Gossen Luna-Pro SBC, which has excellent low-light sensitivity, making it ideal for pre-dawn shooting. I shoot on Delta 100 conventional black & white film, and the use yellow, orange and red filters to adjust the tones that different colours will have. My torch is useful to check camera settings on pre-dawn shoots. I carry spare batteries both for the torch and for the camera, since its shutter is electrically operated. The notebook is used to record location and exposure information.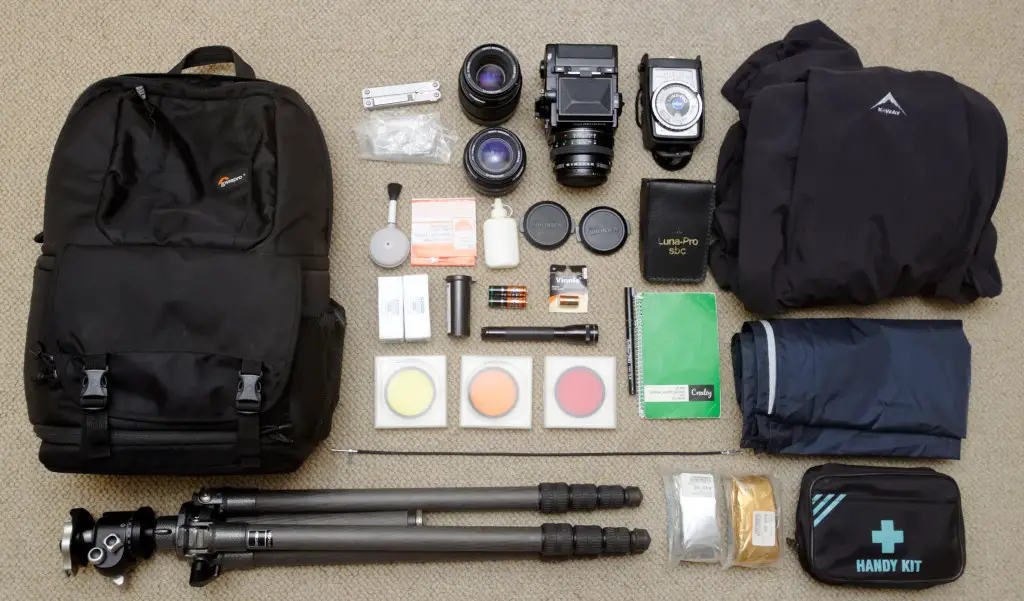 My tripod is a Gitzo 2540LVL, which is light but rigid. I use a Really Right Stuff BH-40 ball head and have a quick release plate on the ETRSi which makes attaching it to the tripod head quick and easy (although strictly speaking the tripod is not in my bag but is strapped to it). The plastic packet under the pocket knife contains Allen keys that can be used to detach the quick release plate if necessary to change the camera battery, and to tighten up the legs of the tripod if they work loose.
As well as the photography equipment, I carry some emergency gear when hiking. It is easy to sprain an ankle (or worse) while hiking, which might necessitate an unplanned overnight stay. In the mountains one can also be caught out by abrupt changes in the weather. This is why I carry two emergency blankets (one for myself, and one in case my hiking companion does not have one), an insulated weatherproof jacket, a waterproof poncho that is large enough to cover me and my backpack, and a first-aid kit. The first-aid kit has bandages, an ankle brace, disinfectant, and a few basic medicines.
Unfortunately most of my landscapes are not currently on the Internet as I don't have a decent scanner and I hate the results one gets with bad scanners. So I mostly just print my photographs in my darkroom for my own enjoyment.
All the best,
Andrew
Thanks for sharing your bag with us Andrew. I wish you had shared some links, as I am sure people would like to see your work.
Comments are welcome as always.
Keep them coming folks, we need more submissions, so get your bag on Japancamerahunter.com. Send me a hi resolution image of the bag (please make sure it is horizontal) and its contents, with some details about yourself and what you shoot. Oh and don't forget your contact details (twitter, flickr, tumbler et al). Send the bag shots here.
Cheers
Japancamerahunter