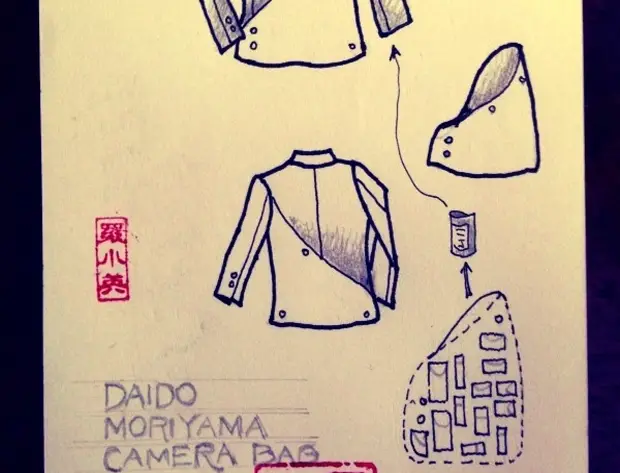 In your bag 469, Daido Moriyama No.1 By Atelier Ying
Atelier Ying aka David Lo was on the site recently with his amazing camera designs. He offered to do a special bag drawing for all of us and here it is. The first bag shot that is not a shot, but a drawing. Check it out.

DM Camera Bag in a Suit
atelier ying, nyc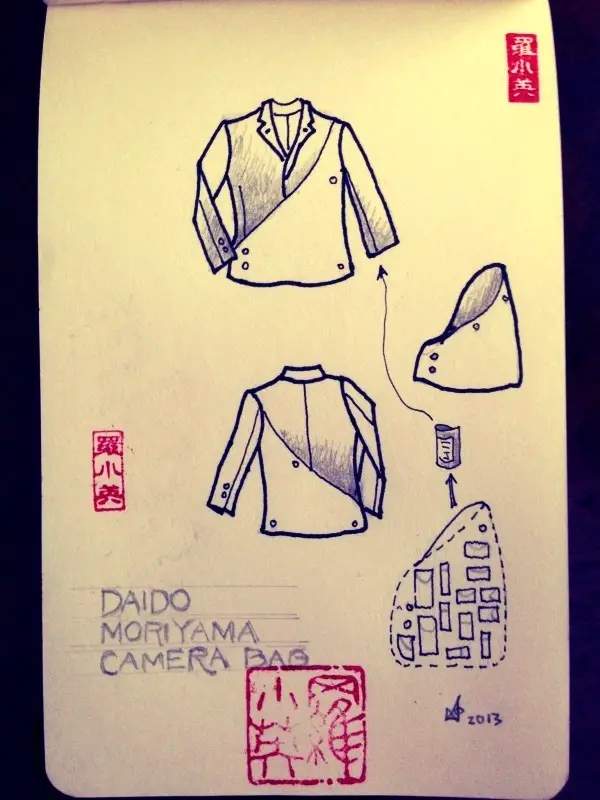 A bag design dedicated to the legendary Daido Moriyama so he can finally place his belt pouch into the street photographer's hall of fame. This jacket-cum-camera bag eliminates bulky pockets by redistributing the hefty contents all us street photographers think about leaving at home. I mean we all say we deal with 'workarounds' to things but what we really mean is that we don't want to carry so much baggage. This sad ailment also manifests itself clearly whenever we say things like, "all you need is one camera, one lens". Well, this design turns that concept on its head. Now you can carry ALL those little but important things.
Here's an incomplete but familiar list: RIcoh GR1 film camera and backup GRD camera, batteries, film, light meter, wiping cloth, cleaning brush, cigarettes and celebratory cigar, lighter, sunglasses, bifocals, autographing pen, gentleman's breast wallet, notebook, fountain pen, a good luck charm, and there is still room on the reverse and back that's unused after you've stored in all the above!
An indexed diagram of the inventory of your contents is attached to a wrist band (see illustration with arrows) made of the same material that the user can wear and use to instantly access any stored item effortlessly.
This bag attachment is made of space-age waterproof plastic in translucent milky-white or Linhof Red colors and is designed to attach to Daido's traditional Japanese dark blue pinstripe jacket. The inner lining is made of a layer of breathable plastic. The slight translucence will allow the suit's dark color to still be visible thereby providing a homogeneous quality to the ensemble. A larger pocket in the back can hold any music device and there is a mono speaker near the top for faraway ambient music just soft enough to play an endless music loop that the street photographer can smoke and shoot to. Think Enya. (Note: the plastic speaker kit is Bluetooth compatible and can link to the latest generation iPod).
Notice that this bag in red looks exactly like the old Linhof insignia on its instruction manual. The red color option is not recommended for Daido's blue suit but a white suit or a simple grey T-shirt would both be perfect.
Now that everything is neatly stored inside the "bag" what can we actually carry in our suit pocket? Perhaps just a single blank card made of exquisitely handmade japanese rice paper which we can pull out discreetly in a bar to scribble a telephone number or hotel room number with a crude ballpoint pen and look just so cool and nonchalant about it all. This beats any black leather jacket outfit, the basic uniform of the street photographer. The recommended pants would be a custom cut pair of never washed blue jeans and black or brown leather driving shoes.
This bag design was created for Japan Camera Hunter's much-loved "In Your Bag" series.
If you haven't already, please do check out my recent interview, the link is below:
japancamerahunter.com/2013/03/camera-artistry-by-david-lo/j
Design and photo contents copyright 2013 by David Lo
Thanks David for being cool enough to do this for the site. This is definitely a first. And I love it.
Keep them coming folks, we need more submissions, so get your bag on Japancamerahunter.com. Send me a hi resolution image of the bag (please make sure it is horizontal) and its contents, with some details about yourself and what you shoot. Oh and don't forget your contact details (twitter, flickr, tumbler et al). Send the bag shots here.
Cheers
Japancamerahunter