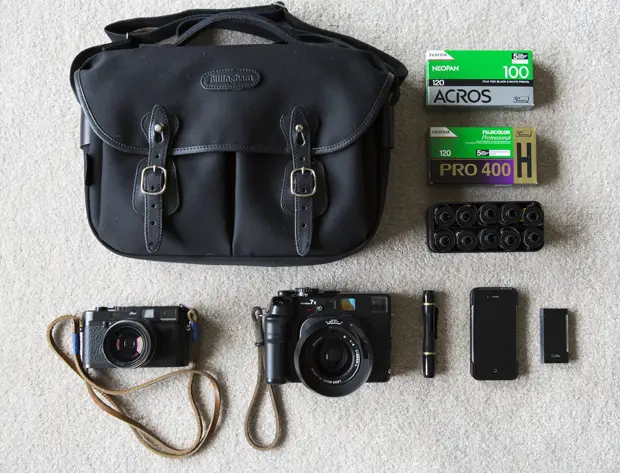 In your bag No: 584, Thomas O'Connell
Wow, Thomas has a pretty fantastic setup for a 20 year old. I wish I could have had a Mamiya. This is a stylish and well thought out setup. Come and have a look and learn a bit more about Thomas' bag.

Hey there, my name is Thomas, I am a 20 year old Commercial Photography student in Seattle, and I love rangefinder cameras.
I have been shooting for going on about 7 years now, first got into it through skiing. Skiing has been my life for as long as I can remember. 7 years ago I injured my self near the start of the season with a broken collar bone, not wanting to stop riding I picked up an old EOS Rebel camera and started shooting my friends. This quickly became a strong passion of mine as I found I really loved being behind the lens and sharing the stoke with my friends when I would get a great photo of them.
So I was shooting digital up until the summer of 2011 when my Grandpa gave me a box full of old film gear. The build quality and the style of the images is what really drew me to these cameras I was gifted. Included in the box was a Rolleiflex 3.5e, and that in particular really started my love for film cameras. My bag has changed a lot since then,  I have worked and saved my butt off to be able to afford it all, but I have finally worked out a kit that does everything I need it to. What you see in the photo is:
Billingham Hadly Pro – The classic rangefinder bag
Leica M6 + Voigtlander 35mm f1.2 II – My pride and joy, this classic Wetzlar model goes everywhere with me. The lens is fantastic in every way
Mamiya 7 II + 65mm f4 – A newer acquisition that replaced an RZ67 Pro II that wasn't getting enough use. Love the 6×7 negatives from this.
Film/JCH Case – I am a fuji shooter mostly, pro400h in 120 and neopan 400 in 35mm are my go to
iPhone 4  – My life in my pocket
Colibri Lighter – Don't smoke kids
Lens Pen
Not pictured is a 5d mkIII with 24-70 2.8L (used for school work) and Rolleiflex 3.5E. I am processing all the film I shoot my self, that includes b&w/c-41/e-6. I love working with my hands over sitting at a computer.
I shoot a lot of skiing still, as well as a lot of personal work of friends and travel. I don't actually shoot very much street, which is funny for a rangefinder user. My failing eye sight just can't do SLR's anymore, I much prefer RF focusing. If you are interested in taking a look at any of my work, you can visit my website www.tophotowa.com, you can link to my flickr from the bottom of the page. Happy shooting and keep believing in film!
Thomas O'Connell
Thanks for sharing your bag with us Thomas, it is a real beauty. I must admit, I am a little bit jealous of all of this.
Check out the links and make sure you come and comment.
Keep them coming folks, we need more submissions, so get your bag on Japancamerahunter.com. Send me a hi resolution image of the bag (please make sure it is horizontal) and its contents, with some details about yourself and what you shoot. Oh and don't forget your contact details (twitter, flickr, tumbler et al). Send the bag shots here.
Cheers
Japancamerahunter