In your bag 450, Anthony Chatburn
Anthony has been on the site before. In fact, it was not all that long ago either. I wouldn't normally show two bags this close to one another, but this one is so different from the previous one that I felt I had to. In fact, this one doesn't even use a bag anymore. Come and see.

Hi JCH
My names Anthony Chatburn and im a contemporary photographer and visual artist based in leeds in the UK.
I've submitted a previous bag shot not to long back but since then my practice has shifted dramatically after have the hugely important realisation that film was really my true love. My work on film is so much more purposeful, intentional and meaningful when i shoot film, the constricting limitations of the format are to me a true blessing and inspiration.
Using a fully mechanical, fully manual object makes everything i do in and around my photography so much more considered and as a result much stronger than my digital work. I also as an artist miss the act of creating something physical, last year all i did was digital based media and being so cut of from the process being so outside of it really really disheartened me, till i finally took the leap and began shooting film full time, and since i have i've never been more happy with my work. I mainly shoot black and white and after years of shooting my film based work on 35mm and after discovering a new found love for the format in my third year of my degree i began shooting medium format and i love it.
so with out further ado here is my kit, i dont include a picture of my bag because most of the time, if the weather permits of course, i simply wear my camera on my shoulder and put my flash and film and other sundries in my jacket pockets. i like working this way as it makes me feel less hampered down and more focused on my work.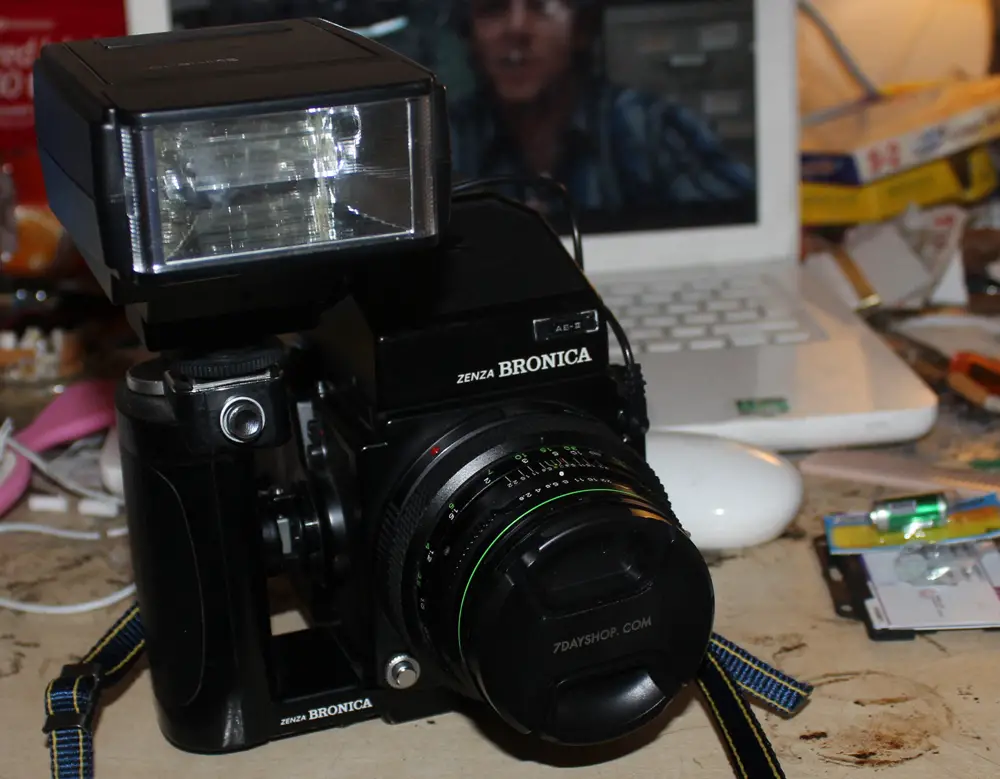 So my kit is as follows:
My recently acquired and prized possession, my zenza Bronica ETRS 645 w/ 120 film back, AE II metered prism finder (although i mostly use it as a guide and use sunny 16 as-well) and 75MM zenzanon E II F2.8 prime and speed grip.
And my also recently acquire Metz 32 CT 2 manual flash (connects via coldshoe on grip and pc cord, see second image)
I also carry the spare battery for the camera, although they last very long amounts of time i dont want to risk being out in the field and stuck with only one shutter speed!
Also shown here are the three films i mainly use.
I use:
Kodak TMAX 400 for pushing to 1600, the grain is so fine even when pushed which makes it my go to for the more darker stuff.
Ilford HP5 Plus 400 i shoot this at 400 and it is pretty much my day time film of choice
And on the rare occasion that i do shoot colour i use
Fujifilm PROVIA 400H
so yeah that about it really im a firm believer of keeping things simple and letting few key elements speak for themselves and this is probably the most packed my day to day kit will ever be.
to see any of my work you can visit my website
http://anthonychatburn.tumblr.com
Thanks for sharing your second bag with us Anthony. It is nice to see that you have made the switch from digital to film, and the Bronica is lovely.
Check out the links and make sure you come and comment.
Keep them coming folks, we need more submissions, so get your bag on Japancamerahunter.com. Send me a hi resolution image of the bag (please make sure it is horizontal) and its contents, with some details about yourself and what you shoot. Oh and don't forget your contact details (twitter, flickr, tumbler et al). Send the bag shots here.
Cheers
Japancamerahunter