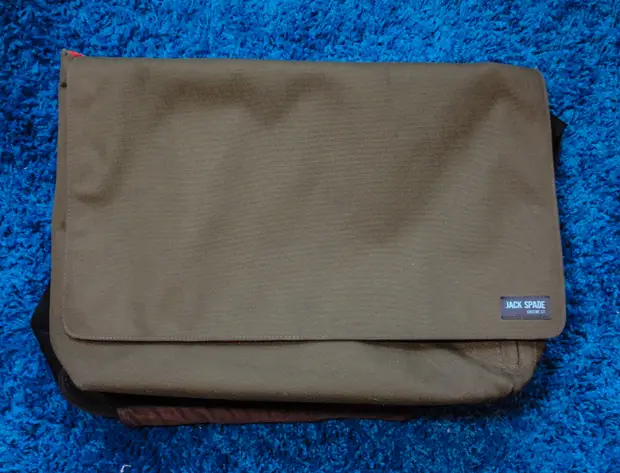 In your bag 354, Kenneth Chong
Todays in your bag….wait! Where are the cameras? Oh, that's right, they are in the bag. Come and see.

My name is Kenneth Chong and I'm a student and amateur photographer. I spend most of my time in Vancouver, Canada and Hong Kong. I'd like to share my camera bag with your readers so here it goes:
This is my messenger bag that I carry around almost everyday. However, I usually only carry the GR1s on most days so this is more a set up that I would bring out to shoot or on vacation. The bag itself is a coated canvas messenger from Jack Spade. It doesn't come with any padding on the inside so I've bought an insert for it as well as a bright yellow Pelican case for travelling to wetter locales. I think it's a great size for photographers with rangefinder or mirrorless kits. I can usually fit all my M mount gear in there with room to spare for my 15″ Macbook and some travel essentials (water, gum, pens, notebook).
Now, on to the cameras. First up is my trusty Leica M8. I've taken this gorgeous machine around the world and it's done a beautiful job. It's survived tropical downpours in Southeast Asia, ATV tours on dusty back roads and cold Canadian winters. Aside from the poor high ISO performance, it's given me better images than any of my old APS-C DSLRs. As with many M users, I've got a ThumbsUp mounted almost permanently on the M8, this version is the double shoe one, allowing me to mount the 15mm VF in a more natural position.
To go with the M8, I have a Voigtlander 15mm 4.5, a Voigtlander 40mm 1.4 and a Zeiss ZM 28mm 2.8. I get a pretty nice 21-35-50 combination with this set up giving me fantastic quality at any of those focal lengths. Besides the IQ, the great thing about this set up is that it takes up less than a third of the bag and weighs in just under 1.5kg.
Next is my newly acquired Ricoh GR1s. I carry this around almost all the time in my pants/jeans' pocket. The camera is so small and light but it feels just right. It's got a great, bright viewfinder that shows shutter speeds and focus distance and most importantly, gives beautiful images. It's really a pity Ricoh stopped making film versions of this.
Last but not least is that big, chunky Nikon Action Touch. It's got a pretty decent 35/2.8 lens but most importantly it's waterproof and damned near indestructible. I've taken this snorkelling and through a motorcycle tour in the middle of a tropical shower and it just works without fuss. Everyone should have something like this because it lets you take images in in situations you wouldn't bring any other camera too.
I usually shoot a mix Fuji Superia 400 and Portra 400 on the two film cameras and they're just great, no-fuss films that I don't have to worry about. Besides film, I usually bring along a blower (the M8's sensor loves dust) and a Lenspen.
I hope you've enjoyed looking through my camera bag. You can find my work online at http://mediumedia.tumblr.com and http://www.500px.com/KennethChong.
Thanks for sharing you bag with us Kenneth. Love seeing that Nikon, you don't see many people shooting them any more.
Check out the links and make sure you come and comment.
Keep them coming folks, we need more submissions, so get your bag on Japancamerahunter.com. Send me a hi resolution image of the bag (please make sure it is horizontal) and its contents, with some details about yourself and what you shoot. Oh and don't forget your contact details (twitter, flickr, tumbler et al). Send the bag shots here.
Cheers
Japancamerahunter