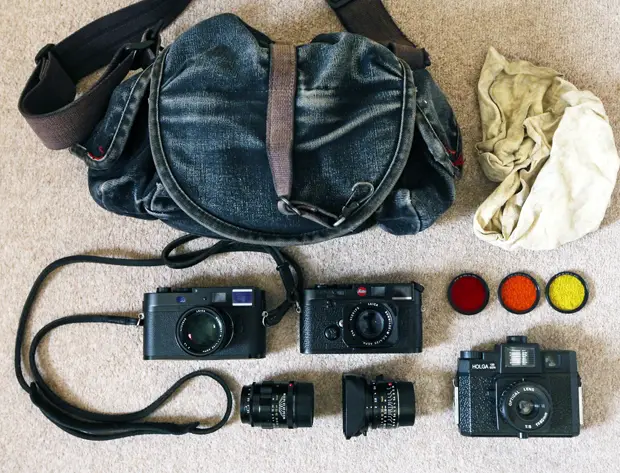 In your bag 336, Colin Templeton
Todays bag looks fantastic. Check out that beaten and battered old Domke bag, that has definitely seen some action over its lifetime. Come and read more about Colin's bag.

Hello to Bellamy and everyone who follows him,
My name is Colin Templeton, and I'm a photographer based in Glasgow, in the UK. I have a staff job on the national newspapers The Herald/Sunday Herald, and also the Glasgow Evening Times.
I love my job – it takes me to all sorts of places and I get to meet and photograph a wide range of people.
However, in my own time, I'm just as passionate about documenting  everyday life. For this, I use my own kit, rather than the Canon outfit I'm provided with at work.
I've been a big fan of Leica rangefinders for many years, and still have my trusty M6 classic – the camera that started it all off for me, back in the mid-nineties. I traded in my Nikon F2as Photomic for this 1985 machine, and have never looked back. The camera has never missed a beat, and I feel utterly 'plugged in' when I use it. It simply disappears, allowing me to concentrate on the subject (not the camera). Favourite film for the M6 is, predictably, Tri-X.
New to me is the Leica M Monochrom. I'm very excited about this camera, and feel as though I've barely scratched the surface of its potential.
Lenses are: 28mm Summicron ASPH, 35mm Summilux ASPH FLE, 50mm Summilux ASPH, and a 1969 vintage 90mm Tele-Elmarit version 1. This last lens, considering its age, is capable of astonishing results.
I also carry a Holga 120GCFN, for the occasional dreamy analogue-style shot.
All of this, along with some B&W coloured filters, and a chamois to keep things dry, can fit neatly into my 20-year-old Domke F3 bag, although I don't usually carry all of it at the same time.
If you wish to see some of my work, I'm on 500px.com/colintempleton
Best wishes,
Colin
Thanks for sharing your awesome bag with us Colin, there is something a bit special about those beaten up old Domke bags.
Check out Colins links and make sure you come and comment.
Keep them coming folks, we need more submissions, so get your bag on Japancamerahunter.com. Send me a hi resolution image of the bag (please make sure it is horizontal) and its contents, with some details about yourself and what you shoot. Oh and don't forget your contact details (twitter, flickr, tumbler et al). Send the bag shots here.
Cheers
Japancamerahunter