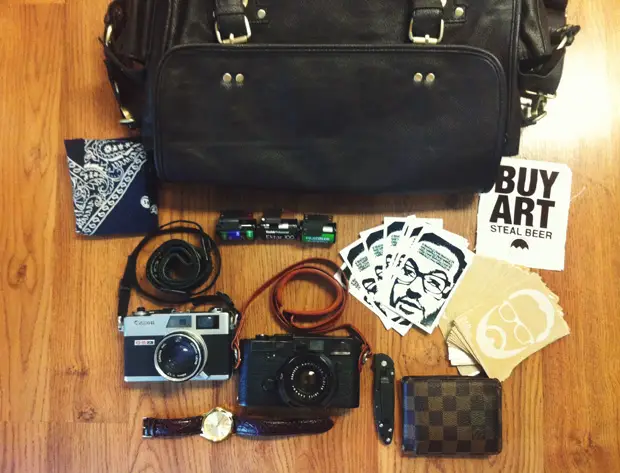 In your bag 283, Dan Bassini
I have a pro bag for you today, well a pro bag and a personal bag. Dan has been kind enough to share both of his bags with us. So let's have a look and see what Dan is carrying.

My name is Dan Bassini and I'm a music photographer based out of Central New Jersey in the USA.
I have two bags to show you.
First up is my film bag, which is more or less my daily bag since its what I carry the most. I have been running a film blog going on three years now called The Rangefinder Diaries (http://therangefinderdiaries.com) as a personal project where I post a new film photography daily, to get me to rediscover photography on a more intimate level. I was never a big fan of carrying around my heavy, bulky DSLR, so I never took too many photos of the things around me. I bought myself a Canonet and fell in love with the format. Its smaller size made it not a burden to carry around all the time and I found myself taking more photos more often.
The Bag: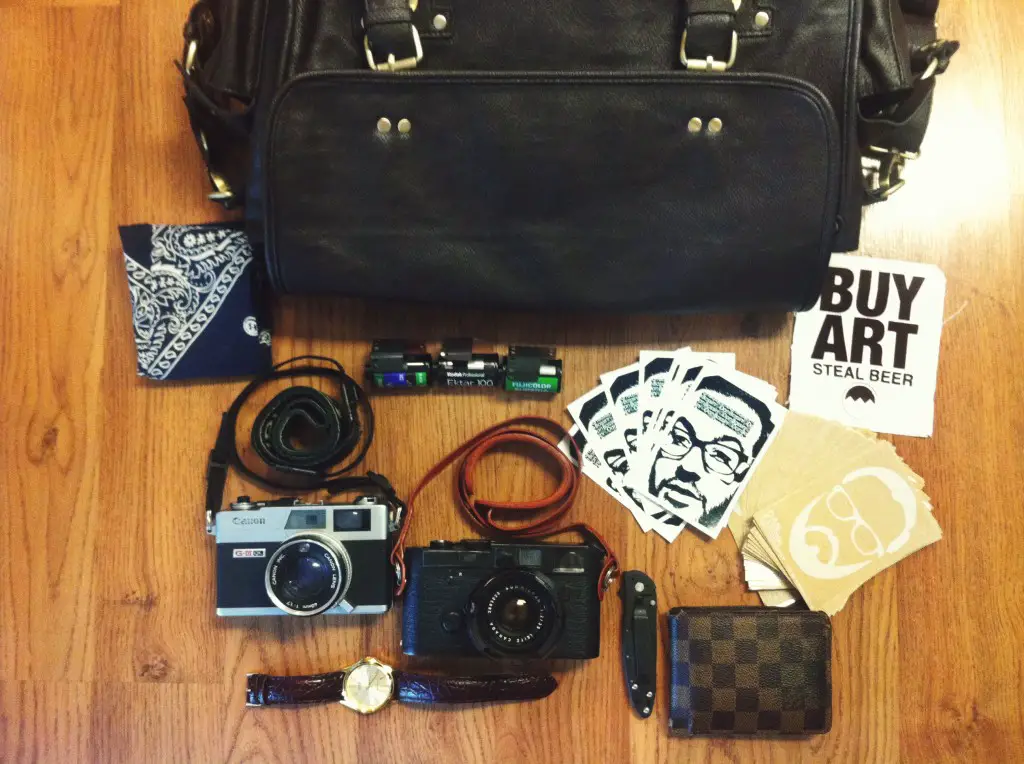 I found this no-name messenger bag on eBay for cheap. It has partitioned padding for cameras and lenses, as well as a spot for my laptop if I need to bring that with me.
The Cameras:
First is the Canonet QL-17 GIII. I remember first seeing this camera (well, a QL-28) in the cult photography movie Pecker, and always loved the look of it. This camera has almost no light seal left in it, and I have no plans on resealing it. It has so much personality that every roll that goes through it, comes out different.
Second, is the newest member of the family, a Leica M6 fitted with a 35mm Summicron. This has been my dream camera set up since I started shooting and I recently pulled the trigger and haven't looked back. I have only run a few rolls through it so far, but I plan on making it my work horse.
The Film:
Lately, I have been shooting a lot of Portra 400, Ektar 100, and Fuji Pro 400H, and have been loving the results.
The Accessories:
Most of these are self explanatory, but the watch, wallet, and knife are something I always carry on me. The bandana comes in handy while walking around hot and sweaty summer days. The stickers act as sort of a business card and come in handy for some guerrilla marketing. The Buy Art, Steal Beer patch is made my a good friend of mine's company, Broken World Media.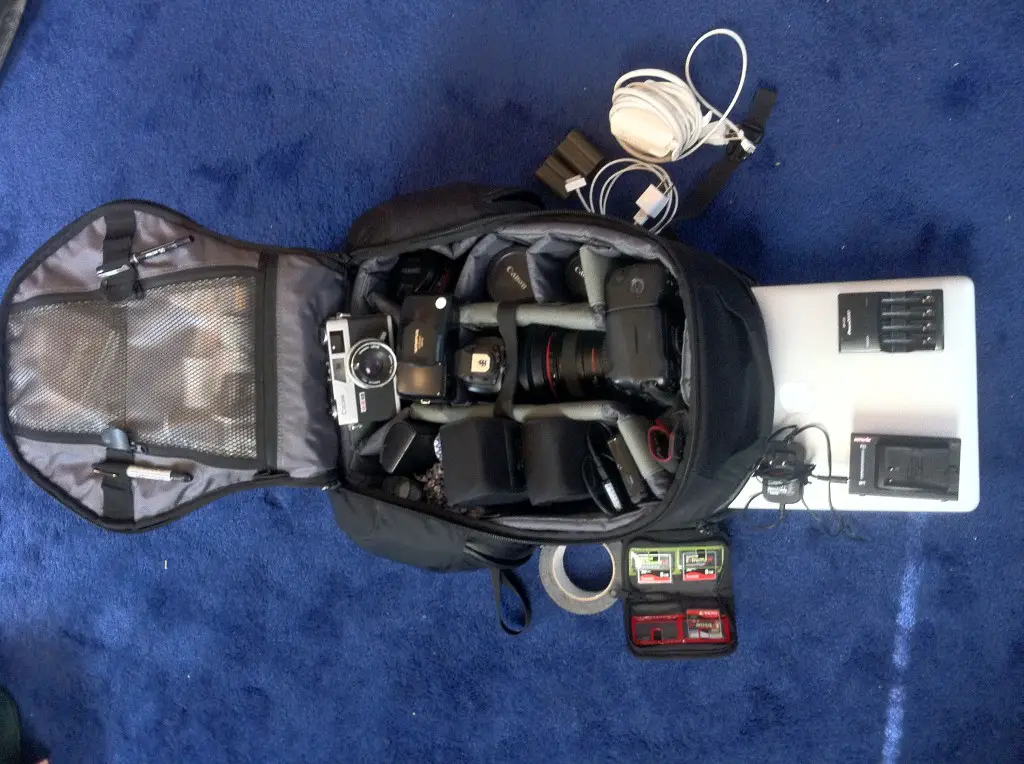 The second bag is a lot more packed, and is what I bring with me while I'm touring with a band on the road. A slightly less inclusive version of this is also what I bring when I'm shooting on assignment.
The Bag:
A Tenba Shootout that basically fits everything and anything.
The Cameras:
Canon 5D with battery grip, Canonet QL-17, and Olympus Zoom DLX.
The Lenses:
Canon 17-40mm F/4L, 85mm F/1.2L, 15mm F/2.8 Fisheye, 50mm F/1.8.
The Flashes:
Canon 580exII, with a 430exII and 430ex for slaving.
Everything Else:
Business cards, stickers, pens, lens cloth, spare glasses, deodorant, film, spare batteries, Macbook Pro, extra CF cards, black gaffer tape, Nintendo DS, Sandisk card reader, respective chargers.
So there you have it! Hope you enjoyed a look into what gives me back pains.
Please check out my work and follow me if you like what you see!
http://danbassini.com
http://danbassini.tumblr.com
http://twitter.com/danbassini
Thank you!
Thanks for sharing your bags with us Dan, great to see a personal bag and a work bag together in the same shot.
Check out Dan's links and make sure you come and comment.
Keep them coming folks, we need more submissions, so get your bag on Japancamerahunter.com. Send me a hi resolution image of the bag (please make sure it is horizontal) and its contents, with some details about yourself and what you shoot. Oh and don't forget your contact details (twitter, flickr, tumbler et al). Send the bag shots here.
Cheers
Japancamerahunter