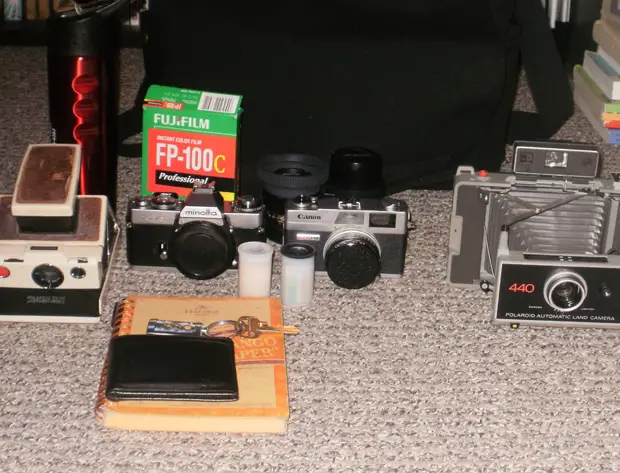 In your bag 254, Brian Nunes
Another day and another bag for you. This time coming from the East coast of the USA. Brian has an interesting mix of cameras in his bag and he tells us why. Check it out.

What's up JCH! My name is Brian, and I'd like to share my bag with you and all your readers/customers.
So, I'm a total neophyte when it comes to the Photography game. I kinda was into it in high school about 10 years ago. Took a course, learned some basic stuff about exposure, made pinholes, learned how to develop and make black and white prints, the whole basic, beginners deal. But fell out of it for a lot of reasons. To make a long story short, my passion is literature and writing, but the writing-well dried up and I decided the best way to try and bring it back is to pursue a different art, and that ended up being photography. I'm a recent grad and can't find a full-time job, and as such fairly broke, so I decided I would just dive straight into film photography (makes sense, right?). That was in December.
Honestly, it's been fairly affordable. I've had great luck with crazy deals on ebay and craigslist as far as cameras and supplies for developing go (I do all my development in house). I kinda fell into all of this photography stuff pretty hard, and it's been consuming my time quite a bit (and honestly really did add a spark to my writing). As I'm just getting into this I really don't have an "identity" as far as photography goes. I enjoy looking at and reading about all types of photography, but find my eye is more trained toward portraits (there isn't really much nature or landscapes in NYC). I do greatly enjoy street photography, but lack the balls to go out and shoot strangers. Not to say I don't get out in the street and shoot, but a lot of times I play it too safe so my photos don't end up as good as they probably could be. Anyway, you want to hear about my bag, not me, so, here it is:


The bag is a cheapo messenger bag I picked up at an Army-Navy Surplus store. Inside I concocted a camera insert based on a video I saw on youtube made of cardboard, foam, egg crates, and about two rolls of duct tape. Does the job pretty damn well.
My usual set up wouldn't be this much gear (normally it's just two cameras–an instant cam and a 35mm cam) but I'm taking a trip out to Philly and carrying a bit extra.
Cameras:
So, I've fallen in love with instant photography and recently picked up an SX-70. Haven't actually shot with it yet. Going to break it in this weekend in Philly.
Next, I've got a Polaroid 440 pack film camera. I've had it a few months and just had a lot of fun shooting with it. Film for SX-70 is very pricey and as I've got some pack film already I figure I'll pack both with me to maximize my instant photography fun.
Then there is my 35mm SLR, a Minolta XD5. This is the first camera I bought. I've had a lot of fun learning on this thing and have no complaints. Lenses I'll be carrying are a 50mm f/1.4 (non-Rokkor version) with beautifully ugly, cheap, rubber hood, and a 135mm f/3.5. The 135 is a new lens, and I've never used a telephoto so going to use it as a learning opportunity. I've also got a wide-angle but I don't like carrying more than 2 lenses.
Finally, I'll be carrying my Canonet. This is less for me, and more for my friend who I'll be visiting. I do love the camera though.
Miscellaneous:
Notebook – I'm a writer…gotta have something to write stuff in. This notebook was bought in the West Indies. It's made of 100% mango/mango byproduct. (And I just have to add as an aside…Screw Moleskine! Notebooks shouldn't cost so much damn money!)
Film – Some Fuji pack film, Impossible project SX-70 film, Kentmere (a cheap Ilford b/w film), and some expired slide film. (Pictured films are stand-ins. Actual film in fridge)
Wallet
Key – Yes…only one key.
Water – It's damn hot on the east coast of the US right now.
So, that's my bag for the weekend. Very excitingly cheap (but still fun). I've got a tumblr and flickr that haven't been updated in a while. I have a shitty scanner and refuse to use it anymore so I'm sitting on a lot of film that hasn't been scanned yet. Waiting on a good deal for something decent. You can still check out my crappy, newbie photography though:
nunesbrian.tumblr.com
http://www.flickr.com/photos/11319170@N05/
That's all. Hopefully I can find a job soon, make some money and become a potential customer (I really really want a Medium Format rangefinder). Thanks!
Thanks for sharing your bag with us Brian. It is great to see someone so passionate about what they want to do.
Check out Brian's links and make sure you come and comment.
Keep them coming folks, we need more submissions, so get your bag on Japancamerahunter.com. Send me a hi resolution image of the bag (please make sure it is horizontal) and its contents, with some details about yourself and what you shoot. Oh and don't forget your contact details (twitter, flickr, tumbler et al). Send the bag shots here.
Cheers
Japancamerahunter