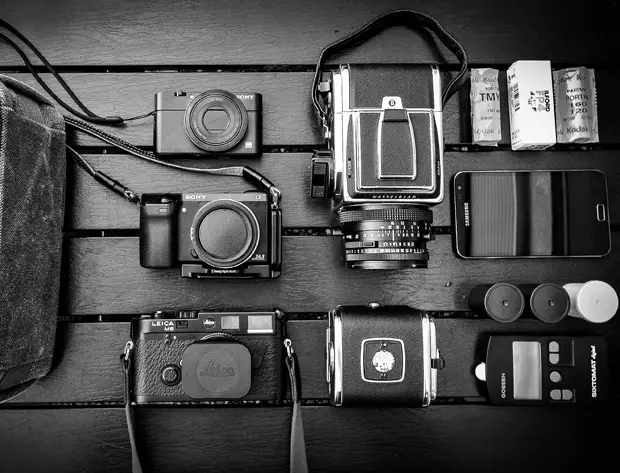 In your bag 278, Joerg Langer
Oh wow, what a stunner of a bag shot I have for you today. This bag is from Germany and it is absolutely gorgeous. This is the sort of bag that I would happily carry around. Come and have a look.

Hi, my name is Joerg Langer. I'm from the Taunus, the beautiful area in Hessen, the most beautiful state in Germany.
The photograph accompanied me my whole life, from early childhood today. The first SLR I got as a gift from my father seven years ago and since photography is a festwer part of my life. Previously it was a hobby, now is the sideline as a wedding photographer. This I can next to my job in marketing, along with my wife to enjoy regularly.
My favorite bag is the photo shown here:


In my bag:
First may be mentioned: My beloved – the Hasselblad 503CX * with the Planar T 80mm 2.8.
My other passion is the analog Leica M6, with the wonderful 35mm Summicron-M ASPH.
My two little darlings are digital, the Sony NEX 7 and the Sony RX100. Both are superb in picture quality and a lot of fun to use.
At my NEX I use very much the manual lenses from Leica, or even from other manufacturers.
The exposure I always sensed with my light meter from Gossen, the Sixtomat Digital. Thus, the exposures to match my favorite films of Ilford all the time.
To move to more "here", I am with my Samsung Galaxy note always "online"!
All this is in the bag from Think Tank, the Retrospective 5.
In my spare time I like to blogging (in German) on my blog about cameras, images, and Gagets my life with a wonderful family.
In Germany, I probably belong to the craziest people and I am addicted to camera bags and I am the owner of the photo collection on www.taschenfreak.de pocket.
You can find me at the net:
Blog: http://www.digitaler-augenblick.de
Page: http://www.langeronline.de
Flickr: http://www.flickr.com/photos/langerjo/sets/
Facebook: http://www.facebook.com/Langeronline
Tumblr: http://langeronline.tumblr.com/
Thanks for sharing your lovely bag with us Joerg, The picture is fantastic. It makes me want to shoot another one of my own bag shots.
Check out the links and make sure you guys come and comment. We love some comments.
Keep them coming folks, we need more submissions, so get your bag on Japancamerahunter.com. Send me a hi resolution image of the bag (please make sure it is horizontal) and its contents, with some details about yourself and what you shoot. Oh and don't forget your contact details (twitter, flickr, tumbler et al). Send the bag shots here.
Cheers
Japancamerahunter