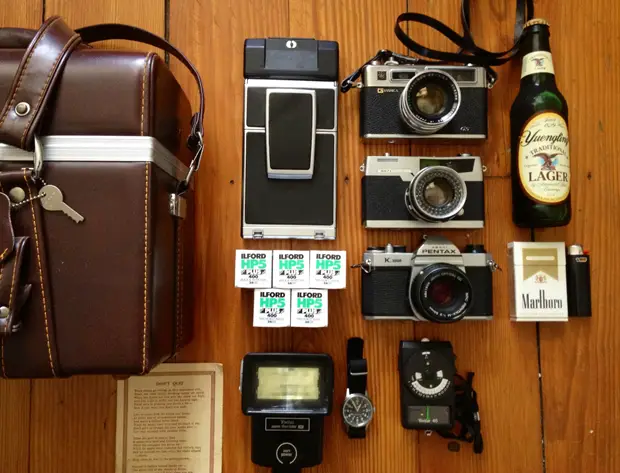 In your bag 275, Mike Kijewski
I have a very cool looking bag for you today, a bag from the USA. This one has even got a beer in it. My kind of bag. Come and have a look at what Mike keeps in his bag.

My name is Mike Kijewski and I currently reside in Allentown, PA. I've been shooting analog photography since I was a kid. I primarily shoot photos of my everyday life. I grew up shooting photos of skateboarding, snowboarding and my friends. I've recently fell in love with portraiture and hope to shoot more photos of architecture and texture. I AM A HOBBYIST. That's it and that's all. The idea of mixing business with pleasure (in regards to photography) seems impossible and I feel being unprofessional is a lot more fun.
MY BAG:
1970's Leather bound Hinomoto Camera Case: Rad, but pretty damn heavy.
CAMERAS:
1979 Polaroid SX-70 SonarOneStep: I bought this camera new. Seriously.
Pentax K1000 w/ Smc Pentax-M 50mm 2.0 lens: My Dad's camera. This one is invaluable. Hands down my favorite camera ever. Everything you need and nothing you don't.
Yashica Electro 35 GS w/ 1.7 45mm Yashinon DX: My love recent love affair. One of the best designed cameras of all time.
Petri 7s w/ Petri ATL 1.8 Selenium 45mm: Everyone who has a selenium based lens knows just how cool they really are. No batteries. A 50 year old camera that keeps taking amazing photos and always inspires the "what type of camera is that?!?!" question every time I pull it out of the bag.
NECESSITIES:
Vivitar 45 Light Meter
Vivitar Zoom Thyristor 285 Flash
Marlboro Lights and a Bic
Ilford HP5+ 35mm Film
Yuengling Lager
Timex Watch
"Don't Quit" – Unknown Author
Hope you enjoyed my bag. Keep pushin.
cheers.
Flickr: http://www.flickr.com/photos/michael-john/
Tumblr: http://not-for-hire.tumblr.com
Twitter: @mjkijewski
Thanks for sharing your cool looking set up with us Mike. I love that funky old Vivitar flash, it is immense.
Check out Mike's links and make sure you come and comment.
Keep them coming folks, we need more submissions, so get your bag on Japancamerahunter.com. Send me a hi resolution image of the bag (please make sure it is horizontal) and its contents, with some details about yourself and what you shoot. Oh and don't forget your contact details (twitter, flickr, tumbler et al). Send the bag shots here.
Cheers
Japancamerahunter