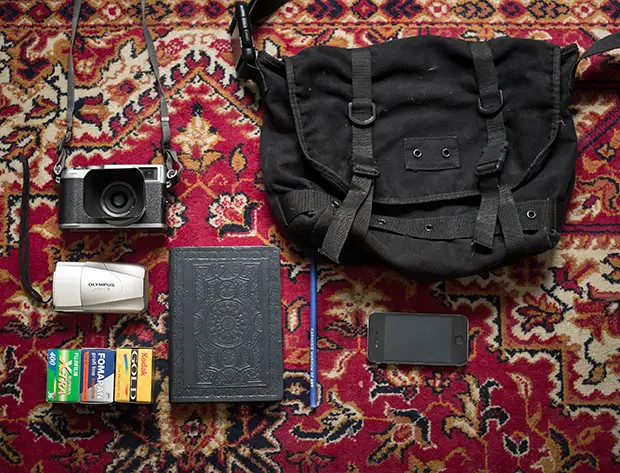 In your bag No: 685, Julien Pasternak
We have another bag from Poland today, and this one has a delightful rustic feel to it, what with the carpet and the old style sketchbook, this is a cracker. Check it out.

My name is Pawel Dudziak and I am 26 year old passionate about photography from Poland. I recently left the city life in Cracow and moved outside, where I found peace and the possibility of self-development.
Several years ago, fascinated by the discovery of old analog cameras (such as LOMO Lubitel 166B – brand new in the box) in the basement of my grandfather, I started using a simple point and shot camera that I got as a child. The simplicity of the camera and the final effect that gave the roll of film that has encouraged me to further research.
I finally found the perfect point and shot for me, which is the Olympus mju II. Simple, small, giving a sharp image (usually) is with me every day since I bought it. As soon as I started using mju, my DSLR Nikon D300s started bothering me, it was heavy he threw into eyes. I started using only prime lenses to reduce the overall dimension and better image quality.
At some point, I realized that I use more Olympus than the Nikon cameras. However, sometimes it still needed a digital camera, so enchanted field of design and picture quality with FujiFilm X-100, I could not make another selection.
So in my black bag you can find:
– Champagne Olympus mju II ( + a few rolls of film, such FOMAPAN 200, Fuji X-Tra 400, or Kodak Gold 400)
– FujiFilm X-100 + Pentacon lenshood ( better looking, and no vignetting )
– IPhone 4
– sketchbook + pencil / small book
If you want to follow me, check :
www.flickr.com/photos/pablovicz/
www.paweldudziak.tumblr.com
www.facebook.com/dudziak.p
Instagram @paweldudziak
thanks for sharing your fantastic bag with us Pawel. I love that sketchbook.
Check out the links and make sure you come and comment.
Keep them coming folks, we need more submissions, so get your bag on Japancamerahunter.com. Send me a hi resolution image of the bag (please make sure it is horizontal) and its contents, with some details about yourself and what you shoot. Oh and don't forget your contact details (twitter, flickr, tumbler et al). Send the bag shots here. Please understand that there is a long wait now as there is a backlog of submissions. Not all make the cut, so make sure yours is funny/interesting/quirky. And please make sure the shot is of good quality, as the ones that are not do not go up.
Cheers
Japancamerahunter