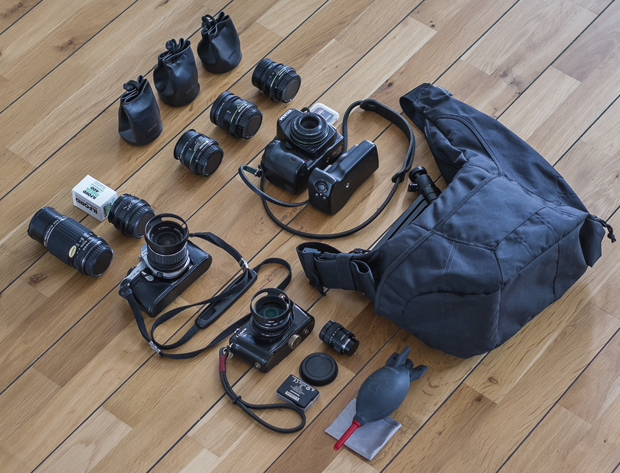 In your bag number 224, Thomas Ohlsson
Todays bag is fantastic. I really love the layout of this bag. Coming to you from Sweden this bag is a lovely mixup of film and digital cameras. Come and see what Thomas is shooting.

Hello readers of Japan Camera Hunter, I'm an 27 year old recently graduated economics student from Sweden that enjoy photography in many forms, but I mostly shoot daily life and some events. I recently also shot my first wedding "for real" (not as a guest). I like to try new things in photography, and at the moment I'm trying to master all the aspects of flash photography.
I really like the compactness, metal build and good optical performance of the DA Limiteds. A lot of times I don't even use my bag, just put a lens on the K-5 and one or two in the pockets of your jacket (or shorts in summer). I usually go for three of them at a time, the DA15/4 and DA70/2.4 and then one of the remaining two, DA35/2.8 Macro and DA40/2.8, since they are so close in focal length. I guess it is just a matter of time before the DA21/3.2 will be added, making the quartet the full "DA Limited"-quintet. The battery grip is for stamina and portrait mode, with the small primes you wouldn't need the extra support.
After getting into Pentax digital I soon wanted to explore film as well, so getting a ME Super was a natural step. I really like the classic looks, and I already had several old lenses that I used with my K-5. The three old Pentax lenses shown here are the ones I found myself using the most (both on film and digital), and they are the K28/3.5, M50/1.7 and M75-150/4. I like the slow speed of film photography and that it makes you think and develop as a photographer, but wouldn't want to go all analog.
The GF2 is for when even the K-5 feels to big, and I'm very happy with that one as well. The 14mm (28 equiv.) makes very much sense to me on a compact body the combo produces lovely pictures. I find the small 25/1.4 C-mount lens fun to use, but I have adapters for Pentax-K and M42 as well.
Usually not all of the items makes it into the bag at one time (sometimes not even the bag itself, as mentioned above). The K-5 with some of the Limiteds will allways make it into the bag if brought, and then sometimes the GF2 or the ME Super will come along on the trip. The small metal tripod is very useful, and you never know when it comes handy. The bag itself will then hold much extra stuff, depending on the situation, but a water bottle, sunglasses and an umbrella are frequent visitors =)
Happy photography! If you like to see some of my pictures, you can visit me at http://www.flickr.com/photos/donthomaso84/
/Thomas
Thanks for sharing your lovely bag with us Thomas. It is really nice to see someone happily combining the film and digital shooting.
Check out Thomas' flickr page and make sure you comment.
Keep them coming folks, we need more submissions, so get your bag on Japancamerahunter.com. Send me a hi resolution image of the bag (please make sure it is horizontal) and its contents, with some details about yourself and what you shoot. Oh and don't forget your contact details (twitter, flickr, tumbler et al). Send the bag shots here.
Cheers
Japancamerahunter