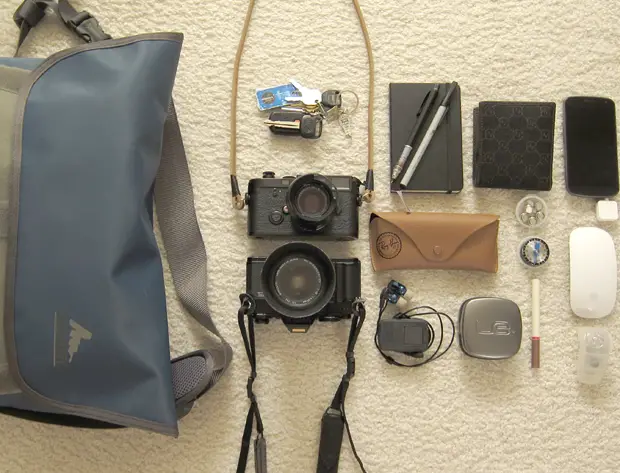 In your bag number 219, Levin Wong
Todays bag has a mouse in it! Not a mouse mouse, but a computer mouse. I have no idea why, so lets try to find out…

My name is Levin, 19 years old student.
Live in Fremont of California.
Intern of APPL(QCA) iMac's project since 2011.
A cycler, Hi-Fi enthusiast and a newbie photographer.
Since this is a website about photography(photography equipment), I'd like to share my story with cameras. My first Camera is a Polaroid One Step 600, a toy-looking machine which can produce fantastic instant film. That's where I started my photography life. Under the circumstance that I was so interested in instant photography, Polaroid 250 became my new flame after the first toy. After that, on my 18th birthday, I bought a 5D Mark II and ZE 35 1.4 Distagon T* for myself as birthday gift. That's the first time I contacted with a digital one(excluding cell phone). 5D mark II was great, and it's still top of the line even Mark III has came out. The only disadvantage of the body and lens is the size. They are huge and heavy that make me feel weird while I was walking on the street. That's the main reason I choose Film SLR instead: full frame, compact with light weight, the most important thing is the photo quality is as good as 5D Mark II, may be better. (well, it depends) Leica, the destination of 35mm (IMO) came to my mind when I want to try something new, rangefinder. I finally settle down with the Leitz M6. After all these years, I realized that photography is not about camera at all, it's about everything else.
Now let's see what's in my bag:
-My bag, Gregory Sync, well-made with great structure and quality material. Tough.
-Leica Leitz M6 Classic (Tom A. Softie and Gordy's strap) with Summicron 50mm IV, I hate the Pre-ASPH version because the focus ring and built-in hood, it seems more like retrogress rather than progress.
-Minolta X700 (Domke Gripper strap) and MC.W ROKKOR-HH 35mm f=1:1.8, soulless camera but functional with the best 35mm lens Minolta has ever made.
-Keys
-Pocket notebook with pencil and pen, you know what? Most of time, Moleskine is much more reliable than Evernote, especially when your smartphone is dead.
-Sunglasses, the anti-flare upgrade kit for my eyeball. (M6's Viewfinder is really driving me crazy)
-Sansa clip zip+Ultimate Ear Triple-Fi 10 headphones, tiny but provide fair sound quality.
-Wallet
-Batteries with container just in case, and a Polaroid timer.
-Electronic cigarette
-Galaxy Nexus
-Magic Mouse( Wait, where's my Mac? I sold it for Google I/O ticket! )
-Knog rear USB light for my fixed gear.
Blog: blog.hrzlvn.com
Twitter: hrzlvn
Thanks for sharing your bag with us Levin.And thanks for sharing your thoughts on the use of gear. Very interesting.
Check out Levin's links and make sure that you comment.
Keep them coming folks, we need more submissions, so get your bag on Japancamerahunter.com. Send me a hi resolution image of the bag (please make sure it is horizontal) and its contents, with some details about yourself and what you shoot. Oh and don't forget your contact details (twitter, flickr, tumbler et al). Send the bag shots here.
Cheers
Japancamerahunter