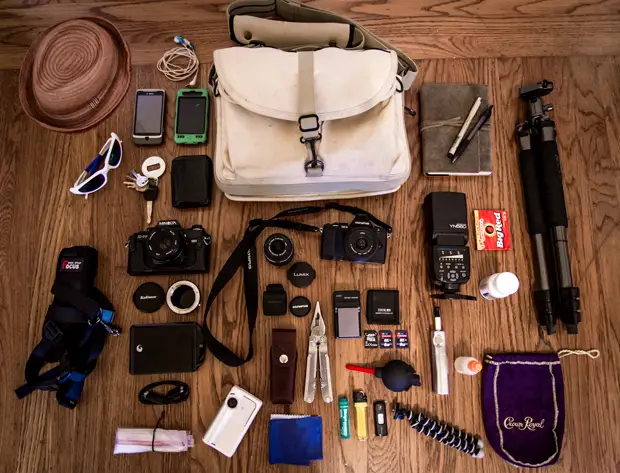 In your bag number 218, RE Casper
A super duper west coast bag for you today. This bag is coming to you from San Francisco and is loaded with goodies. Come and see what RE Casper keeps in his bag…

My name is RE Casper and I'm currently hailing from the island of Alameda in the San Francisco Bay. Originally from southern Illinois, I shot for many years with point and shoots and my old Minolta x370n. But then turned a serious eye on my photography when I moved to Chicago and got inspired by landscape photographers such as Trey Ratcliff, Olivier Du Tré and Colby Brown.
I soon grew tired of landscape work and for the better part of 2012, I have focused primarily on street and urban life photography. Drawing inspiration from such masters as Bruce Gilden, Henri Cartier-Bresson, Eugène Atget and W Eugene Smith, as well as many street photographers on G+, I now find myself pounding the pavement as often as possible in search of that perfect photo.
Even though we had some fun years in Chicago…. at the beginning of June, my fiancee, our wonderful pooch and myself sold most everything we own and relocated to California to get away from the bone chilling frost of the Windy City. Partly for general comfort and the allure of the ocean, but largely for a new adventure and to get out on the streets comfortably for a larger portion of the year. We've already fallen in love with the West Coast and the eclectic streets of San Francisco. I recommend the SF-Chinatown district to anyone looking for an incredible day of character hunting.
Now for the almighty list, clarifying the mass of items in the photo above…
– Safrotto Canvas Messenger Bag.
Presumed "knock-off," but I've found it to be better quality and cheaper than its Domke 802 cousin.
Cameras:
– Olympus OM-D E-M5
Probably the best camera I have ever owned and the primary factor for me ditching my DSLR equipment and converting over to m43. The image stabilization, focus speed and low light capabilities are insane, not to mention its incredibly small size. Highly recommended for street work.
– Minolta X-700
I shot a Minolta x370n when I began and always loved that camera. Recently got this one when digging through the parents storage cabinets. I am looking to replace this old girl with a Canonet QL17 soon and dive more into 35mm. I don't usually carry both bodies at the same time. Just depends on if I feel analog-ish when I walk out the door. (Usually some NeopanSS film riddled throughout the bag on those days)
– Flip Video Camera
One of the handy dandyist items ever.
Lenses:
– Panasonic 20mm f/1.7
– Olympus 14-42mm f/3.5-5.6
– Kalimar 50mm f/2.8
I also carry a Fotodiox adapter to attach the 50mm to my Oly E-M5
The Rest of My Junk:
– My dear old straw fedora. (I love my hat, but its probably about time for a new one)
– Yongnuo YN560 Speedlite and basic Oly flash for trigger (great speedlite at a great price and looking to grab a Cowboy trigger/receiver. Still trying to harden up my lower level brass to shoot street with a flash)
– Extra Oly Battery and wall charger
– 3x 8GB Cards and wallet
– 1TB Backup Field Drive (Macbook Pro stays in the car, but I never know when I may need the files)
– 4GB USB Stick Drive
– Leather Bound Journal with G2 Pen and Pigma Micron 01 (I get pretty picky with my pens and these are the only two I'll use)
– Slik Sprint Pro Tripod
– Gorilla Pod knockoff
– Giotto Rocket Air dust blower
– SOG Multi-Tool/Wrench (don't leave home without one)
– Ibuprofen (for those long, headache ridden days)
– Blistex (mint flavor)
– Silver Bullet E-Cig Vaporizer (quit smoking 2 years ago with this lil gem and never looked back)
– e-Liquid (Cinnamon and sometimes Menthol flavor 36mg)
– Lighter (People in the street often need a light and its a good way to build rapport. Plus habits die hard)
– Big Red Chewing Gum
– Wallet with business cards and very lil cash ;-)
– G2 Android Cell Phone
– iPod Touch to block out the angry cursings I may run into on the street
– Keys w/bottle opener for the occasional brew
– My Trusty Oakley Shades
– Focus Quick Strap
… and lastly a handful of plastic ziplocks and a Crown Royal bag. I'm more of a Vodka guy these days, but the old Crown bags are always worth keeping around.
To see the frames of what this shoulder bag has helped me capture, head on over to any of the following links.
Contact Details:
Blog and Gallery: www.recasper.com
Facebook Page: www.facebook.com/recasperstudio
Twitter: www.twitter.com/recasper
Flickr: www.flickr.com/recasper
Google+: https://plus.google.com/u/0/108201505701156348249
I've been following your blog since around November, when the "In your bag" series was in its early 30s and I've loved and haunted it daily ever since. I enjoy your use of the site to show readers the various items photographers carry on a daily basis and thought I would throw mine in the mix.
I know many say that gear won't make the photographer, but I can say this… it sure makes the hobby a hell of a lot more fun.
Cheers,
RE Casper
Thanks for sharing your awesome bag RE, and telling us about how you came to photography and the west coast. I love the layout of this bag, great stuff.
Check out the links and make sure you guys come and comment, it is always nice to hear comments.
Keep them coming folks, we need more submissions, so get your bag on Japancamerahunter.com. Send me a hi resolution image of the bag (please make sure it is horizontal) and its contents, with some details about yourself and what you shoot. Oh and don't forget your contact details (twitter, flickr, tumbler et al). Send the bag shots here.
Cheers
Japancamerahunter