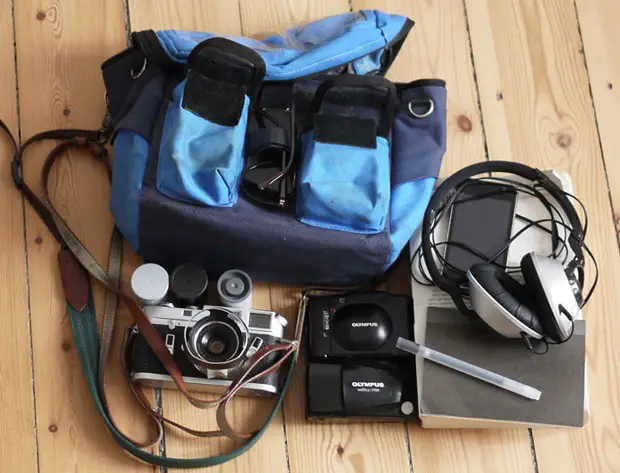 In your bag number 192, Spencer Wells
We have a lovely bag for you today coming all the way from Denmark. But what bag is it? Where did it come from? Those are the essential questions that maybe Spencer can answer for you…

I'm a photographer from Wisconsin, USA currently living in Copenhagen, Denmark. I finally found a bag I like to carry around that fits everything I need comfortably but isn't too big. I got it for free from an older friend who was cleaning out her attic, it was made in Holland sometime in the '70s. I modified it a bit by replacing the hard plastic inserts with some padded dividers from a camera backpack and adding a tamrac strap that came with an SLR I used to have. I shoot mostly street and portraits, though I try to shoot skateboard photos when I can. While in Copenhagen I've been working for Bitchslap Magazine, shooting for the upcoming issue, doing interviews with other photographers every friday and putting photos on their blog Girls are Awesome.
In the bag I keep:
-Leica M4
-Ipod and Bose Headphones
-Paperback
-Muji Notebook and 0.38 Black Pen
-A Mix of HP5, Portra and Superia in the outside pocket
-Olympus XA in the other outside pocket
-Olympus stylus epic in pants pocket at all times
There's always room left over for an extra layer or a cold beverage, depending on where I'm going. You can see my photos on my flickr: http://flickr.com/spencerwwells or my website: http://spencerwwells.com
Spencer Wells
Thanks for sharing your bag with us Spencer. I love the story of how you came to have it and make it your own.
Check out Spencers links and make sure you come and comment.
Keep them coming folks, we need more submissions, so get your bag on Japancamerahunter.com. Send me a hi resolution image of the bag (please make sure it is horizontal) and its contents, with some details about yourself and what you shoot. Oh and don't forget your contact details (twitter, flickr, tumbler et al). Send the bag shots here.
Cheers
Japancamerahunter