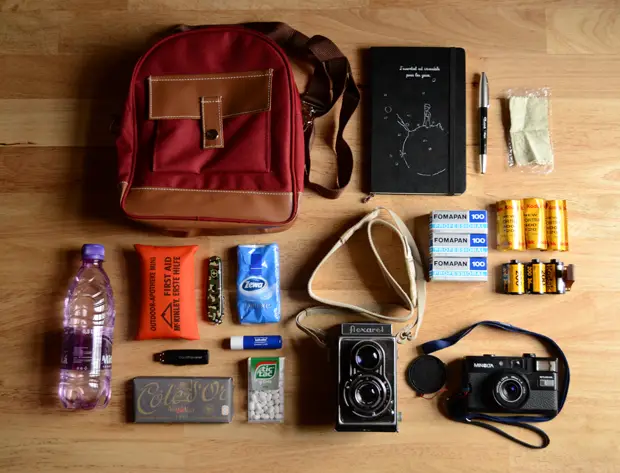 In your bag number 146, Julián Péter
Todays bag come to you all the way from Slovakia, how cool is that? And it is a very cool bag too, with a flexaret and some fancy chocolate, it has just about all you need…

Hello fellow photographers,
My name is Julián Péter and I am from the forgotten little country of Slovakia, Europe. Although I work as a professional seafarer, photography is my undying passion. Anywhere I go, I take images documenting the moment. And although I have a few on-going projects, I guess you could call me a "situational" photographer. Little stories unfold wherever you are and it is up to you to make the most of it. So lets take a look at what is in the bag.
I like to travel light, therefore all my items are carried in a small cheap bag with an over-the-shoulder strap. I bought it in a local bazaar for 1 EUR. As an upside, it has regular straps as well, so you can carry it as a back bag should you choose to. On the downside, it has no internal compartments and all my stuff just sits there one across the other. Anyway, it works for me.
Moving on to the cameras, I usually take the Minolta Hi-Matic GF (Minolta lens 1:4 38mm) point-and-shoot 35mm film camera with me. Minimalistic to control, yet sharp when producing images. Other times, I switch to my prize camera: Meopta Flexaret II (Meopta Mirar 1:4,5 80mm) TLR in medium format. It was made in 1947 in my birth town of Prerov, Czech Republic and therefore holds a special meaning to me. I usually pick just one setup, but given the situation, sometimes bring both cameras with me. Add a bundle of films (both color and b/w) and I am ready to go!
I will list all additional items here:
– lens wipe to deal with pesky dust and water
– Moleskine and Sharpie pen to write down stray thoughts
– TicTac-s and emergency chocolate
– 0,5l bottle of water
– First Aid kit (gift from my girlfriend that I carry literally everywhere)
– Swiss Army knife
– paper tissues
– lip balm
– USB containing my photographs for any impromptu showings
I hope you liked my entry to Bellamy's "What's in your bag?". If you have a little bit of spare time, you can check out my photographs at the links below.
Thank you and good light!
Julián
Facebook: https://www.facebook.com/pages/Juli%C3%A1n-P%C3%A9ter-Photography/303991096338715
Tumblr: http://julianpeter.tumblr.com/
Thanks Julian for sharing you bag and your story, it is very nice to see someone using a lovely old TLR. Check out the links and make sure you comment.
Keep them coming folks, we need more submissions, so get your bag on Japancamerahunter.com. Send me a hi resolution image of the bag (please make sure it is horizontal) and its contents, with some details about yourself and what you shoot. Oh and don't forget your contact details (twitter, flickr, tumbler et al). Send the bag shots here.
Cheers
Japancamerahunter