A hands on with the M9-M
After the announcement from Leica in Germany the Ginza Tokyo pro store held a reception for the Japanese market. We got a hands on with the delightful M9-M…and what a camera it is.

The good people at Leica really care for the customers in Japan, so when I got the invite to the reception and release party in Japan for the new Leica releases I knew it would be a snazzy affair. When I turned up there was a presentation from the German top brass who had come to Tokyo to talk about the new cameras being released. In case you have not been the new Leica pro store in Ginza has a large presentation area enough to seat 30 or so people.
We were treated to a video presentation about the new M9-M, the 50mm Summicron APO ASPH, the X2, the V-Lux 40, the Hermes edition M9-P and the new lens range for the S series cameras. But I was there for the M9-M, pure and simple.
After the presentation and a quick question and answer, we were given the chance to glug some champagne and have a chat with the Leica guys, before they bought the cameras in for us to play with. Obviously, we were not allowed to play with the M9 Hermes edition. It was kept behind glass, as well it should be for an estimated $40k!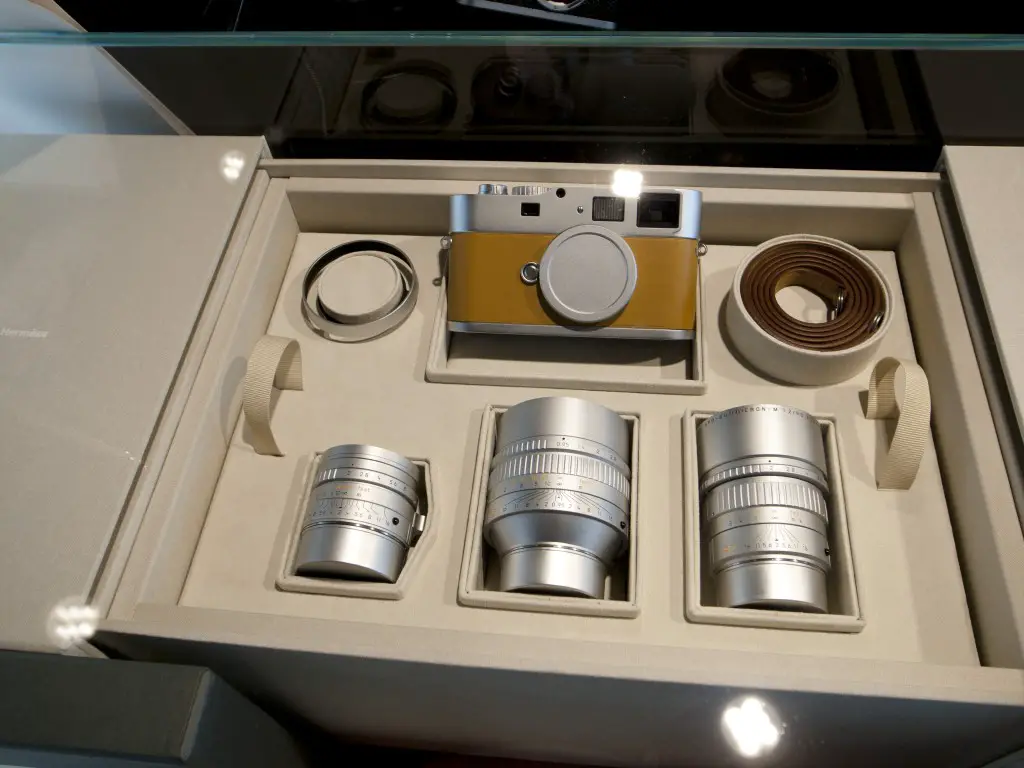 We got to see a video about how this was made, and it is remarkable. the differences are so subtle that you would hardly notice, but they are there. Everything about the camera screams artisanal perfection, down to the handmade boxes, the bag and the specially made lenses. People say that supercars are silly, but they are just car companies showing how far they can push the medium, and this is no different.
There was a big queue to play with the M9-M, but I patiently waited my turn and then managed to get a go on it. And I have to say I was pleasantly surprised with the performance of the camera. I know it has a high price tag, but after using it and seeing the comparison pictures between the M9 and the M9-M I can see the work that went into developing this sensor. This camera has a level of range that is completely different to that of the M9. Sure, you can convert images to black and white on your M9, but the images on this are so much richer. The tones and the quality throughout the iso range are seriously impressive.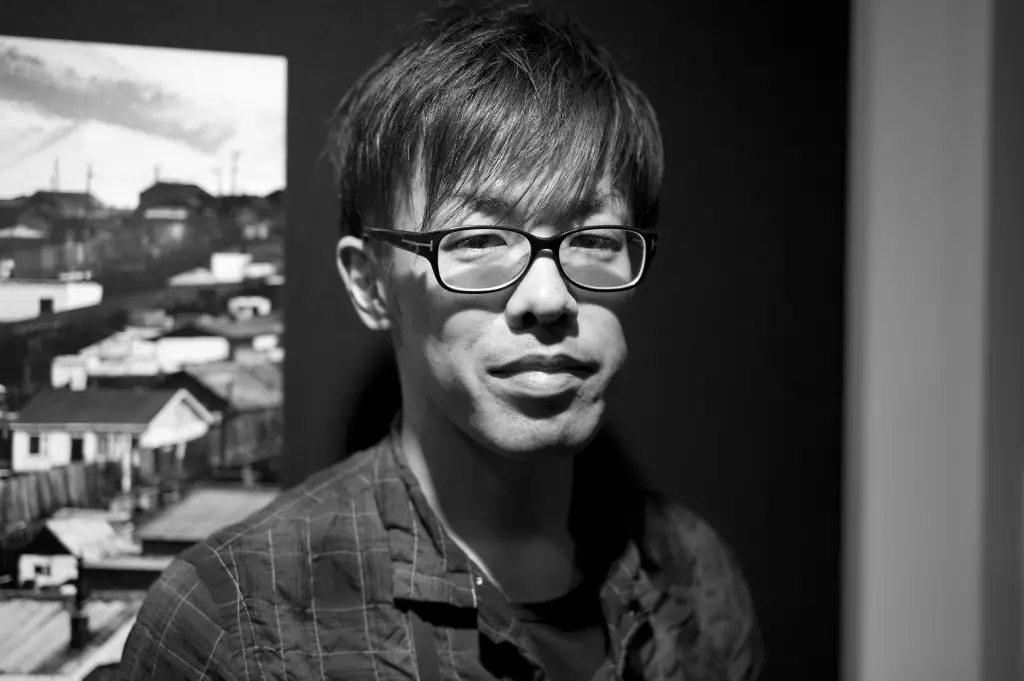 This is an image taken with the 50mm summicron APO ASPH at iso 640, F2 1/125th. As you can see the detail is absolutely incredible. The blacks are deep and the tones of grey are very stable. The Summicron is an incredible lens, really incredible. I asked about the high price tag and they told me that the lens is very difficult to make and has drawn on over 100 years of lens making experience to produce. Still it is an awful lot of money. Regardless of all that, I want one.
After a few shots with the 50mm I wanted to try it out with my trusty 35mm Summicron ASPH, which I consider one of the benchmark lenses and the ideal lens for a test on this camera, as it is the lens that I use on my cameras.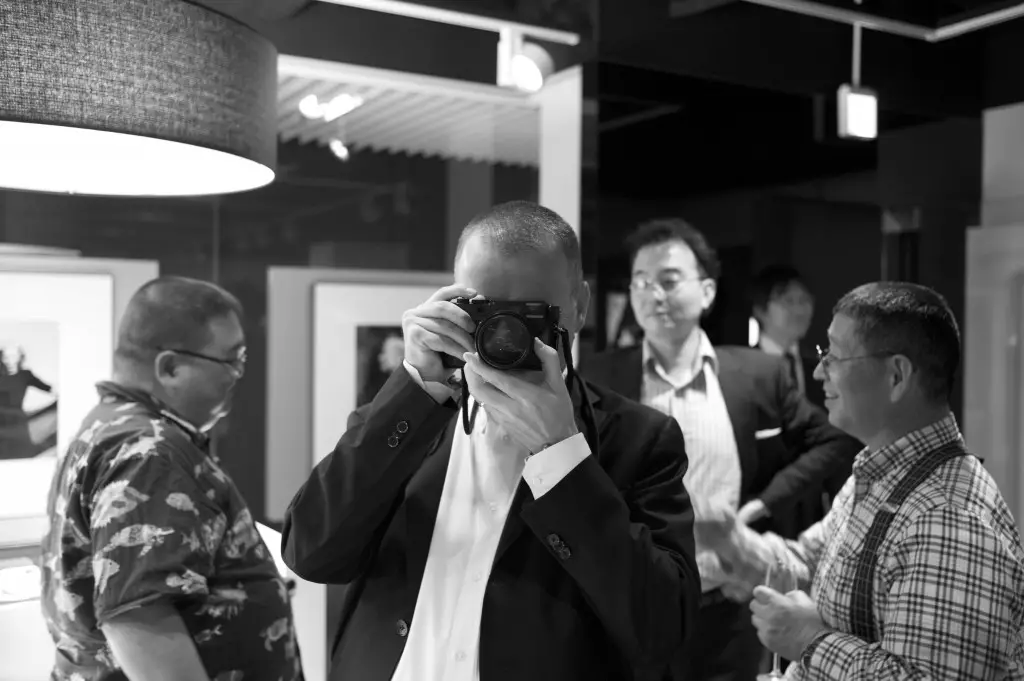 This is a shot of the famous Dave Powell aka ShootTokyo looking through his fancy Noctilux at yours truly. I decided to shoot at iso 1600 as I shoot at this iso on film pretty often and I wanted to see how it compares to Neopan or something of a similar nature. This shot was taken at iso 1600 f4 1/45th, I am very very impressed by the level of noise handling and the blacks. This is straight from the camera, no touching up or editing in any way. This is very impressive.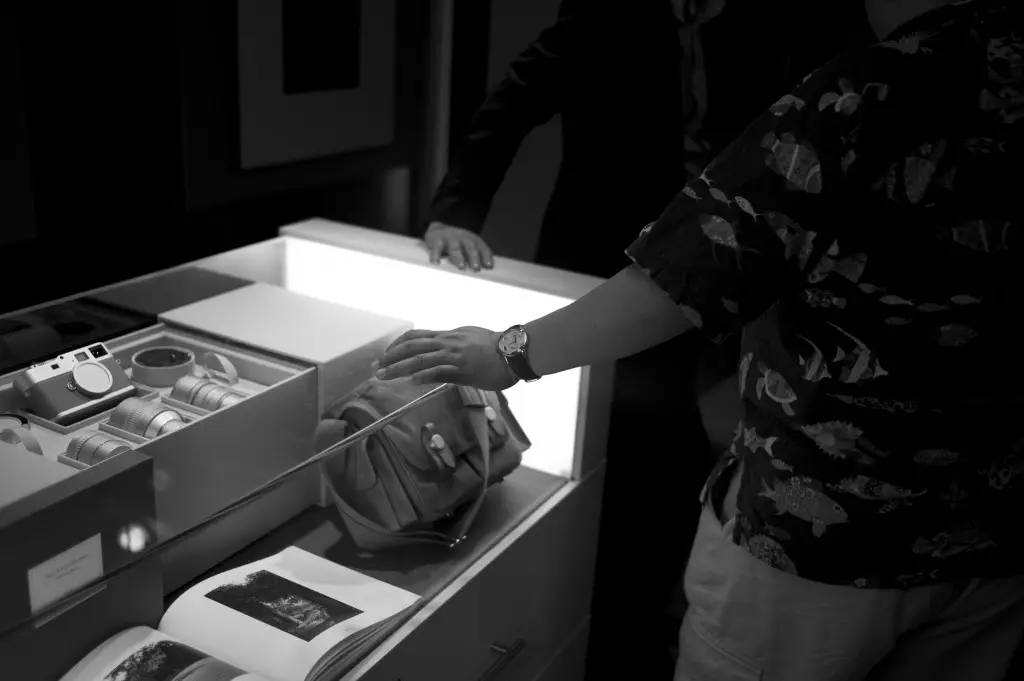 I was able to get a few more shots off, but there was not really a lot of subject matter, so I just had to make do with whatever I could find. There were a lot of people waiting to try the camera out, so I quickly set it to iso 400 and tried it out. This shot was taken at iso 400 f2.8 1/350th. I am honestly floored by this camera. I have tried out a lot of digital cameras, and none of them have really made me feel that they were in any way close to film, but this one gave me a feeling that it could be. OK, so there is no winder, and it makes that funny shutter noise that I cannot stand, but this is the first digital camera that I have ever actually really desired.
I had a chat with the guys from Leica and they asked me what I thought about the camera, I told them that I liked it a lot and feel that it is the first camera that has stepped into the recreation of the film feeling. I think this camera shows a coming of age for digital sensors and is going to really change the landscape. They also asked me what I thought about the future of film and I told them that I feel it is having a renaissance now, and you know what? They agreed. They said that they hoped that this camera would be something that film shooters would aspire to use, without making sacrifices.
After shooting this, I think they just might.
Thanks
Japancamerahunter