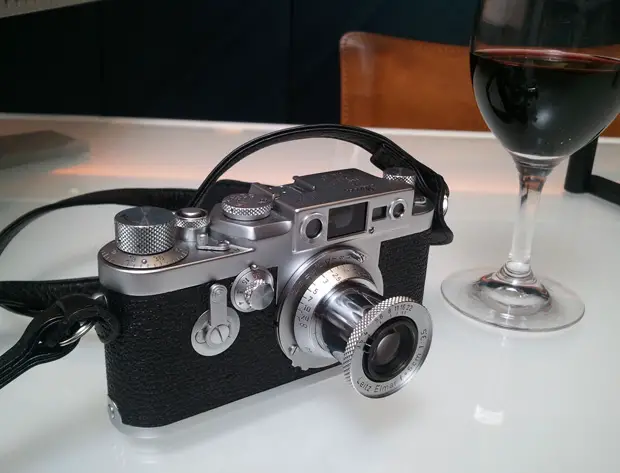 Last night I went to a party, a very special party
I was lucky enough to be invited to the Leica Ginza 新年会 party last night. For those of you who don't read Japanese (i.e. most of the world) that says shinnenkai, which means new years party. And what a very interesting party it was too.
I was very fortunate to be invited to the Leica party, but I have to admit I was a little bit apprehensive about going at first. I only own a lowly M6 and have not been a customer at the Ginza store, but that was of no consequence, I was welcomed with warm greetings and smiling faces.
If you have not had the chance to go to the Leica Ginza store then you should at least once in your lifetime. It was the first Leica store to open, 6 years ago. The interior is beautifully modern and understated, it really oozed class and a flowing simple design aesthetic.
On the ground floor the showroom has all of the cameras out for you to try, but on the second floor there is a photo gallery and service centre. For the party the second floor was turned into a makeshift studio for the models and customers to try out the stunning S2 system.
One of the things that I love about the Ginza store is that on your way upstairs there is a gallery of the classic cameras that have been made in the past, and there are some real gems in there.


But if you think this is special then the next one will kill you…


The Leica 0. The most expensive camera to ever be sold. This is not the actual camera, the actual camera was a sample model which was made 2 years before Leica was officially formed. But these are genuine Leica 0's…god only knows how much they are worth, but I wouldn't want to guess.
The thing that struck me about the party the most was the amount of people there with M9's/ M9p's and Noctilux lenses. It was absolutely insane, I have never seen so many of these cameras in the same place at the same time. Some of them were very special…a hammertone M9, a titanium M9 and a couple of a la carte M9's. But they were all being used, none of them were trophies or show pieces. In fact, one of them was so well used that it looked like this:


A pretty well beaten M9 a la carte, with a roughly handled Noctilux. Not my first choice of lens, but still good to see it actually being put to use.
Before I attended the party I was in two minds about buying into the Leica brand at a Leica store. I know that you can get them cheaper elsewhere and this is very appealing. But one guy at the party explained to me that when you buy from Leica you don't just buy a camera, you buy service and you buy a ticket into another world. As with any prestige brand, you are not just buying the item, but you are buying into an idea.
How many camera companies or stores can boast having a party for their friends and customers with champagne flowing, fantastic food and beautiful women dressed in Kimono's for the guests to shoot? Not many that is for sure.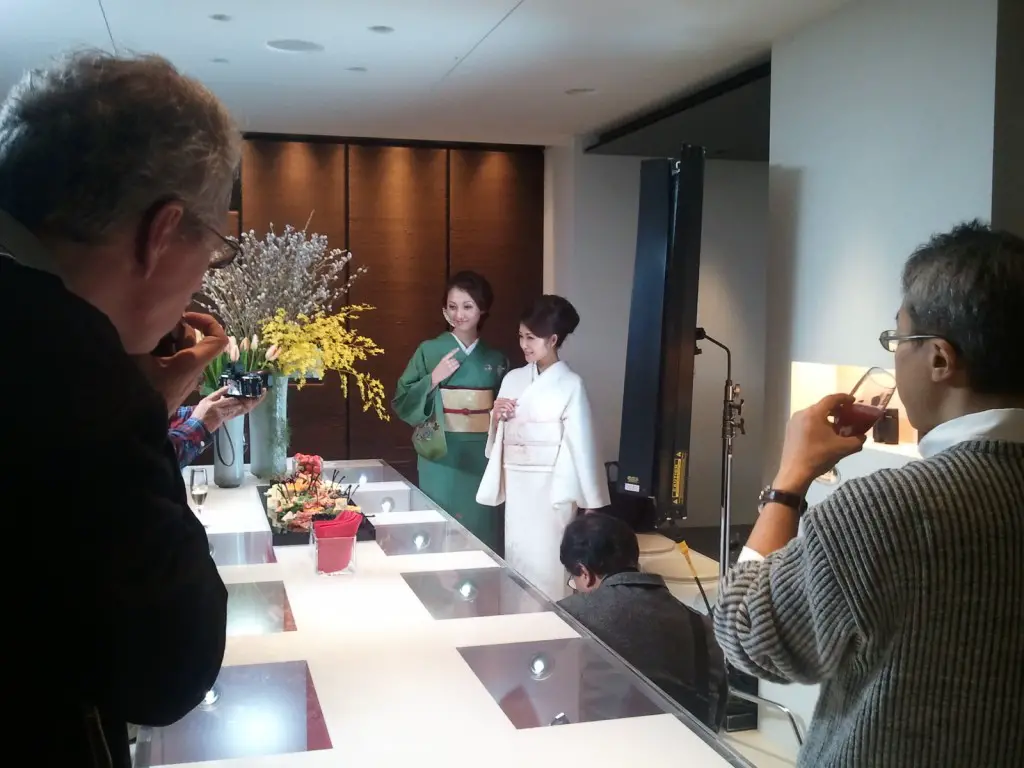 And this is part of the brand. This is what you get for your money. I know if I go out and buy a Nikon D4 the only aftercare I am going to get is a phone number for a call centre. If I buy an M9 I am going to get a cup of coffee whilst I sit down reading photobooks until the staff come out with my camera on a velvet lined tray, explaining to me what needs to be done. If my DSLR is buggered then I will just have to wait. If my M9 is buggered they will give me a loan camera until my one comes back. That is what sets them apart and that is what will make me buy from them in the future.
Overall it was a fun party and it was good to meet a lot of the people that I met there. If I had one thing to say to the marketing guru's at Leica though it would be "make the cameras more appealing to youngsters and women". I was basically one of the youngest guys there and there were no women there apart from staff or wives/girlfriends. It would be awesome to see some women shooting Leica cameras, I know they exist, but I didn't see any.
I know that Leica is not for everyone, just as Rolex or even Adidas is not for everyone. But if you do like the cameras and you do like the Leica idea then I would suggest you take a trip to Leica Ginza or another flagship store. You will not be disappointed.
Cheers
Japancamerahunter