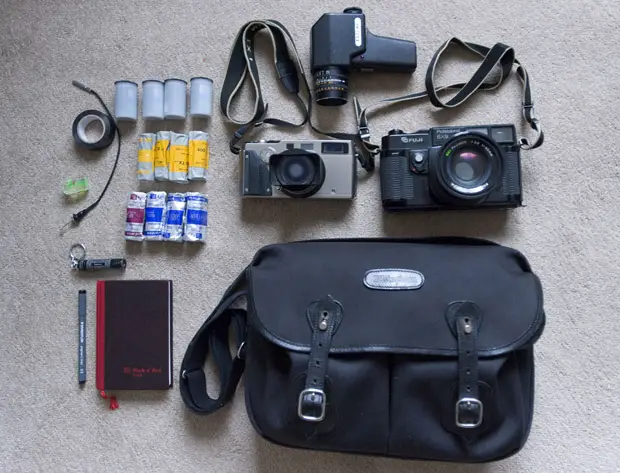 In your bag number 69, Andy from the U.K.
Todays 'in your bag' is from a working photographer, Mr. Andy Midgley from good old Blighty. It is great to see one of those whopping great Fuji's in someones bag. So, over to you Andy…

Hi, my name is Andy Midgley and I'm a landscape and location photographer in Norfolk, U.K..
Most of the time I use a digital camera for work, but sometimes I still prefer to use the rangefinders I had before digital. The kit I use with film is a Fuji TX1 with 45mm lens and a Fuji 690 II.
The TX1 is a great camera that I've had since a friend brought it back from Japan for me in 1998. Using the panoramic format changed the way I worked for several years, and I completed my photography MA with this camera.
The 690 II is also a lovely camera that is quite compact for the size of the negatives it produces. Fuji make high quality lenses, and when you combine this with a large negative the results can be fantastic. Both cameras are really solid and easy to use, with clear viewfinders and positive controls.
The bag is a small Billingham Hadley, I also have a large Hadley for my digital kit, and love the slim profile which sits close to your body. It's too easy to knock over small children or goods in shops when you have a normal bag which protrudes more from your side.
The Fuji 690 II has no light meter, so I picked up this old Elicar spot meter with a match needle read out, and it works a treat.
Other bits that live in the bag are a Black & Red note book, cable release, hot shoe bubble level for tripod work with the TX1, a small torch and some black tape just in case. Films are Velvia, Astia and Tri-X.
These are great cameras to use, but I seem to be too impatient to wait for films to be developed and scanned most of the time, so they don't get as much use as they should.
Web site : www.andrewmidgleyphotography.com
Blog site : 7clicksaweek.tumblr.com
Thanks for sharing your bag with us Andy. It is great to see a Fuji TX-1 being put to good use. It is a great camera.
Keep them coming folks, we need more submissions, so get your bag on Japancamerahunter.com. Send me a hi resolution image of the bag (please make sure it is horizontal) and its contents, with some details about yourself and what you shoot. Oh and don't forget your contact details (twitter, flickr, tumbler et al). Send the bag shots here.
Cheers
Japancamerahunter