IN YOUR BAG 1756 – JOHN A. BENNETT
For this week's "In Your Bag" we have John! And John has a lot of cameras in his bag made by his friend…check it out below:

My bag was made for me by my pal, Andy, who has a sewing shop here in Portland, Oregon called Lords Luggage. No apostrophe!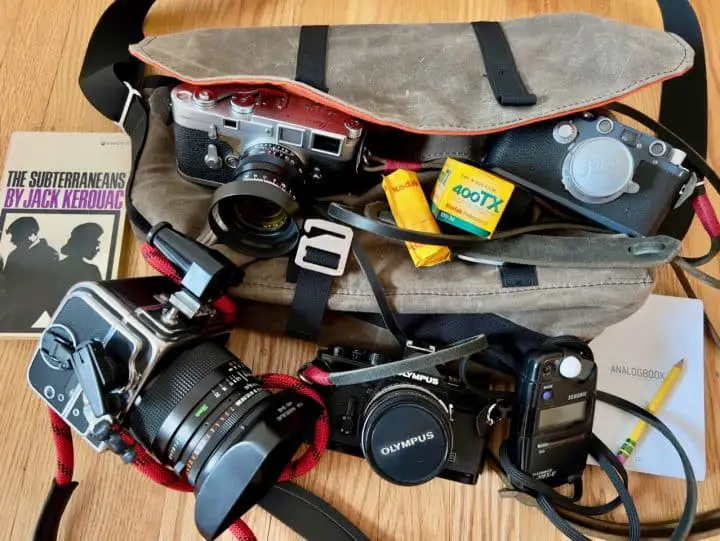 I wanted something slightly larger and more padded than my Domke F-6. This one fits the bill. The orange lining makes finding stuff in it a snap, and the fasteners are easier for my old fingers to operate.
Like a lot of Japan Camera Hunter readers, I'm sure, I have more cameras than I need.
These are some of my current favorites.
The 
Leica IIIc
was a gift from my wife, Darby. It was repainted grey by 
Blue Moon Camera.
Their repair guy, Michael Knight, does amazing work. Like many are, the IIIc is fitted with a Leitz Elmar 50mm f3.5.
And since I had a Leica IIIc, I felt it was absolutely necessary to acquire an M3 (Blue Moon, again).
The tipping point? This one was built the same month and year that I was born. I am currently using it with a Zeiss Planar 50mm f2 lens. I also have a friend who has a "drawer full" of Leica lenses, which he kindly, if unwisely, loans me.
Rounding out the bag contents:
Hasselblad SWC/M. It takes photos like no other camera.
Olympus OM-1n. Perfect weight and size.
Kodak Tri-X film. I keep coming back to it
Sekonic L-308X-U meter. I have a few iPhone light meter apps, too.
Analogbook™, which I almost always forget to use.
Ticonderoga "golf" pencil.  For when I remember.
"The Subterraneans" by Jack Kerouac. In case my phone dies and I'm stranded.
My Instagram https://www.instagram.com/bennett_in_portland/
––––––––––––––––––––––––––––––––––––
Send me a high resolution image of the bag. Optimum size is 1500px across. Please ensure there is a bag in the shot, unless you don't use one. The more you can write about yourself the better, make it appealing and tell us a story. Snapshots of your gear with a camera phone and no words will not be featured.
Oh and don't forget your contact details (Instagram, Twitter, Flickr, Grainery et al). Send the bag shots here. Not all make the cut, so make sure yours is funny/interesting/quirky. And please make sure the shot is of good quality, you are a photographer after all. 
Cheers
-JF