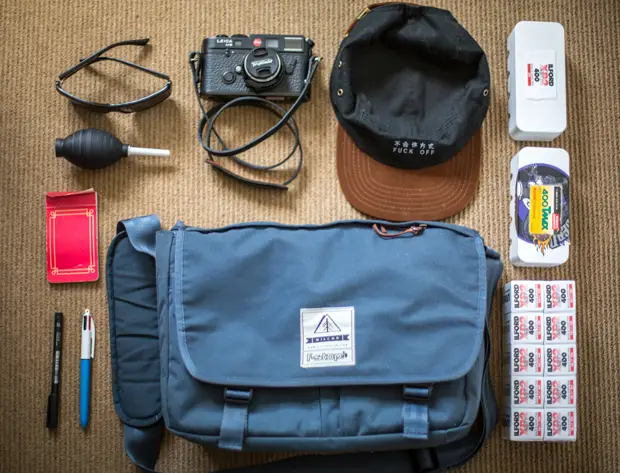 In your bag No: 536, Rory Gatfield
A while back I found a nice camera for Rory, and now he has been kind enough to share his bag with said camera. And a great bag it is too. Total film heaven. Check it out.

Anyone who knows me, knows that i always have a camera on me, and with this setup, it's going to be easier than ever to document my life surroundings. I am from New Zealand, but am in Northwest Australia, in a mining town. Moving to Melbourne later this year. I am still shooting digital, but love film more and more these days. Although i have been shooting film for a few months now with a Canon 7 and more recently this Leica, i haven't got anything online yet. But will in time.
Here is my 'in your bag' shot.
1x Sunglasses, polarized.
1x Leica M6 ttl 0.85 with Voigtlander 35mm ƒ/2.5 and leather strap.
1x Hat.
20x Ilford XP2 400.
10x Kodak Tmax 400.
2x japancamerahunter film cases
1x Air duster.
1x Notebook
1x Multi color pen.
1x Marker
1x F-Stop Millar Bandon bag
If anyone wants to see my digital stuff online, i have a blog/facebook/flickr:
eightythreephoto.com
facebook.com/eightythreephoto
flickr.com/photos/rgatfield/
Thanks again.
Rory
Thanks for sharing your bag with us Rory. It is great to see that M6 being put to good use. Happy shooting.
Check out the links and make sure you come and comment.
Keep them coming folks, we need more submissions, so get your bag on Japancamerahunter.com. Send me a hi resolution image of the bag (please make sure it is horizontal) and its contents, with some details about yourself and what you shoot. Oh and don't forget your contact details (twitter, flickr, tumbler et al). Send the bag shots here.
Cheers
Japancamerahunter