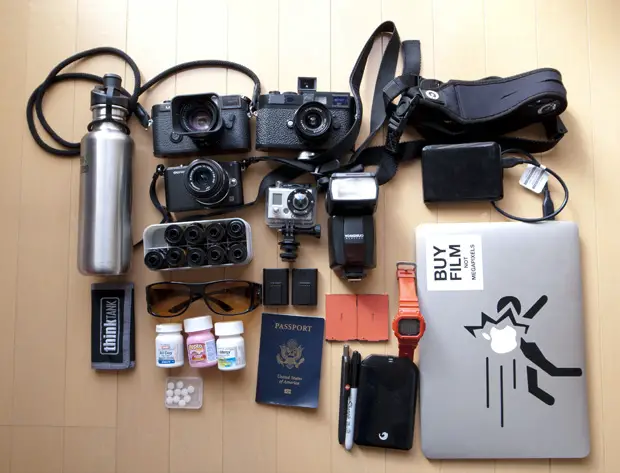 In your bag number 60, Eric Kim
Well well well, got a very special bag for you all today….The bag of the Legendary Eric Kim! Yes, that is right I have managed to get Eric to give us a bag shot so you all can see what the globetrotting Mr. Kim carries around when he is out teaching his workshops in exotic locations.

As you all may know, Eric and I did a workshop last month in Tokyo, and Eric came to stay at my place. During one of our rare moments of downtime I managed to convince Eric to give up what he has in his bag, so I actually took this shot.
Eric is a very lucky young man, as he gets to travel the globe doing what he really loves….Street photography and workshops. He is a driven and passionate guy and a great person to hang out with, so it was a lot of fun to get to see what was in his bag.
The funny thing is, the bag is not actually in the shot….as there is just not enough space. This guys seriously carries around a lot of stuff, and for good reason, everything serves a purpose. So, what have we got in the bag?
A water bottle: Eric was constantly swigging from this, I suspect that it may actually contain white wine or perhaps vodka.
Leica M6: Eric was very fortunate to be given an M6 to play with for a while, and he was even more fortunate to get his hands on a summilux 35mm for it. Great setup, perfect for the street.
Leica M9: The workhorse and Eric's standard street shooter. He has taped it up for stealth purposes. He has the Voigtlander 21mm Color Scopar on it, with the Leica viewfinder.
The Custom SLR splitstrap and C-mount adapter: Very cool strap, which give a lot of space and movement. You can get them here.
Portable harddrive: Got to keep all of those shots somewhere while you are on the road.
The Yongnuo flash system: Cheap and reliable, Eric has been championing them for a while now. Get them here.
The GoPro Hero: Eric shoots all of his video's on one of these, and it is brilliant. So brilliant in fact that I am going to get one soon. Read about them here.
Bikkuri film case: Eric need a case and some film, so I was happy to help him out. Get yours here.
Olympus Pen lite: Eric shoots all of his website blog shots with this thing. Fast, small and easy to use.
Thinktank card holder: I cannot stress how useful this is. Stops you from smashing your cards to little bits.
Sunglasses: Because at the end of the day, he still likes to think he is stylish:)
Spare M9 batteries: Very important. The only fault I have with the M9 is the woeful battery power. You need spares.
HTC batteries: Another essential. I don't know about you lot, but having a smartphone is a blessing and a curse. they are brilliant, but the batteries in them suck so much it is barely believable.
'Merican passport: Don't be touching my freedoms, bro.
Some drugs: Because Eric is a sensitive flower and he gets a bad tummy he needs something to make him feel normal. Just like me and wine then.
Pens: Including a Leica pen! cool.
Not sure: It could be a harddrive, or a futuristic notebook, I just don't know.
Classic Casio G-Shock: Because that is how he rolls.
Macbook Air: Light and easy to carry about without killing yourself. Unlike my Macbook Pro, which gives me a hernia.
So, that is what the infamous Eric Kim carries around with him. A pretty hefty bag you might agree, but he makes it look so damned easy. Nice one Eric.
Come and see Eric's website and blog. And come join a workshop.
Website
Flickr
Twitter
Facebook
Google +
Youtube
Eric is easily the most connected person I have ever seen, well maybe apart from Justin Beiber or something. But seriously, thanks for sharing your gear with us Eric. And thanks for coming to Japan and sharing an awesome time with us. Looking forward to seeing you soon. Take care.
Keep them coming folks, we need more submissions, so get your bag on Japancamerahunter.com. Send me a hi resolution image of the bag (please make sure it is horizontal) and its contents, with some details about yourself and what you shoot. Oh and don't forget your contact details (twitter, flickr, tumbler et al). Send the bag shots here.
Cheers
Japancamerahunter