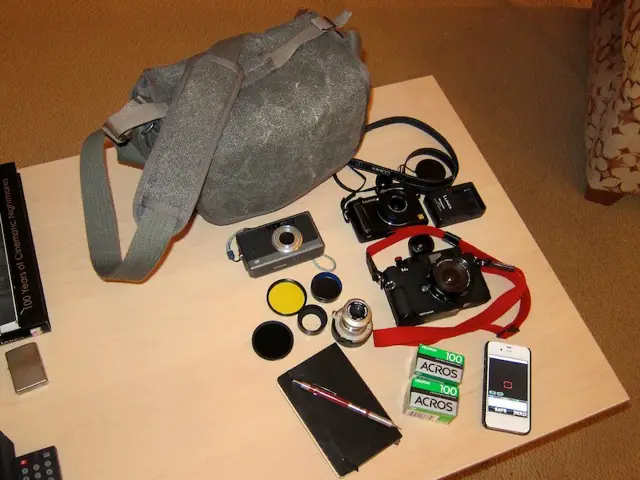 In your bag number 55, Barry Harding
Hello again my dear bag-lovers. How are you all? A very happy new year to you all. This is the first bag posting of 2012, as I have been on a break. But we are going to get right back into things with this fantastic submission from Barry. Over to you Barry:

Hi All
Love the blog! Thought I'd send over a pic and summary of my day tripper bag. I'm Professional Geologist and amateur photographer Barry Harding. I live in Michigan. I'm usually out shooting landscapes or people. I've gotten away from lugging the Nikon and a handful of heavy lenses around, so I've slimmed down. Still, seems like I invariably end up with at least 2 cameras.
Bag: ThinkTank Retrospective 5. It's a tough canvas bag that's not too big. Perfect for carry on through airports and day trips. Grab and go! I also have the Retrospective LC2, which I cram full with a Nikon D7000 and several primes.
Cameras: Top Row.
Fujifilm Natura Classica (Super-EBC Fujinon Zoom). I usually load it with Ilford 3200. Cheap build quality, but takes awesome pics in low light conditions. In the States they are getting hard to come by.
Panasonic Lumix DMC-LX3 Digicam, with Cosina-Voightlander (C-V) 28mm viewfinder. Tough rugged little camera. I also often pack the Canon S95 (not shown). Also shown is charger for the Lumix. I usually pack an extra battery or two (not shown). (This spring I'm upgrading to the X-100, although I have my eye on a Titanium M-6). Choices in life.
Camera Center: C-V Bessa R4A, with C-V 15mm f4.5 Heliar and softie. A&A strap, which are really nice. The C-V 15mm is ridiculously compact and sharp. Love this lens. I like it for architectural compositions. Also shown is 50mm f3.5 Nickel Heliar, lens cap and hood. That lens is an extraordinary portrait lens, but the ergonomics are a bit funky. The aperture can be controlled by rotating the lens hood!
Various filters. I like the Y2 and Hoya 72 when shooting film like Ilford SFX200. I usually have a yellow filter on the rangefinder lenses.
Moleskine Notebook. Usually a mechanical graphite pencil or Lamy pen. I also like the Fisher-NASA ("Jack Klompus") pen.
Film. Usually B/W. I've been shooting ACROS 100 lately, but I also like Kodak's cheap CN400 (C-41 film).
iPhone 4S. I like the Light Meter App.
Other Items (not shown). Various lens wipes, a lens pen, usually a pocket rocket dust blaster.
Sometimes I rotate in other compact cameras. My favorite is probably the AGFA Optima Sensor (early 1980's 35mm). That camera has the finest viewfinder I have used. I also like the LOMO LC-A+, but it's getting beat up.
Well, have fun and keep shooting. Harding Out!
Brilliant work Barry. Only one thing…no contact or website details! Please drop us a line and get the world to see what you shoot with this set up. This blog is not merely for bags, it is a good chance for people to come to see your work.
Keep them coming folks, we need more submissions, so get your bag on Japancamerahunter.com. Send me a hi resolution image of the bag (please make sure it is horizontal) and its contents, with some details about yourself and what you shoot. Oh and don't forget your contact details (twitter, flickr, tumbler et al). Send the bag shots here Send the bag shots here.
Cheers
Japancamerahunter