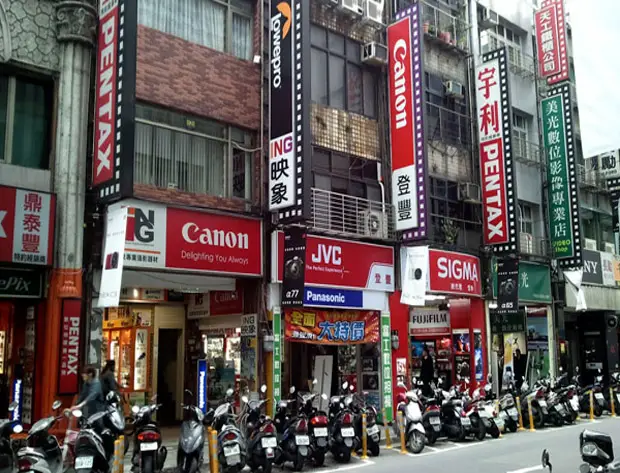 Just for this week I shall be known as Taiwan Camera Hunter
Yes, that is right, I am in Taipei in Taiwan, checking out the sights the sounds and the camera/photography scene. Taiwan is a pretty amazing place, with loads to see and do.

It is pretty much street heaven, as there are so many people and so much going on that you can just find yourself shooting like made. The people are really friendly and don't seem to mind having their picture taken. More than anything they just seem to be a bit confused as to why they are the subject of a photograph.
There are so many little side streets and such hustle bustle that you will soon find yourself completely lost (as I have) and shooting like mad (as I have).
After a very short while I ran out of film, so I decided to go and look for the infamous 'Camera Street' that had been mentioned to me by a few people. The picture at the top of this page is Bo Ai Lu Road, which is the street most famous for cameras. Now I am not all that bothered by the new stuff, you can pretty much buy that anywhere, and the prices are pretty uniform too. I am interested in the old stuff, so that is what I went looking for…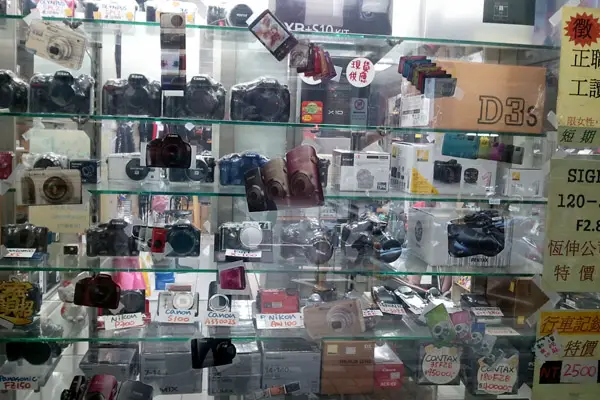 The first stop
Sadly I was in for a bit of a shock. It seems that the stores here don't hold much cop for old stuff. This was the window of the first place I went into. Notice that all of the cameras are clear wrapped and not boxed, very different from the norm. They told me that they didn't sell classic or used cameras and they didn't know anywhere that did. Which was clearly a load of rubbish, as the shop next door was!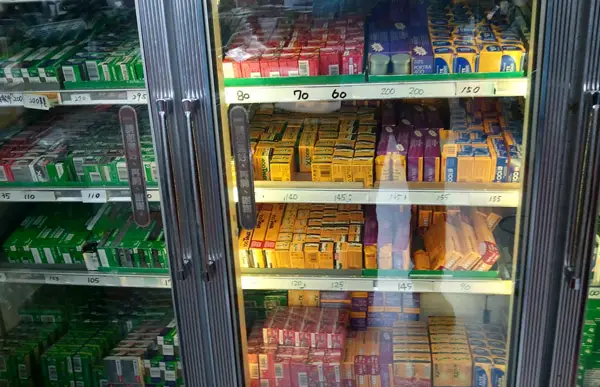 Next door only had a couple of terrible looking old F2's, but they did have a reasonable selection of film (the only store I found that did).
But look closer….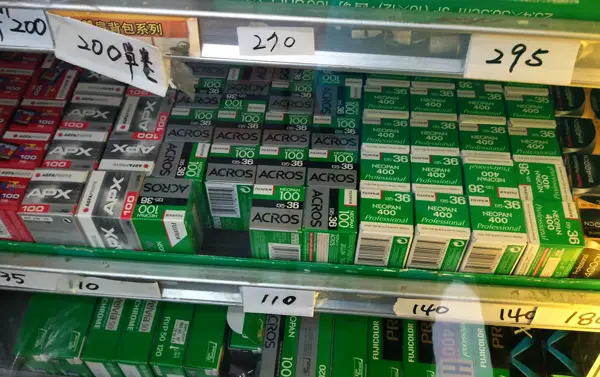 Yeah, look at those prices. NT$110 for a 36 roll of Acros? That is about ¥285 or $3.79, which in my book is pretty damned cheap. I wish that I could get it this cheap all the time, but I had to make do with stuffing my pockets with as much as I could:) The same store was also selling a load of dev tanks etc. So it seems that there are at least some people who are using film. I didn't seem any LF stuff though.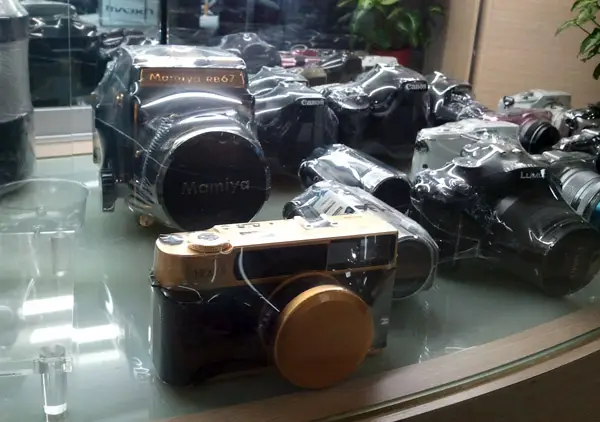 The shop next door to the last one had this in the window…it looked promising enough. Though the shrink wrap didn't escape my eye. That could potentially be a problem. I decided to investigate further…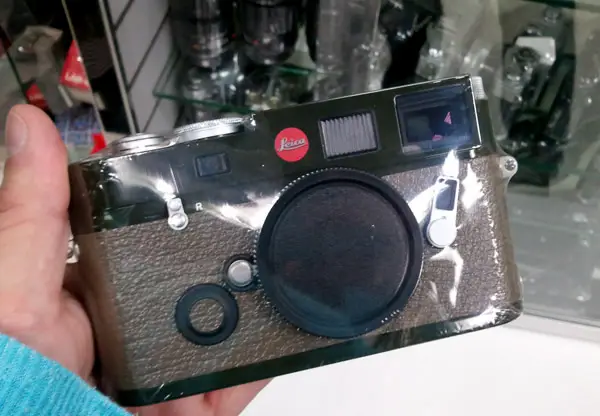 And this is what I found. An original Green Millenium M6 TTL, number 249 out of 300. Not a bad looking camera and not an easy camera to find at the best of times. Notice the shrink wrap? Yeah, well that was one thing that turned me off. I asked the price of the camera and was shown a ticket for NT$170,000 (US$5250 ¥404000)! Gulp, but still, if it is perfect and comes with all of the gubbins then it just may be worth it. So, I asked if I could have a look at the camera without the wrap. Which is where I hit the wall. He was not prepared to unwrap the camera unless I bought it. Now I would understand if it was a cheap camera, but 5K is a boatload of cash and I want to test the damn thing to make sure it is working. But he said no dice, you cannot test, you buy. No chance matey. Sorry, but I need to test something before I sell a kidney for it.
And then as soon as it had started it was over. The end of the street was reached and there was nothing else to see other than a smattering of generic close stores selling the same thing. No lenses to be found, hardly any used gear, and crazy prices for the stuff that was rough at best. The staff didn't seem to know what they had and were all very impersonal. No bargains to be had.
I have been out shooting for a few days now and I have not seen anyone with anything other than a 'tourist' camera. No classics, no rangefinders, nobody shooting street just for the hell of it. I am sure that there are shooters here, and I would have loved to meet them. If you are shooting in Taiwan let us know and we can meet the next time I am in Taipei.
You see, despite this, Taiwan is an awesome place to go and take pictures. The streets are loads of fun, there are loads of characters, the food is amazing and the place is dirt cheap (got a beer for about $1!). And what the hell, perhaps we could arrange a street workshop there too, that would be an awesome time for sure.
Perhaps you are in Taiwan or know someone who is. Please comment and let us all know about the scene there.
Cheers
Japancamerahunter