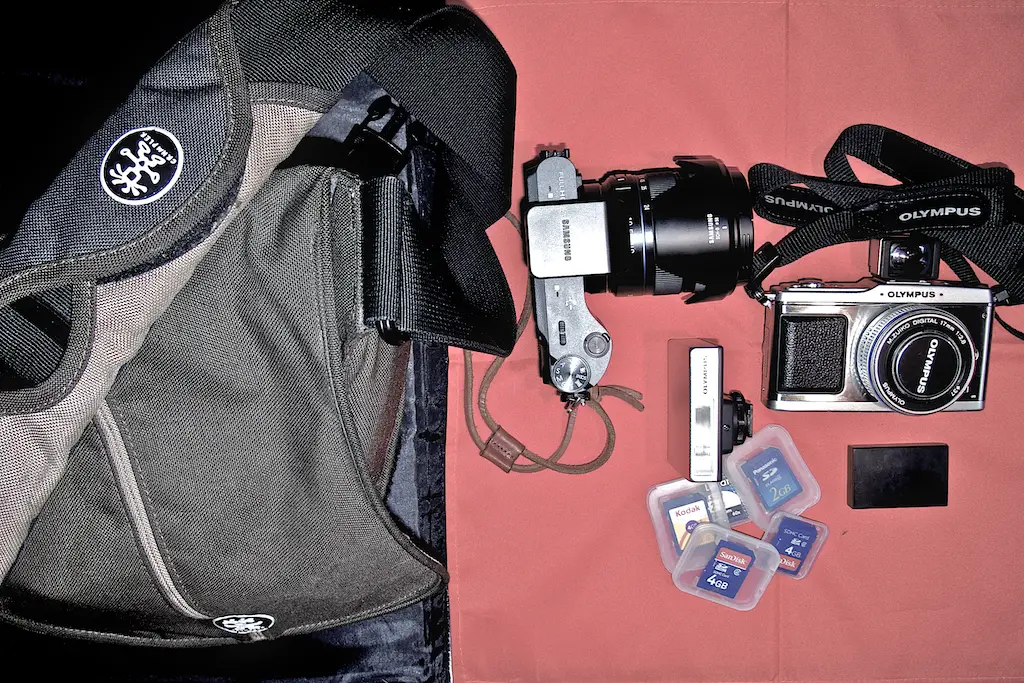 In your bag number 24, Alex from Mexico
Another day and another bag comes to my inbox. It is interesting because we are getting submissions from all over the world now, and this one is no exception. From Mexico we have Alex Coghe and his bag. Take it away Alex:
I am Alex Coghe, an international street photographer. I am Italian but actually based in Mexico. Founder of 2 communities dedicated to Street Photography: SPC (Italian language) and The Decisive Moment (English) i deal with developing this kind of photography.
Currently correspondent from Mexico for Prisma News, a national information periodic. Many articles were published for important daily newspapers, Il Giornale, La Stampa and also for The Leica Camera Blog. I work on assignment for The Telegraph.
Owner of a photographic school in Mexico City, SP WS, we make street photography workshops. I am also founding member and photoeditor for HYDE PARK PHOTOGRAPHY, international magazine and website.
Recently i have been in Los Angeles, like one of the 32 photographers involved in YOU ARE HERE, international street photography show sponsorized by Leica.
My bag is the Crumpler Pretty Boy 3000. I like it because because it is small and discreet: you don't think that contains cameras. Inside the new Samsung NX200, the Olympus Pen E-P1with the flash.
I am a professional photographer and i love the mirrorless concept. I think that is perfect for the street.
Sometimes in my bag i put the Canon G12, expecially when i'm busy with some work on assignment, more focused on event or reportage. For me, light weight, compactness and discretion are key requirements.
Currently I am interested in finding an agency that represents me in Japan.
Alex has an online portfolio, check it out.
He has a flickr too.
Facebook
Thanks for sharing your bag with us all Alex, very interesting to see street with a Micro 4/3 camera.
Keep them coming folks, we need more submissions, so get your bag on Japancamerahunter.com. Send me a hi resolution image of the bag (please make sure it is horizontal) and its contents, with some details about yourself and what you shoot. Oh and don't forget your contact details (twitter, flickr, tumbler et al).
Cheers
Japancamerahunter