In your bag 298, Ried Cawston
Ried has been very kind and numbered all of the items in his bag for your convenience. Come and have a look what he carries around to shoot with.

My name is Reid Cawston and I live in Pefferlaw, Ontario, Canada. I started shooting as a kid with a Kodak Brownie, then a Kodak 35mm. The first camera I purchased is a Canon A1 which I still maintain and use today with a good selection of fast prime FD lenses, but mostly the Canon FD – f 1.8 – 35mm
I've since converted to digital and the rangefinder format. Leica equipment is just simple and bulletproof. It always does what you tell it to do, even if that's not what you want it to. I primarily shoot available light photography; a mix of street and architectural with a bias to B&W processing. I hope to add a Leica Monochrom fitted with a Noctilux f 0.95 – 50mm to the bag in the near future.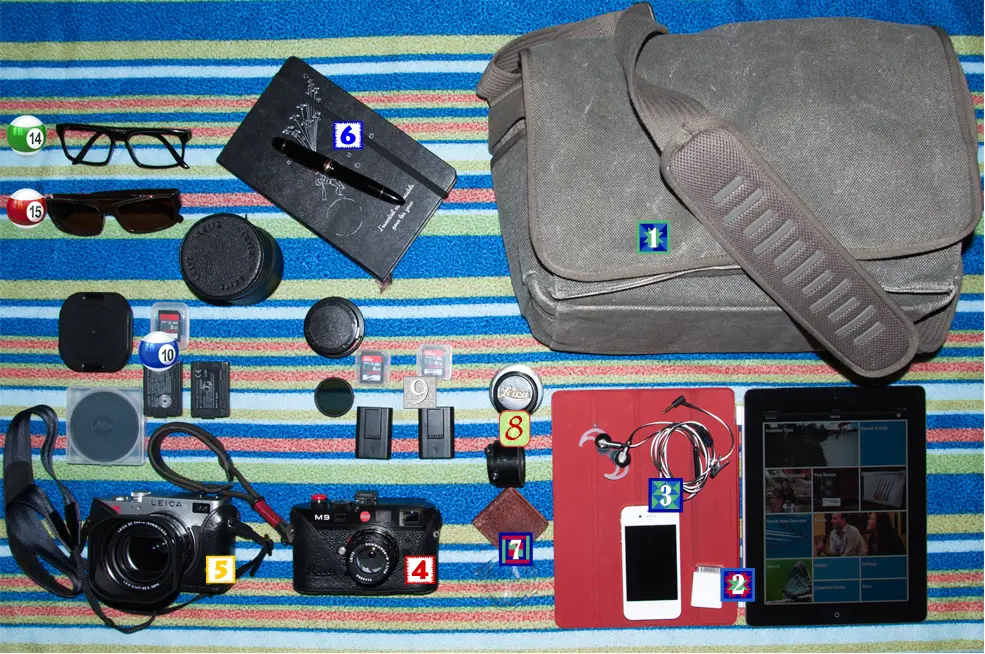 This is my current  bag:
1. Think Tank Introspective 30;
2. iPad2 64GB with SD card reader;
3. iPhone 4S and Bose MEI2 earphones;
4. Leica M9 – (1987) Summicron 50mm;
5. Leica Digilux-2 f2.0 Vario Summicron 28-90mm;
6. Moleskin Notebook and MontBlanc #649 pen;
7. Magnifying Glass;
8. Leitz (1935) Elmar f4 90mm with hood;
9. 2 extra batteries, 2 extra 8GB SD cards and E39 8X ND filter;
10. 2 extra batteries, 1 extra 2GB SD card and E69 8X ND filter;
– not sure what happened to 11, 12, 13.;
14. My Reading & Shooting Glasses;
15. My Warby Parker Sunglasses.
FB: http://www.facebook.com/reid.cawston
Flickr: http://www.flickr.com/photos/reidcawston
Cheers,
Reid CAWSTON
Thanks for sharing your bag with us Ried. Not all that often that you see a Digilux in someones bag, that camera has gained a bit of a cult following.
Check out the links and make sure you guys come and comment.
Keep them coming folks, we need more submissions, so get your bag on Japancamerahunter.com. Send me a hi resolution image of the bag (please make sure it is horizontal) and its contents, with some details about yourself and what you shoot. Oh and don't forget your contact details (twitter, flickr, tumbler et al). Send the bag shots here.
Cheers
Japancamerahunter