Camera Geekery: A new panoramic film camera on the horizon
Yes, you read that right, and despite the pun it isn't a joke. SilvergrainClassics and the Bridges family (you know, Jeff Bridges) are teaming up to bring the world a new panoramic film camera. And not just any camera, a swing lens camera based on the famed widelux.
New Panoramic Film Camera by Bridges & SilvergrainClassics
Jeff and Susan Bridges, with Marwan El Mozayen and Charys Schuler of SilvergrainClassics magazine, have formed a new company which plans to produce a new swing lens panoramic film camera.
Jeff is known as an Oscar®-winning actor but has also won the International Center of Photography's Infinity Award. He depicts life on movie sets with a Widelux film camera. The camera was last produced in 2000, and Jeff has been thinking about reviving "his axe" ever since.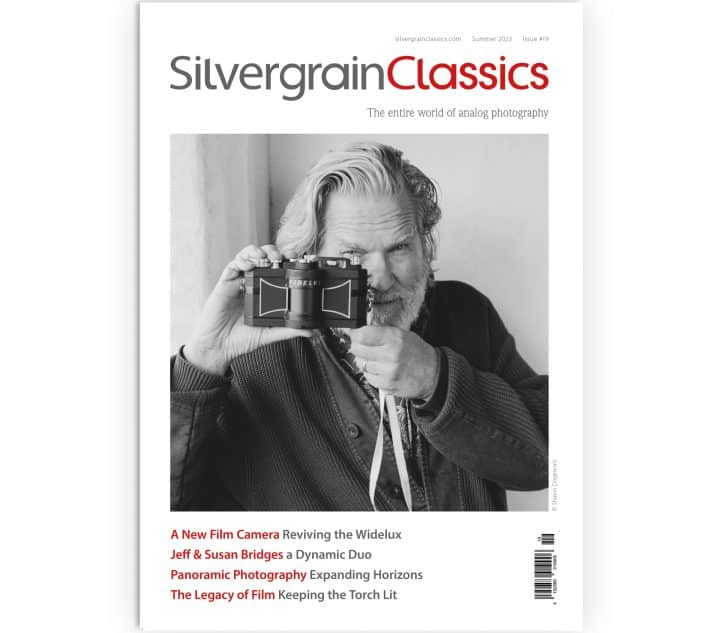 It is a unique camera; the panning slit lens sweeps across a strip of film instead of using a traditional shutter. This process captures a span of time in one image, giving the photographer a variety of possibilities which can't be duplicated with other cameras. Jeff uses it creatively in his Tragedy/Comedy series.
"The Widelux [panoramic ratio] is like how your eye sees, with peripheral vision. And the swing lens! Between the time when the slit starts moving and when it's done, the world has changed." -Jeff Bridges
Susan Bridges, Jeff's wife, studied photography and had started a career in the field before giving it up to raise the Bridges' three daughters. She recently had her first solo photography exhibition, which received rave reviews.
"[The Widelux] is a fabulous format. I think it's one of the most artistic ways to use a camera. And I like film because, to me, it's the soul of photography." -Susan Bridges
Revival
Although the Bridges have had the idea to revive the camera for decades, it was only two years ago, during an interview with SilvergrainClassics magazine, that they found the right partners to help them realize the project. Schuler and El Mozayen are based near traditional camera manufacturing centers in Germany and are well-connected in the film photography community and industry.
"The new camera will be 100% Made in Germany. We aim to revive the Widelux — but with improved quality, reliability, and a few tweaks. There isn't an exact timetable yet, but with the four of us collaborating we have already reached the prototyping phase!" -Marwan El Mozayen
The full project story can only be read in the printed Issue 19 of SilvergrainClassics magazine, a special panoramic edition, which also contains a portfolio of the Bridges' images.
This is of course great news, not just for camera nerds like myself, but for the industry as a whole. And coming off the heels of Pentax announcing they will be making a new film camera, things are starting to look a whole lot better for film photographers. At least some people manage to commit to making a camera, eh… I know I will be getting one, how about you?
JCH