Jesse's Book Review – YEARS by Tadashi Onishi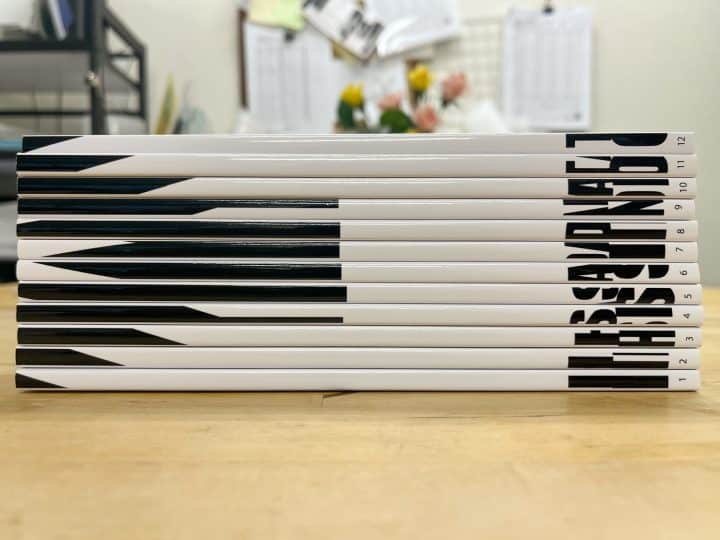 When Tadashi mailed saying he would send some zines, I really thought it would be…some zines. When the mail came and a large box was given to me, I was surprised. It turned out to be a twelve volume cohesive work simply titled "Years." It was a monthly photo book publishing project for the entire year of 2021. The plural form of "Years" is accurate in the fact that the photos were taken over the past ten years, but were edited in a way to correspond to the exact month they were taken. Each month then features some writing…the topics of which can be detected in the photos.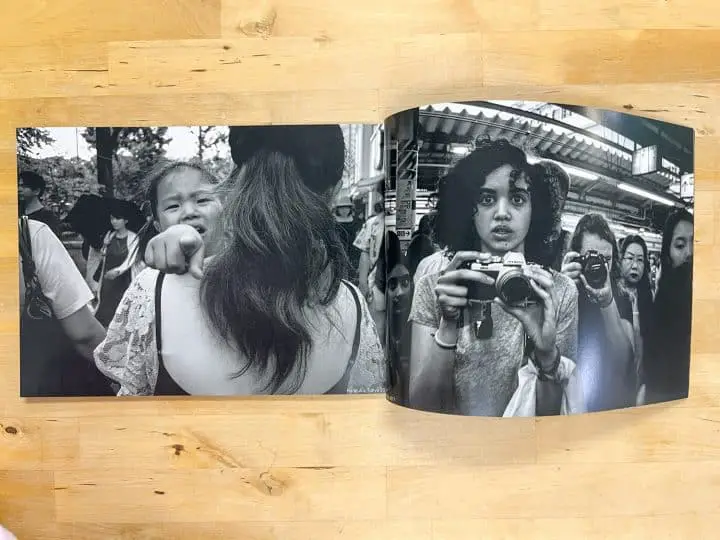 The Editing
Beyond the sheer scope of the project and startling consistency, is the impressively strong editing that wins you over. It being monthly, seasonal Japanese themes are worked into the photography through out, albeit subtly. Aside from these elements (rainy season, snow, etc), themes from all the Japanese events are there: Coming of Age day is worked into January, the Emperor's birthday which always leads to massive protests at the Yasukuni Shrine is covered, Cherry Blossom season in March, as well as Halloween, Christmas, and everything else. But it is done in such a subtly impactful manner! For March, the first quarter of the book features beautiful juxtapositions of cherry blossoms to crowds of people throughout a work day that sync the compositions of the two perfectly.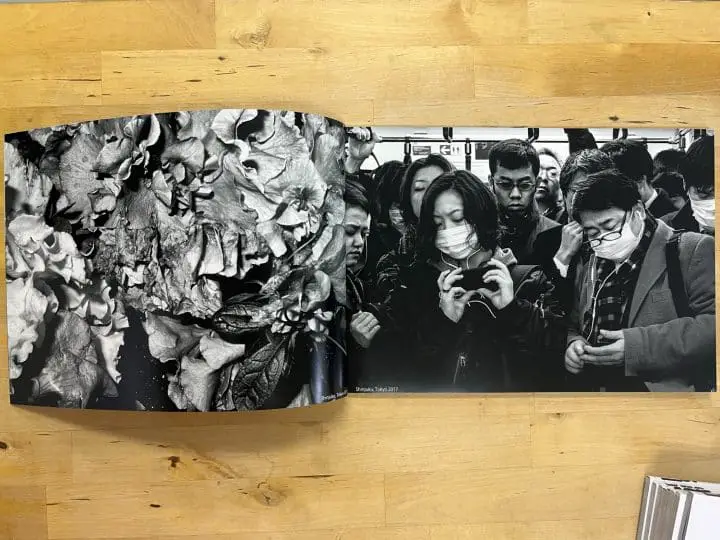 Style
Throughout and inevitably with the volume of work here, we get see Tadashi's quirks. From the stray clothing items to his preoccupation with the Shinjuku animal kingdom (that consists of rats, pigeons, cats, crows, and roaches). Police interactions and crowds are other subjects that with the latter really are necessary if one is to do photography on the daily Tokyo life. Personally, he excels most juxtaposing backgrounds with his subjects or in the exact opposite just catch the gaze of people unawares that really tell stories in themselves. And through these moments it just for comes back to the editing that really makes all of these disparate items consistently cohesive. The result is a volume of books that I think maintains a sustained intensity that I can say in this city is ever present.

Cohesion
Throughout you are asking, if these were simply just stand alone images (the way Flickr and everything else has trained us to go for)…why would anyone photograph this? These aren't home run photographs, instead they all work together hitting line drives, making sacrifice flys and bunts…everything has a purpose to achieve the goal of a good photo book…then does it 11 more times without feeling repetitive. Any street photographer would be happy to make just one of these for a really definitive work.
"I Novel" Qualities
Then there is the writing! I usually don't welcome writing, it is a photo book that is a book of photos that should tell the story visually. It is that old Hitchcock cinema adages "always show than say." Plus there is that penchant for poetics when describing the documentation of the human condition that is often in place of what is lacking…actual good photography. Tadashi's writing is (hopefully I can say this without simplifying) very Japanese. And by this I mean, if you have ever read what is considered pure literature (literally a genre Japanese writing, Jun Bungaku) often in the form of the "I" novel…it can be perceived as painfully mundane for the unaccustomed.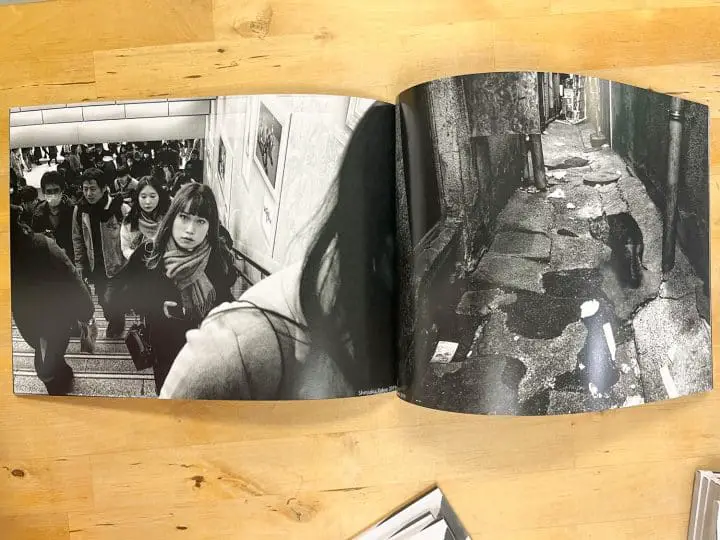 One of the great lesser knowns of the genre would be a writer like Shiga Naoya who for instance wrote a story about staying at an inn after matter of factly speaking of getting hit by a train. At the inn, he observes a bug die and a rat try to get out of the river. The sentences are short while the tone is neutral. Yet it carries a naturalistic tendency where you turn simple observations into literature. Japanese literature achieved this through their own form the "I Novel." Tadashi can write simply about a trip to get gyoza and his daughter pulling out a mirror and playing with the light, the flavor the gyoza, the traffic on the train or a day about going to the store to buy bee killer to spray a hive that has sprung up on his porch…and literally reflect this subtle theme of light reflections throughout the book combined with all those elements naturalistic work their way in. The very cycladic nature with the seasons matter of factly worked in is really special and metaphoric of it all.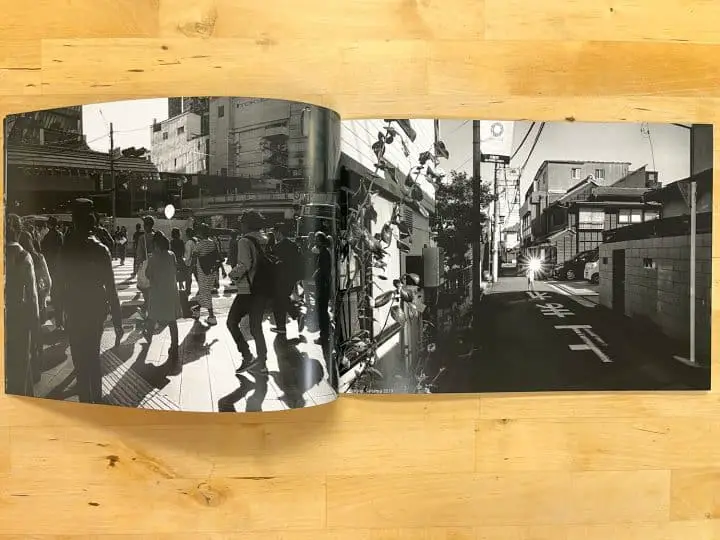 Where to buy?
The volumes can still be had. I was fortunate enough to receive the whole set, but perhaps for the money strapped choosing favorite months or just one from every season isn't a bad buy. I thoroughly enjoyed every volume and took a week to sit with the book before laying the first sentence. All the books are at 62 pages at an A4 size. You can order here.
––––––––––––––––––––––––––––––––––––
For other book reviews click here.
-JF