PHOTOPEACE 2022
A Photowalk and Gallery Hop for International Day of Peacekeepers
We will be sponsoring the PhotoPeace charity event May 29th, 2022 in Shinjuku, Tokyo. It is a photowalk and gallery hop for International Day of Peacekeepers an extension of our previously covered Photohoku project. Participants will be asked to make a donation and receive 10 free rolls film!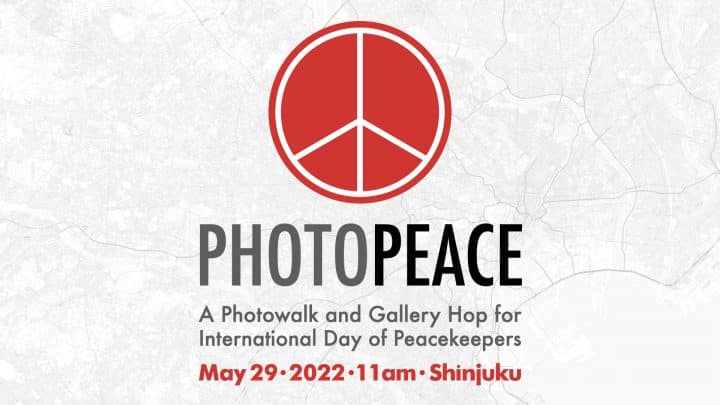 May 29th Schedule
The flow of the day will be as follows: Come to Totem Pole Photo Gallery at 11am on May 29th to receive 10 films! Walk, talk, photograph, and gallery hop… enjoy the exhibitions, and collect bonus film at each location! Finally, meet at Peace Carillon Tower in Shinjuku Chuo Part at 5pm for Group Photo and special Photopeace Bonus! At the end of the walk we will be giving away some JCH Streetpan 400, JCH film cases, and some other surprise merchandise to attendees!
Gallery Hop
As you walk across Shinjuku for Peace, you're invited to stop at any/all of the 9 photography galleries along the way. All participating galleries have very graciously welcomed PhotoPeace participants to view ongoing exhibitions. While supplies last, you are invited to collect one extra bonus roll for min ¥500 at each gallery.


Participating Galleries
The following galleries are participating: TOTEM POLE PHOTO GALLERY, Gallery Niepce, Gallery Yocto, RED Photo Gallery, Place M, Gallery Sokyusha, photographer's gallery KULA PHOTO GALLERY, 3rd District Gallery, and OM System Gallery.
Conclusion
It is a good cause all around to meet some new people, see some photo galleries, take some photos, and get free film! Register here or use the QR code above for more.
-JF