IN YOUR BAG NO: 1710 – Ian Harrison
Todays bag is a doozy. Ian Harrison shares his back to film bag from the land of the long white cloud.
Kia ora, my name is Ian Harrison. I live in Wellington, New Zealand.
I've been an amateur photographer almost all my life thanks to my dad who gave me a Kodak Instamatic when I was five years old. I remember thinking it was completely unique and was amazed that someone made film just for my camera. I didn't appreciate that it was probably the most mass produced camera in history!
In the mid 2000s I moved from film to digital photography and now I'm moving back to film again. I find it refreshing and somehow comforting in these technological times.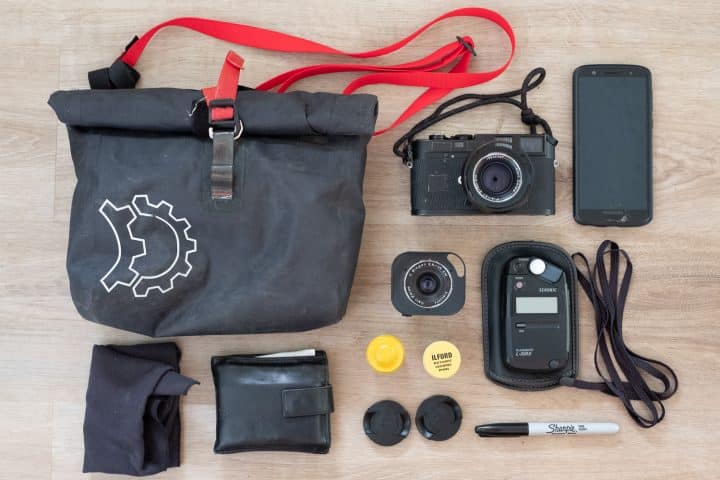 The camera here is my Leica M4-P. I have a pair of Zeiss lenses; the 35mm f2.8 and 50mm f2. I'm not a big fan of the funny little bump Zeiss use instead of a focus tab, but have found putting a decent sized zip tie around the focus ring makes a cheap and surprisingly usable focus tab with the fat bit of the zip tie. I also have a Voigtlander Color Skopar 35mm but it's rather junky; the front fell off and the aperture ring has almost no resistance which is annoying.
I enjoy bikepacking which is why I originally got the bag which is a Revelate Designs "Egress Pocket". I've used it on a number of biking and hiking trips including the 3000km Tour Aotearoa. When hiking I clip it to the waist belt of my hiking pack. In town I clip on the strap and it makes a good shoulder bag. It's tough and completely waterproof which is handy in wet and windy Wellington.
The lightmeter is a Sekonic L-308s I bought 2nd hand. I'm not too bad at estimating exposure but the meter provides reassurance. The film canisters are old ones from my dad. They're not as convenient as plastic ones but I like them.
The Sharpie marker is important as I write the ISO on the canister when I take the film out of the camera. I don't wind the film right back into the canister to make loading onto the dev reel easy. If I didn't write on the canister I'd surely confuse exposed and unexposed rolls and would have no chance of remembering the ISO I used.
I mostly use Kodak TMax400 and P3200 and some random expired film for good measure.
My website is https://kaihopu.myportfolio.com/
Instagram: https://www.instagram.com/kaihopu/
Keep them coming folks, we need more submissions, so get your bag on Japancamerahunter.com
Send me a high resolution image of the bag. Optimum size is 1500px across. Please ensure there is a bag in the shot, unless you don't use one. The more you can write about yourself the better, make it appealing and tell us a story. Snapshots of your gear with a camera phone and no words will not be featured.
Oh and don't forget your contact details (twitter, flickr, tumbler et al). Send the bag shots here. Not all make the cut, so make sure yours is funny/interesting/quirky. And please make sure the shot is of good quality, you are a photographer after all. 
Cheers
Japancamerahunter