IN YOUR BAG NO: 1707 – Dan Merry
Another day another Dan, this time a different Dan shares with us his tale of being bitten by the photography bug and what he has in his bag.
My name is Dan Merry, a 39-year-old mechanical engineer/photographer from Lille in France. I caught the photo bug in my childhood; my dad was a keen practitioner (Minolta game), then, in 2008, I started shooting for myself.
At that time, I intended to document my life, my family and so on. Slowly, this morphed into a genuine outlet, a journal of my moods. Today, I make urban landscapes, portraits and I do my friends' weddings to help them with limiting their expenses (and to justify my G.A.S among other things – this is where I should say that JCH does not help, there are way too many sources of inspiration on this website… way too many).
Last year has been weird for all of us; however, it has been the opportunity to explore my surroundings and take some pictures of my city I would have never thought about taking previously.
My kit is a mixture of digital and analogue Nikon bodies; I built it over the last decade, I buy, I trade, and keep the equipment that provides me with the means to materialise my intentions. A point I reached about five years ago: the gear stopped to be on the way; they became an extension of my eye (at least that is what I want to believe). My gear is broken down into bags, manual (staple focus peaking, thank you) and autofocus lenses, and then we will move to camera bodies, films, tripods and finally, some miscellaneous items.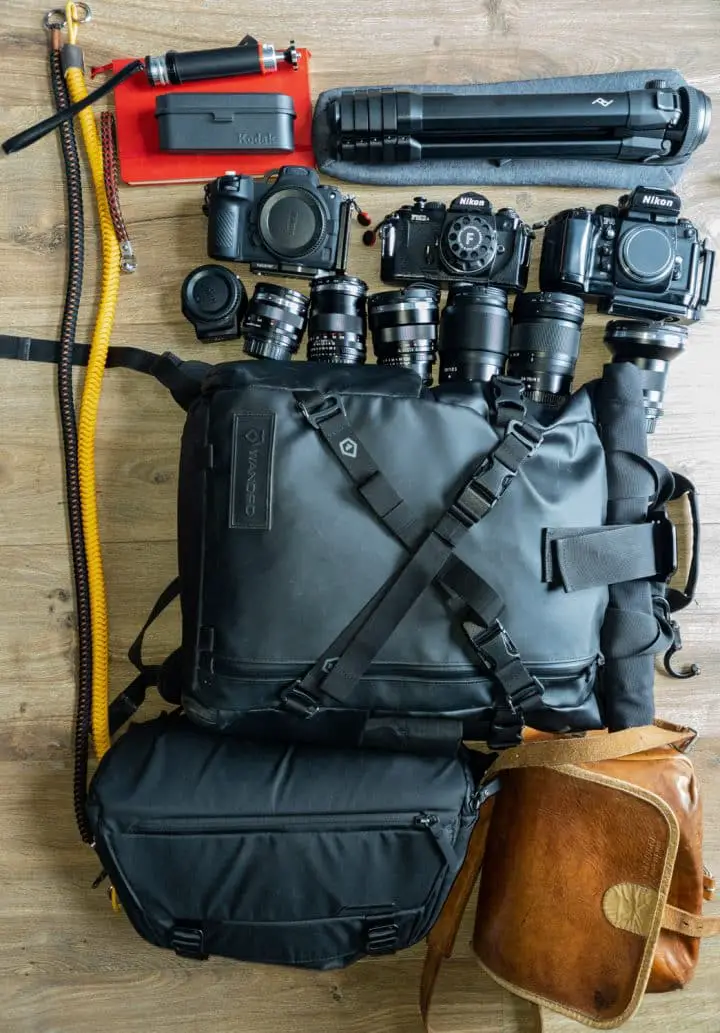 Bags:
Wander PRVKE 21 L (My EDC, office, cycling, photo, travel, you name it, it takes it).
Peak Design Sling 10 L (photo and cycling there is enough room for a body and two lenses).
Leather made vintage bag Garrigue (thrifted and restored by yours truly: just a body and a lens).
Manual focus lenses:
Carl Zeiss Distagon T* 21mm f/2.8 ZF.2.
Carl Zeiss Distagon T* 35mm f/2 ZF. (phenomenal).
Carl Zeiss Planar T* 50mm f/1.4 ZF.2
Carl Zeiss Planar T* 85mm f/1.4 ZF.2
Nikkor 135 mm f/2.8 AIS converted (gone to be CLAed).
Autofocus lenses:
Nikkor Z 50 mm f/1.8 S (Clinical).
Nikkor Z 24-70 mm f/4 S.
Camera Bodies:
Nikon Z6 (really changed the way I shoot probably will stick to it for a couple of years+ thumb grip + @Custom SLR ProDot Shutter Button Upgrade+ skin+ thumb grip + L-bracket).
Nikon FM3a (I have pimped the cr** out of it: black Komaru soft release button, Lockcircle F mount metal body cap, SLR kit metal PC sync, vintage black leather case …).
Nikon F4 (matrix metering for slide films baby and I got it for a song!).
Films:
Kodak Porta 400.
Kodak Tri-X 400.
Ilford HP5 400.
Kodak Ektachrome 100.
A bulk of expired ones…
My last attempt at using JCH's film ended in tears… (my bad, I shall try again soon)
Tripods:
Peak design travel tripod (compact, sturdy and surprisingly light, the killer combo).
Bilora Stabilet 1011 table tripod (old, cheap, and sturdy).
Miscellaneous:
FTZ adapter (the magic stick).
BOA gold (kerching!) paracord strap from @Monarchstraps (I tried to weave my own strap, lord, you don't want to see the result, I am telling you, you just don't).
Custom-made paracord strap by @knotimpressed.
Threaded (1/4'') leather wrist strap pinched from an old Bolex.
Moleskin book for ideas (and waffles).
Kodak film case.
Nikon MC-DC2 remote release cord (this is one of the weird things Nikon came up with when they launched the Z series… No comment… We used to have infrared remote, didn't we?)
Thanks, JCH, you people stay classy!
You can find more of my stuff using the links below:
Keep them coming folks, we need more submissions, so get your bag on Japancamerahunter.com
Send me a high resolution image of the bag. Optimum size is 1500px across. Please ensure there is a bag in the shot, unless you don't use one. The more you can write about yourself the better, make it appealing and tell us a story. Snapshots of your gear with a camera phone and no words will not be featured.
Oh and don't forget your contact details (twitter, flickr, tumbler et al). Send the bag shots here. Not all make the cut, so make sure yours is funny/interesting/quirky. And please make sure the shot is of good quality, you are a photographer after all. 
Cheers
Japancamerahunter