In your bag No: 1675 – Richard Forrester
As you can see, Richard has cultivated quite the comprehensive kit with experience and is primed for anything.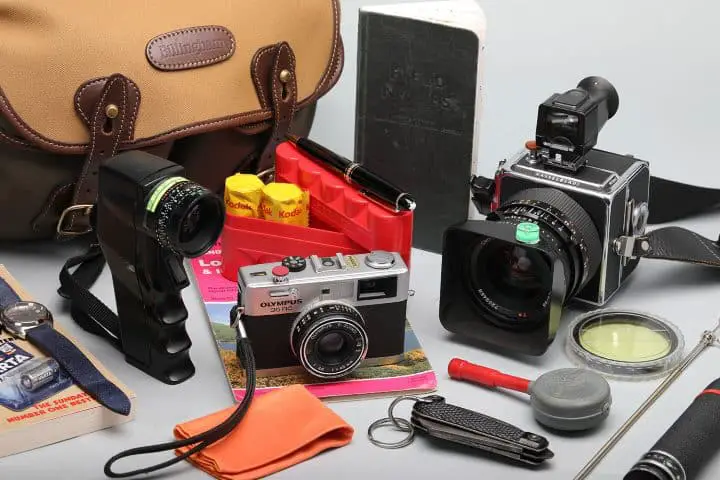 Film photography is a place for me without restrictions and preconceptions, somewhere free to shot whatever I want, whenever I want. I work professionally in digital and photographing with film completely removes myself from that practice, into another completely different medium for creating images.
My trips often start with gathering a number of new of locations and researching the areas and possible routes before focusing on one more closely. After making the necessary preparations its time to pack my bags and check that I have the right film for the job at hand. I mostly like to travel by train, which can be difficult for more remote locations here in Scotland, but just about manageable.  I really enjoy the time beforehand researching my chosen terminus, often reading, viewing the scenery from my window seat or loading some film on to the spool, cleaning the lens perhaps or taking some snaps of the adventure on my faithful little Olympus 35mm camera. The journey home contains of much the same enjoyable pleasures, relaxing from the normally miles of walking/hiking, taking stock of the trip and the location, reviewing my notes and often planning my next outing.
Working with film, especially 120 stock has certainly helped me become a more patient photographer, more observant, more selective with my photography – "If the image isn't there to capture, then move onto something anew" Don't waste the time forcing something, you can always come back. Over the years I have experimented with a variety of cameras, large and small, heavy and light, but I have found the perfect camera for me – The Hasselblad 903SWC. I like that the lens is fixed, I like the perspective, I like the sequence of capturing an image with this camera. It feels delightful to use and I love the final images it produces.
The routine of shooting images with the same body for a long period of time hadn't really interested me before. However looking back I know understand that familiarising oneself with a camera like I have done, enables you to become more creative, more stream-line, more confident. Focusing more on the scene in-front of you, taking time to understand the light and the environment, that moving slightly or waiting just a little longer can produce a much better picture.
The Billingham bags I use to transport my photography equipment in are extremely good quality and fantastic craftsmanship, but does lack the functionality, movability and weather proofing for more strenuous camping trips or hikes. Looking into something like a FSTOP rucksack for future trips. Recommendations welcome…
Enjoy shooting film!
Richard
Here's what's in my Billingham Hadley Small: Well as it happens quit a lot ;
Hasselblad 903SWC

Olympus RC 35mm

Pentax Spot Meter + spare battery

Hasselblad B60 UV Filter + Hasselblad B60Yellow Filter for Blk&White

Hasselblad Lens Hood

FieldNotes and pen – essential.

 

Camera settings, weather, location.

Mini Tripod

Micro fibre cloth and air blower

Cable Release

JCH 120 film storage plus colour + Blk & White film

Book for the journey

Map of the area

Pocket Knife
Longer Trips or trips further a field include all of the above plus ;
Manfrotto Tripod

 

190CXPRO4

Gitzo 1277M Ballhead

Billingham 335 Camera Bag

Hasselblad quick release tripod mount

Hasselblad PME 5 Metered finder + Hasselblad Focusing Screen

Hip Flask (Whisky or Port inside usually) 

Military Monocular

Solar Charger/Battery pack 

Snacks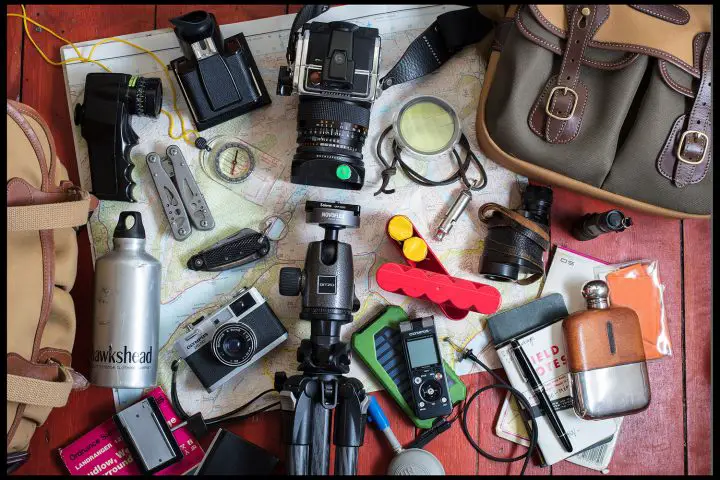 WEBSITE : http://richforrester.co.uk/flimphotography.html
INSTAGRAM : https://www.instagram.com/dicky_forrester/
TWITTER : https://twitter.com/richcamera/
—————————
Thanks for sharing with us your bag shot Richard. Indeed, knowing your equipment inside out is undervalued and surprisingly not a common thing as you'd expect…
Keep them coming folks, we need more submissions, so get your bag on Japancamerahunter.com
Send me a high resolution image of the bag. Optimum size is 1500px across. Please ensure there is a bag in the shot, unless you don't use one. The more you can write about yourself the better, make it appealing and tell us a story. Snapshots of your gear with a camera phone and no words will not be featured.
Oh and don't forget your contact details (twitter, flickr, tumbler et al). Send the bag shots here. Please understand that there is a long wait now as there is a backlog of submissions. Not all make the cut, so make sure yours is funny/interesting/quirky. And please make sure the shot is of good quality, as the ones that are not do not go up.
Cheers
Japancamerahunter