Get Featured: Arthur Sanford III
Arthur took some pretty sweet rolls of film with him on the journey to a place high on his bucket list, Cuba.
When I was in my early-20's I was really influenced by the writing of Reinaldo Arenas and the film Before Night Falls, a beautifully poetic biopic by Julian Schnabel. I had also seen the classic Soy Cuba and various documentaries, so decided to put Cuba at the top of my bucket list of places I really want to travel because it seemed so unique, easy-going, and vivacious.
I started thinking more and more about finally going when I was working and living in Beijing. A few times a year I would take a short holiday to Hong Kong. I really love the vibe of the city, and one of my favorite places to drink is called Castro's on 
Ashley Rd, Tsim Sha Tsui, Kowloon. It's a nice watering hole with lots of Cuban paraphernalia where I always meet fun and interesting people over a few cocktails. One time a few years ago, I spent a week in Hong Kong to work on my street photography and check out some of the camera shops. Naturally, I spent many nights at Castro's. It reminded me that I should finally take the opportunity to go to Cuba as I had wanted for so many years. I finally set the plan in motion and went there from late-July to early-August 2017, after a trip to Mexico City and Guanajuato.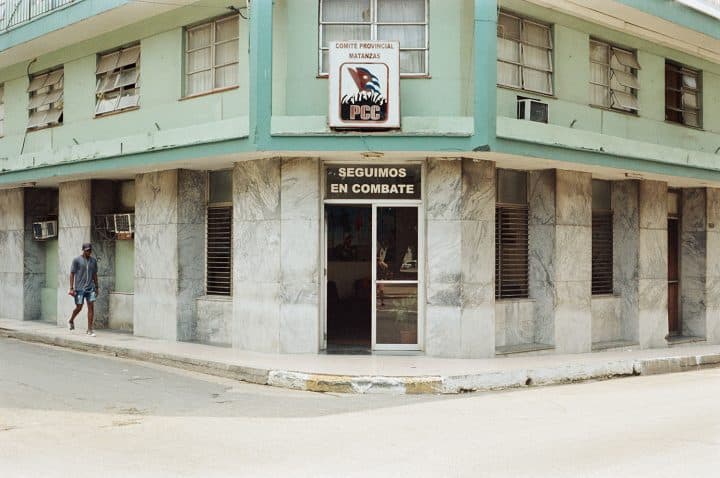 While in Cuba, I had planned to focus mostly on walking the streets and taking photos. Most of my holidays are planned around taking photos, and Cuba certainly proved a good place for that. Most people are friendly and receptive to being photographed, and there's certainly a lot of very photogenic architecture, street scenes, and landscapes. I remember quite a few Cubans were fascinated that I was using film and were wondering what "Contax" is. I presumed they had heard of Canon or Nikon, but maybe hadn't had any exposure to Contax.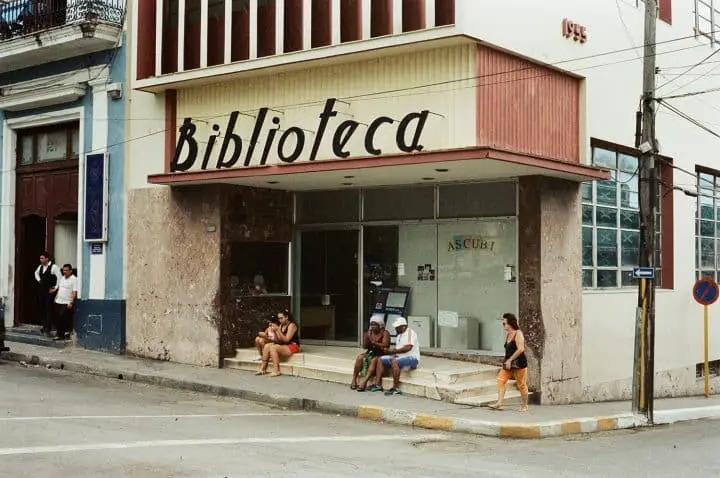 Part of the plan was to spend a few days in Matanzas, a small town about 2.5 hours east of Havana. I wanted to capture a small Cuban town as ordinary people see it, so I spent many extremely hot and sweaty hours just walking any odd street, using my gut feeling as a guide. I avoided the tourist spots, with the exception of a few beach shots at Varadero, one of Cuba's most famous beaches which is about half an hour taxi ride from Matanzas. The two photos of the fishermen on the pier are at Cayo Granma, a fishing island village near Santiago de Cuba.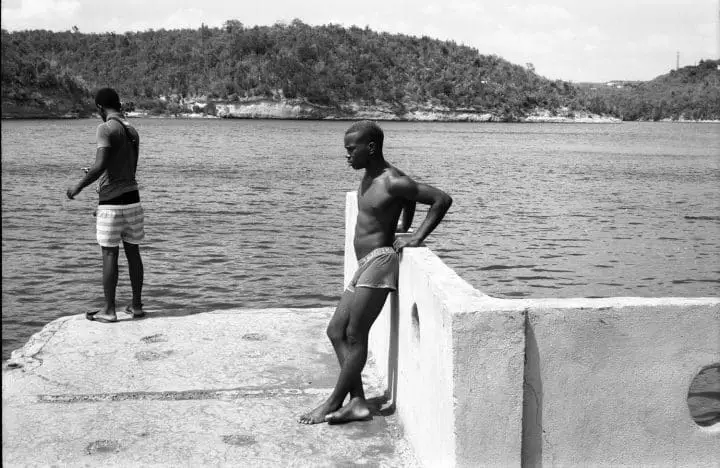 All of the photos were captured on a Contax RX using the Carl Zeiss 45/2.8 Planar, a very nice pancake lens. I also decided to use Kodak Vision 3 50D and 250D because I thought cinematic film has a color palette suited to Cuba's vibrancy. If I remember correctly, I shot most of the 250D rolls at 200, and I believe all of the color photos here are from that stock. The black and white photos are Acros, one of my favorite black and white films. One of the great things about taking photos in Cuba is there is an abundance of light, so shooting slower speed film is not often a problem, and not once did I have the need for 400 speed film during daylight hours.
I remember thinking I was glad the RX had a top speed of 1/4000, because most of these street scenes iso 100 was fast enough, and iso 200 was plenty fast. Even with 100 speed I was often getting pretty fast shutter speeds. Even once on a rainy day shooting at 200 speed was plenty fast. One thing I really like about Vision 3 cinematic film is it captures shadows really well. Some of the photos you get details which don't normally come out in other film stocks. When I returned to China, I had it sent to a lab in Nanjing that does ECN-2 processing, and I think they did a very good scanning job on top of that.
I definitely like the way these photos turned out, and have many more not shared here that also turned out great. The choice of 250D film turned out to be fruitful. I have since become more skilled using fill flash and exposure compensation, so I'd really like to go back one day and try to capture other towns and see if I can't improve at my street photography.
You can see more on flickr
here
Best, 
Arthur R. Sanford, III
Click on this link and send in your project/work: 
Get Featured
. *I am looking for mainly projects, not individual images*
Oh, and click here to see a few of the photographers that have been on the site before https://www.japancamerahunter.com/?s=featured
Please submit your images (not website links)  1500px across. It would also be extremely appreciated too if they are numbered and sequenced appropriately.
There is currently a wait of around 3-4 months due to the level of submissions. Thanks.
Please make sure you come and comment, polite and constructive critique is welcome.
Thanks
JCH