Camera Geekery: The Cleverly Creative Custom Cameras of Brendan Barry
UK-based photographer Brendan Barry has made quite the name for himself not only by shooting incredible work and teaching photography, but by making some of the craziest cameras you'll ever see. He caused quite the stir on the internet in late 2017 with his Caravan Camera, the $200 camper turned ginormous camera/ portable darkroom.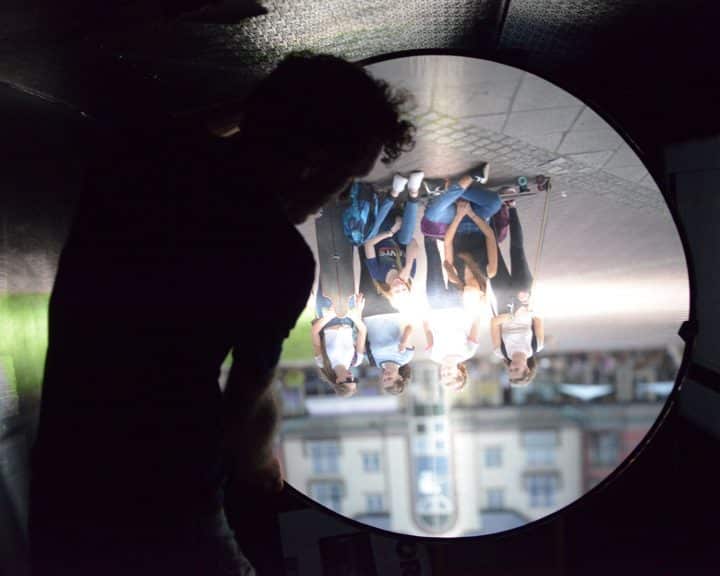 While the reception was generally positive, haters gonna hate as he was on the receiving end of some flack for being unoriginal and pointless. "Jonathan Hevia's already done it", "Results vs. Effort… I'm thinking this fella has a lot of extra time on his hands", etc. they said. Ah, the acrimonious anonymous utterances of insecurity.
"In a world of smartphone cameras and instant uploads, it's nice to slow things down a little bit and create something physical! And now I use this experience as a tool for teaching photography" Brendan explains. He continues, "My cameras, and the images I take with them, aim to inspire others to play with photography, to break the rules, make up their own and have some fun along the way! A photograph is the result of a series of creative processes (the design and build of a camera, the constructing and capturing of the image, and then the developing, printing and sharing of it). I believe that the seeing and being a part of the whole journey, from start to finish, can be as if not more interesting that the end result on its own."
Hopefully the armchair quarterbacks all took their Ritalin and read the entirety of that. Let's take a peek at some of his crazy concoctions.
Bread Camera Mk I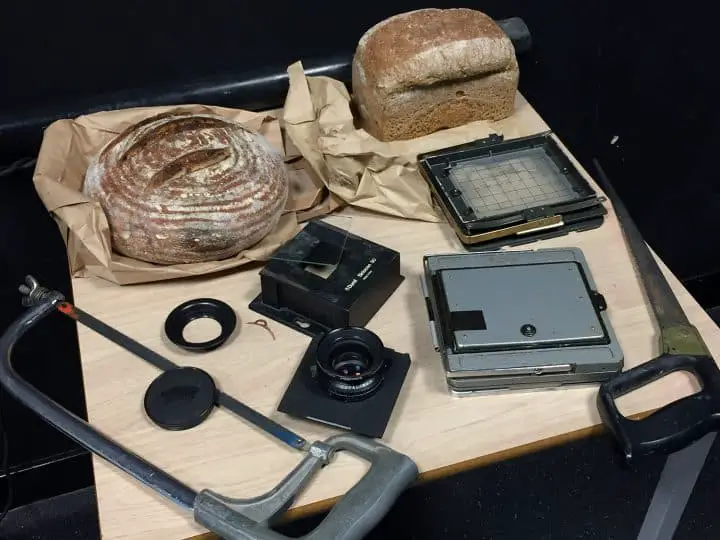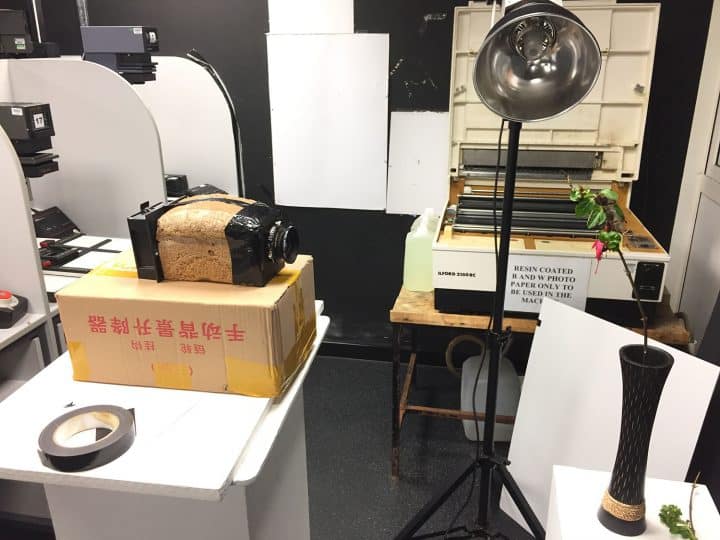 Bread Camera Mk II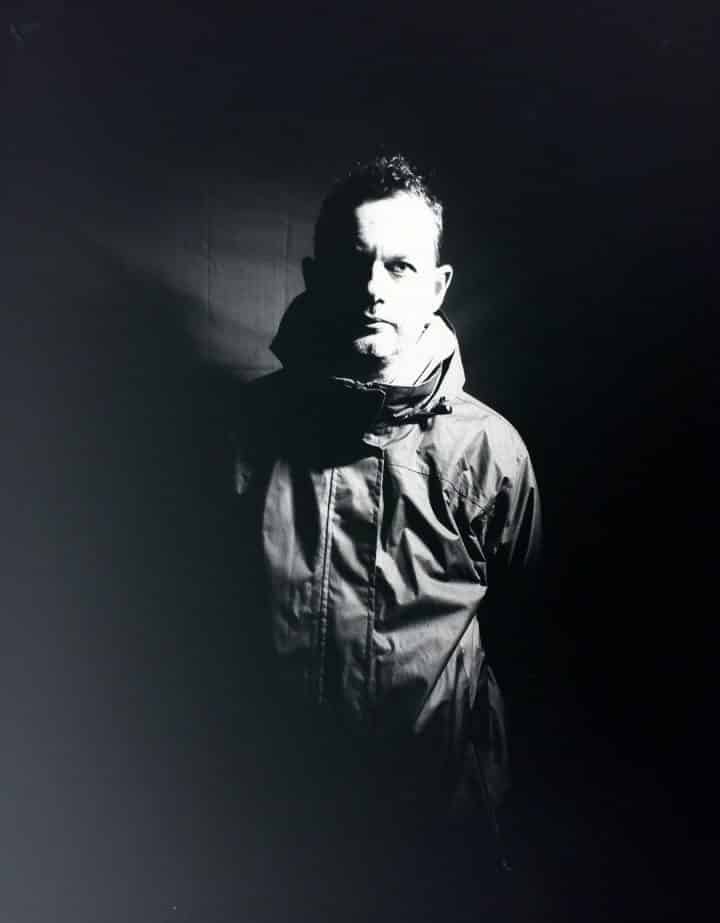 Pineapple Camera
Watermelon Camera
Mannequin Camera
10 questions for Brendan Barry
Well Brendan to start things off please tell our readers a bit about yourself and how'd you get into the photographic business?
Hey there, I'm a photographer and educator based in Devon, I've been interested in photography since about as early as I can remember, it is a medium that always seemed to make sense to me. I loved art at school (photography wasn't an option), and although I was never very good at it I went on to study it at college, basically because there wasn't anything else I thought I could do! It was here that I discovered that photography was something I could take seriously, this thing that I just did because I loved it suddenly was something I could make a living out of. I went on to study its at university, worked as a photographer for 6 or 7 years, went back and did a masters, then became a teacher. All along this journey another passion of mine has been building and making things. My personal photographic practice has basically become a combination of all of these disciplines – building and constructing things, working with groups of people facilitating learning and making images in the process.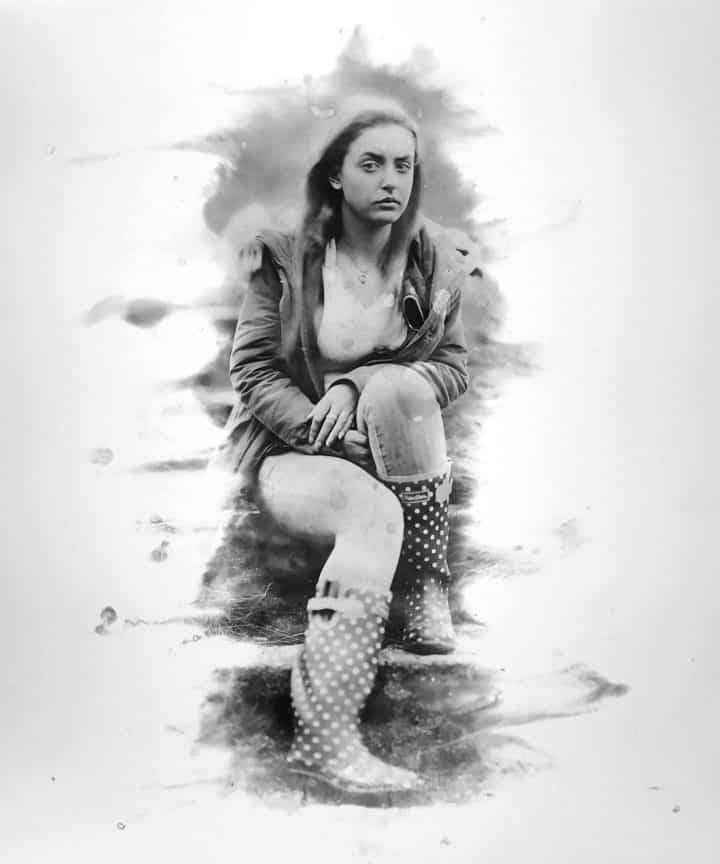 What was your first camera?
An Olympus OM10, my Dad gave it to me when I was 11 or 12, it rarely left my side!
Who are your favorite photographers?
I love the work of Robert Cummings, and John Divola's Vandalism series, as well as Ettore Sottsass, he was an Italian architect but his photographic work is really interesting. Taiyo Onorato & Nico Krepps have been a massive influence on me and I've recently been really getting into Tom Sachs (actually he's a sculptor). I was lucky enough to have studied under Taiyo Onorato in Latvia at The ISSP a few years ago where I met the photographer Jason Evans, he has since become a friend and mentor and has been a huge guiding influence on me and my work. I often say to my students 'there's two ways you make interesting pictures – you put your self in front of something interesting, or you put something interesting in front of yourself'. These photographers do both!
If you could bring back any film you wanted, what would it be?
Ilfochrome (also know as Cibachrome). It's actually a photographic paper that creates a direct positive colour image. I'd love to have a play with that stuff!
If money was no object, what's the fantasy film you would want to produce?
See above! I work a lot with large room size cameras, recently I have made a number of images using rolls of Harman Direct Positive paper (basically a black & white version of Ilfochrome). The rolls come 127cm wide and are 15 meters long. I've been cutting it down into smaller pieces but I'd love to make an image using the whole roll! I have a fantasy of converting a water tower into a giant panoramic camera and using the whole roll to make one massive image! If I could do that in colour it would be pretty cool!
What gave you the initial instinct to build your own cameras?
It just kind of happened organically. I made the classic pinhole cameras out of shoeboxes or beer cans with my students, then one day I saw a bin in the darkroom that I realised it would do the same thing. This is suppose was a turning point when I started to look at things differently and wonder what else could become a camera. I used to shoot a lot with large format 4×5" and had always been curious how hard it would be to make your own. I realised that it would probably be easier to go bigger (so I wouldn't need to be so precise) so I set about constructing my first proper camera from scratch, a 16×20" ultra large format camera. It actually worked! Then I got hooked!
How do you go about choosing what items to create a camera with?
There's no rhyme or reason to it really, usually I'll just see or think of a thing and simply go 'I can make a camera out of that'. I try not to over think things or take it too seriously to be honest, and I don't attempt to intellectualise it, but you'd be amazed how many people don't get the joke! Seriously, there's always someone who says 'what's the point in that' or 'you can get a better picture with a digital camera!'. Well where's the fun in that!!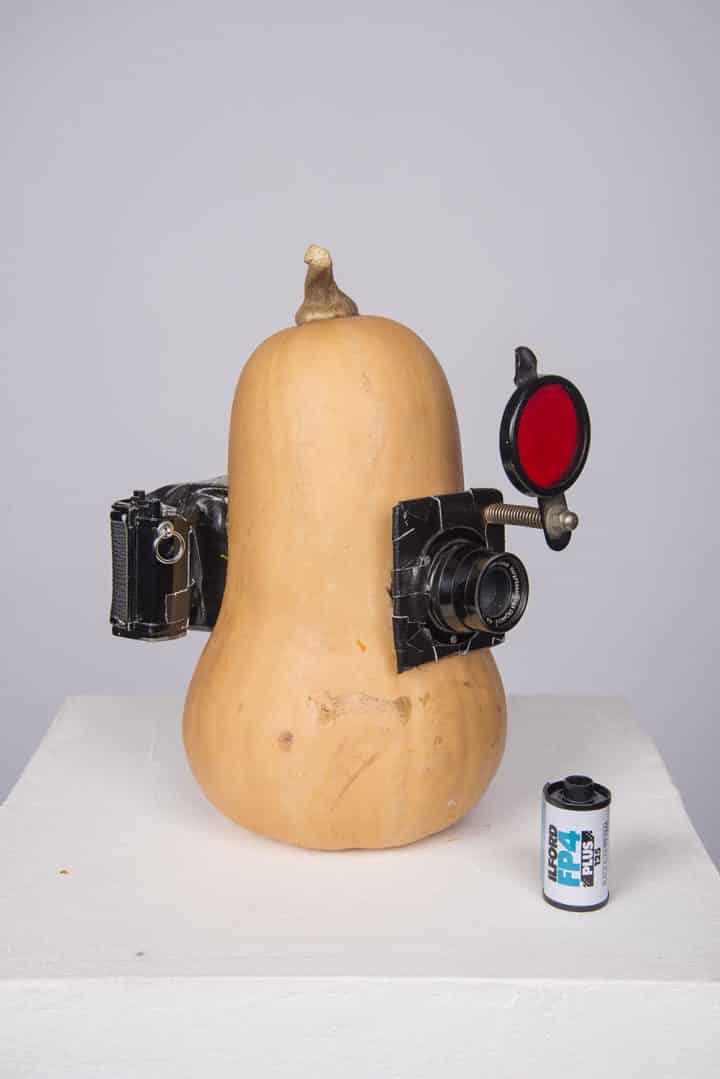 What was the most challenging camera to make?
The big 16×20" camera took a lot of work. I had to make a giant set of bellows, grind down the glass, build the front and rear standards and create a method for moving them forward and backwards, make a film holder back that sat in exactly the same place as the ground glass so the image would be in focus, and then support the thing! I made my own lens with a mechanical iris recently, that was more precision work than I had undertaken before. The caravan was also a lot of work, but a lot of fun! To be honest, it's all pretty simple once you get into it, I mean, a camera is just a light tight box with a lens one end and some kind of light sensitive material or sensor at the other. I recently made my first digital camera using an old overhead projector and a desktop scanner. It is possibly the slowest and poorest quality digital camera that you will find in action today, but it works!
Is the sky the limit? Anything you'd have trouble converting to a camera but would like to try?
I'm really interested in the possibilities and challenges of making a boat camera! I saw an exhibition in Falmouth a few years ago of the maritime painters Charles Napier Hemy and Henry Scott Tuke. They both had floating studios, boats that they would paint from to recreate the drama of being on the water, close to the vessels they were painting. I just find that whole notion so beautiful and romantic, I'd love to do something similar with photography.
Can you share any other interesting projects you're working on currently?
I'm currently designing and working on a shipping container camera, and after that, a double decker bus! This will be a giant camera with built in studio, darkroom, classroom and gallery! Oh, and tomorrow I'm building a giant 3 meter square walk in camera/darkroom out of cardboard!
Thanks Brendan, can't wait to see that double decker! For more of Brendan's work check out his
MN