In your bag No: 1596 – Andreas Kirschner
Andreas shares his lovely crossover bag. See, film and digital happily working together. Not that hard, is it?
My name is Andreas Kirschner and I live in the north of Germany. I grew up with photography as my parents ran a shop and lab selling cameras, film and developing films and prints. My photographic work today is mainly portrait, concert with focus on classical and jazz and finally editorial work. I love black and white but also embrace color.
To me it does not matter whether pictures are taken analogue or digital an I feel comfortable in both worlds. I also minister a large archive of negatives with my own work, inherited work from my parents and some 60.000 negatives from a local photo-studio. The historic material ranges from 18x24cm glass negatives to 24×36 negatives. I can not negate a certain affinity for the sensual pleasure of a real baryta-print with it's haptics and smell. Luckily you can get that from a digital file as well.
Today I show to you my daily bag that I use for my personal work. Maybe other bags will follow like the gear that I carry for classical concerts where discretion is the key to good pictures. Today's bag is a Canvasco medium size shoulder bag. It's made from upcycled sailcloth and hoisting sling for the belt. The distinctive feature and social attitude of the bags is that they are manufactured by hand in women jails. I outfitted the bag with a two-compartment padding to protect my gear against shock.
In the bag my current favorite film camera Nikon F Photomic with the exiting AI-Nikkor 55mm f1,2. The body just recently has been repaired because the shutter release had a mechanical blocking. Well done by clickundsurr in Berlin. Thank you guys. As the Photomic is not working I use my trusty Sekonic meter.
I mostly use expired B&W film from a big blue bag (Ikea) I have stored in a cool dark room. It contains the remains from my film-only days and much of it is Eastern-European material which was very cheap at the time and still works today. Sometimes very grainy like the Fortepan 400 Professional for the real feel.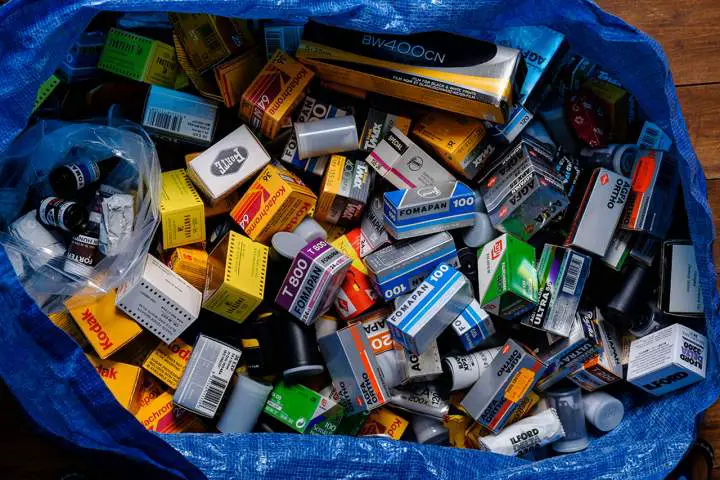 When in photography the move to digital was apparent and inevitable I hesitated to switch because the systems I worked with Leica M and Nikon F didn't offer full frame for a long time. Finally I made the switch to Canon 5D as a logical and practical decision. When later the Fuji X-Pro1 was launched it caught my heart and soul immediately.
Today I mostly work with the Fuji X-Pro2 as it's electronic shutter allows me to shoot in any situation in classical concerts but the X-Pro1 still feels much more at home.
As you can see from my bag I very much like 50ish lenses. With the APSc sensor they give me a more short telephoto angle which makes the view less universal. That's why I also carry the Fujinon 18mm f2,0 which is very good and gives a nice bokeh when getting close. Otherwise of course the Fujinon 35mm f1,4 gives me everything I can expect from a fast prime standard lens. The real mojo start's when using the adapted 50's.
The most perfect rendering in my opinion comes with the Zeiss/Contax G 45mm f2,0. Stunning sharpness at full aperture and a breathtakingly beautiful buttery soft bokeh. This lens really shines with the high resolution of todays sensors. Film of course looks good (and I still got my G1) but with emulsions this glass is working below it's potential. Also my other Zeiss lens really begins to shine with the possibilities of modern digital bodies. The Zeiss Jena 58mm f2,0 with it's incredible 17 aperture blades shows a classic bokeh with rounded highlights even when stopped down a bit.
Today thanks to viewfinder magnification and focus peaking I can precisely focus it so that it can show impressive and unexpected sharpness. I think this lens has never been fully exploited in analogue days. Really nice for B&W when increasing contrast a bit in post. Finally there is a very nice 50's combo for portrait but also for street-photography. I use a Kipon tilt-adapter in combination with an old Auto-Nikkor 50mm f2,0. I can create really nice effects with that.
Battery life with Fuji could be longer so I carry extra batteries and also spare SD-cards. For the instant joy and for making nice visual presents I carry a Fuji Instax. Then of course a notebook for writing down notes, names and ideas. Never without a fountain pen like the reliable Aurora 88 with stub nib in this case. Business cards and finally Caruso herbal sweets to keep my throat lubricated.
If you like to see my work please visit my website: foto-wd.de or Instagram: Instagram.com/andreasgwkirschner.
Thanks and take care,
Andreas
A great attitude towards photography you have there, Andreas. Cool Fortepan too.
Keep them coming folks, we need more submissions, so get your bag on Japancamerahunter.com
Send me a high resolution image of the bag. Optimum size is 1500px across. Please ensure there is a bag in the shot, unless you don't use one. The more you can write about yourself the better, make it appealing and tell us a story. Snapshots of your gear with a camera phone and no words will not be featured.
Oh and don't forget your contact details (twitter, flickr, tumbler et al). Send the bag shots here. Please understand that there is a long wait now as there is a backlog of submissions. Not all make the cut, so make sure yours is funny/interesting/quirky. And please make sure the shot is of good quality, as the ones that are not do not go up.
Cheers
Japancamerahunter