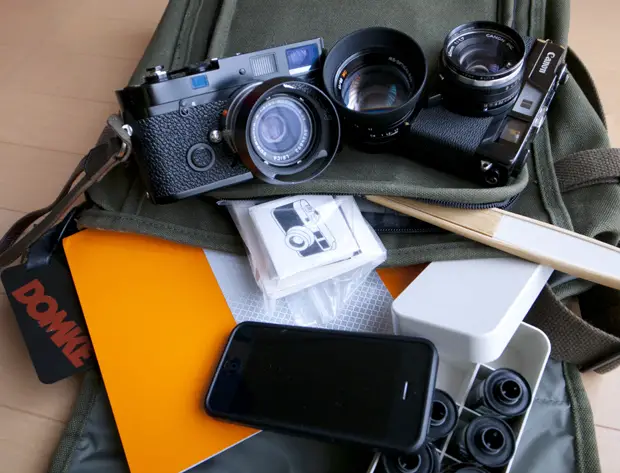 In JapanCameraHunter's bag
There have been several requests recently for me to show what I carry in my bag. As you all know a lot of cameras come my way, so my bag changes a lot. Here is what I am currently carrying in my bag…

My bag changes a lot. I have a lot of bags and I have been through an awful lot of gear. I have the enviable position of being able to test a lot of different cameras, films and bags. But there does seem to be a theme that has become fairly regular in my bag of late. Simplicity.
In my previous bag I was carrying 3 different cameras at any one time, plus a whole load of other bits and bobs, and I found that this was not only doing my back in, but I couldn't remember what I had shot on which camera. Not really a good situation. Now I have decided to keep it simple and not overload myself. So here you go.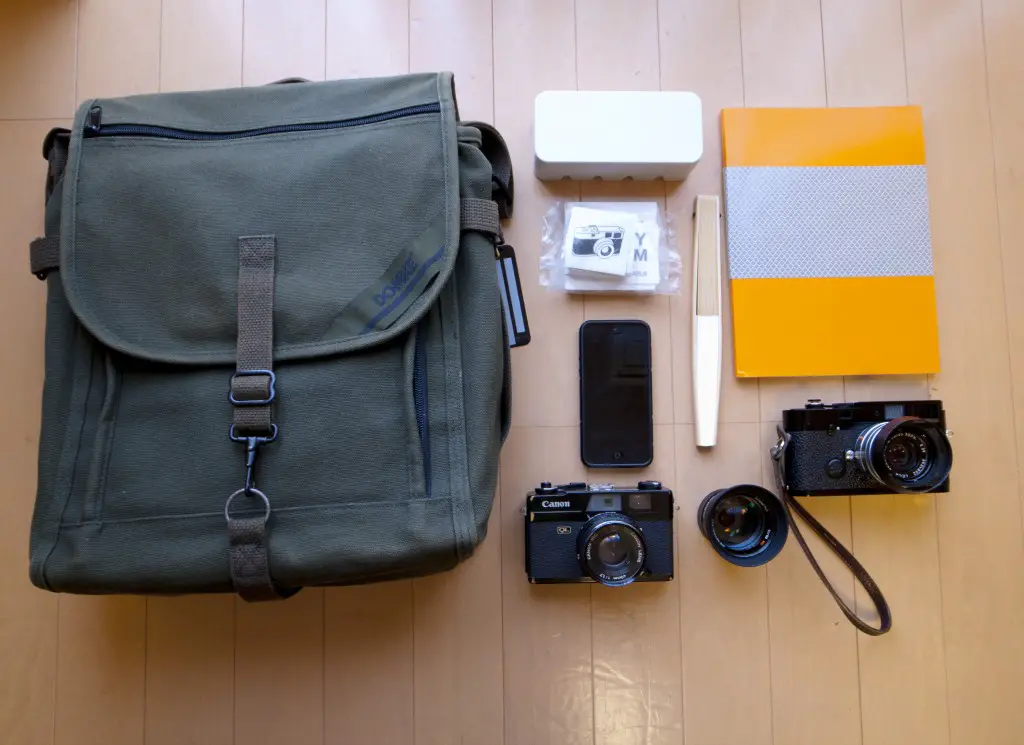 Bag: Domke F-808 Olive Green
I love this bag and I have not been using it enough. The colour is classic and the size is great. It holds all of my gear with plenty of space to spare. It also comes with a removable laptop insert big enough for my Macbook pro if I need to lug that heavy bastard around. I am very happy with this bag. Only drawback, it doesn't have foam inserts, so I need to wrap up the cameras if they are in the bag. Apart from that it is excellent.
JCH film case
I think you all know what this is, and if you don't shame on you. I always have one in the bag. This is the original prototype, so the colour is a bit darker than the final model. I keep mainly Neopan 1600 and Tri-X in here. But there is always a couple of rolls of colour for the second camera.
Gradeselect stickers
I love the Gradeselect stickers and I carry some with me all the time to give to people or to stick on things that I think are in need of a good sticker. You can get yours by going to gradeselect.
Japanese fan
I keep one in the bag for when it is a bit warm, or when I need a breeze on my face. It is a cheap one, that I got from Loft in Tokyo, just a plain one with no design as I wanted to keep it simple.
i-phone 5
I buckled and got one. My android was a complete joke and never worked, and I need a phone that works, so I can answer all of your questions. So far I am very impressed, it is a great phone. It also has a good camera, so I no longer need to carry around my Ricoh GRD3 unless I am going to an event.
Photo book: Predominantly Orange By Jon Ried
Jon sent me this book, which is a very interesting series of images. Each picture is linked to the last by the fact that there is a traffic cone somewhere in the image. Sometimes you really have to look though. I am thoroughly enjoying this book
Main Camera: Leica MP6 w/35mm Summicron ASPH Chrome & 12585 hood
So, I got myself a present. I know I said that the M6 is the best camera that Leica made, and I still stand by that assessment, but when given the option of owning this camera I simply could not refuse. Only 400 made, and only 200 of them with the M6 iso selector, and this is one of them. It is a dream to use and I love it. Though I do actually miss my M6 quite a bit now…
MS Optical Sonnetar 50mm f/1.1 M-mount
I am still testing this lens out, and it has been growing on me. It is not the easiest lens to use, but the results are interesting. I have now had a focus tab added to the lens to make it easier to focus.
Second camera: Canon Canonet QL17 Black Paint
This is not my camera. This is being loaned to me on a long term test. So far I am enjoying it a lot, it is a very simple camera to use and the lens is great. I also looks the part, with that brassed paint. Lovely. I only shoot colour film in this camera so that I can figure out which rolls I used.
So there you go. This is what I am carrying at the moment. Though I have to say, I have so many bags that it is likely to change. Though I think I shall keep the basic setup the same for a while now. I want to get that MP6 nice and brassed up, it is a camera after all and needs to be used.
Would you like to see your bag on Japancamerahunter.com? Send me a hi resolution image of the bag (please make sure it is horizontal) and its contents, with some details about yourself and what you shoot. Oh and don't forget your contact details (twitter, flickr, tumbler et al). Send the bag shots here.
Cheers
Japancamerahunter