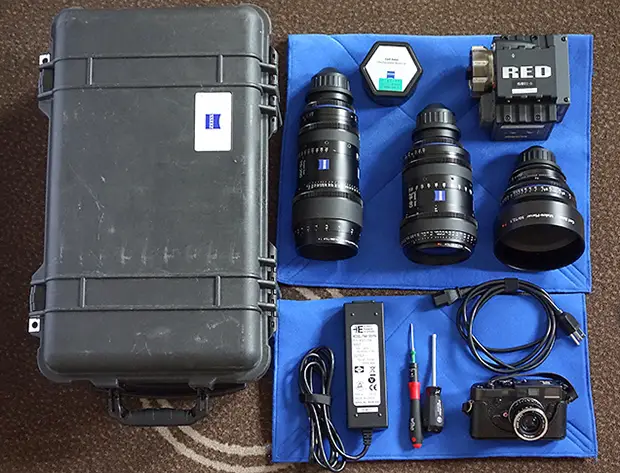 In your bag 873, Arato Ogura
A very special bag for you today. Arato is not only a returnee from very long ago (Bag no: 27), but also a friend and mentor to me. It is a pleasure to have his bag on the site. A very very different bag from the last time. Check it out.

Hi JCH fans, my name is Arato. I work in the motion picture industry, and travel every month to attend trade shows, equipment demonstrations, and customer visits.  Here's my things that I carry onboard, from that RED Scarlet camera on the top.
Camera : RED Scarlet – an affordable yet flexible & compact option for owner operators to shoot up to 4K or 5K movies.
Lenses, left to right : ZEISS 70-200mm T2.9, 28-80mm T2.9, and Makro Planar 50mm T2.1.  These lenses are high resolution and able to shoot 4K images, and I carried this week on my trip to Shanghai to demo the lenses to my customers.  The white hexagonal box between the lenses is the Interchangeable Mount for my lenses, in case my customer wants to try these PL mount lenses on Canon or Sony cameras.
On the bottom I have the power supply for my camera, lens wrench, and lastly but not least, my trusty Leica M6 with ZEISS Biogon 35mm, loaded with Fuji Pro400 this time.  All lenses and cables goes into that black Pelican case, the RED and Leica body in my backpack, and I carry them onboard my flights to avoid damage or loss.
I do shows and meeting during the daytime, but hang that Leica around my neck when I go our for dinner and explore foreign cities. Well so that's about it, and hope you guys enjoyed my IYB shot.
Happy shooting +++
Name : Arato
Location : one the move
Occupation : lens evangelist
Flickr : http://www.flickr.com/photos/arato
Thanks for sharing your bag with us Arato. I love the title 'Lens Evangelist', brilliant.
Check out the links and make sure you come and comment.
Keep them coming folks, we need more submissions, so get your bag on Japancamerahunter.com. Send me a hi resolution image of the bag (please make sure it is horizontal) and its contents, with some details about yourself and what you shoot. Oh and don't forget your contact details (twitter, flickr, tumbler et al). Send the bag shots here. Please understand that there is a long wait now as there is a backlog of submissions. Not all make the cut, so make sure yours is funny/interesting/quirky. And please make sure the shot is of good quality, as the ones that are not do not go up.
Cheers
Japancamerahunter