Camera Geekery: Eastwest Photo's Whopping Collection of War-era Japanese Cameras
Donald DiNaro of Eastwest Photo has been quite the busy man over the years amassing the largest collection of Japanese folding cameras from 1936~1953 housed in the US of A. The collection encompasses over 100 rare and prototype models, ranging from Semi Mulber II to early Mamiya Six models among many other gems; some so rare they weren't even listed in Sugiyama or McKeown's guides.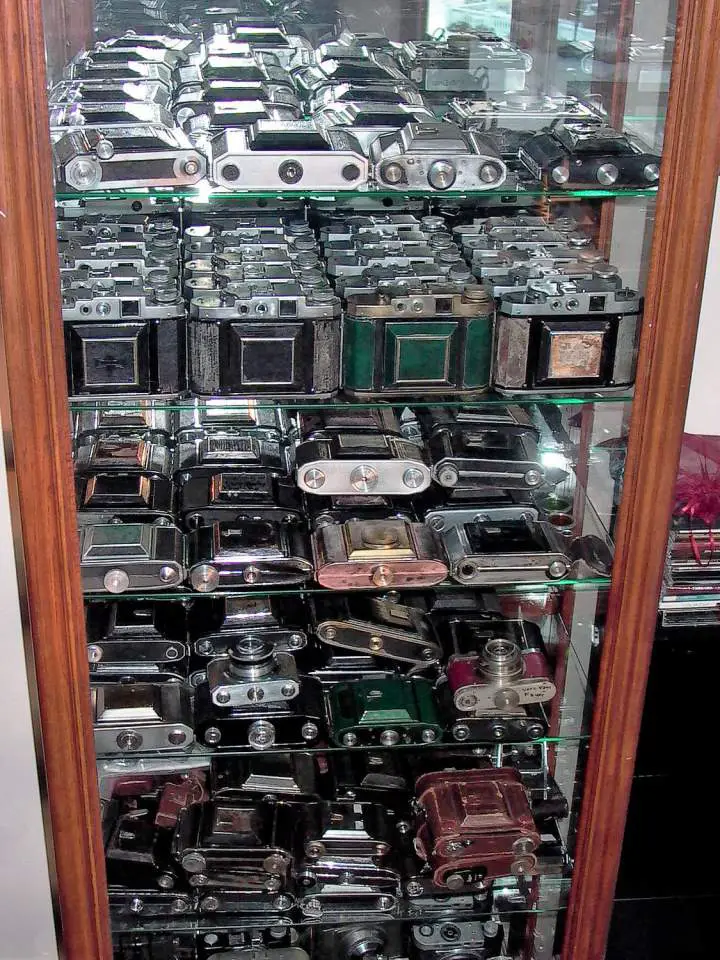 What's the story behind hoarding this treasure trove of veritable camera history you might wonder. The answer from the man himself:
I found a Semi Mulber body (wrong lens, no bellows) in 2006 at a outdoor antique extravaganza and when I looked it up, it wasn't in the McKeown's guide. On Amazon, I bought the Sugiyama guide to "Collectible Japanese Camera's". When it arrived I searched for Semi Mulber ll and it wasn't listed correctly in there. It said Mulber camera works;
later through a ton of research on camera-wiki-pedia.com I realized that it was Motodori Camera works. Still, I had a Semi Leotax front element cemented in on mine. I took it apart, removed the wrong lens and shutter and searched for the correct lens.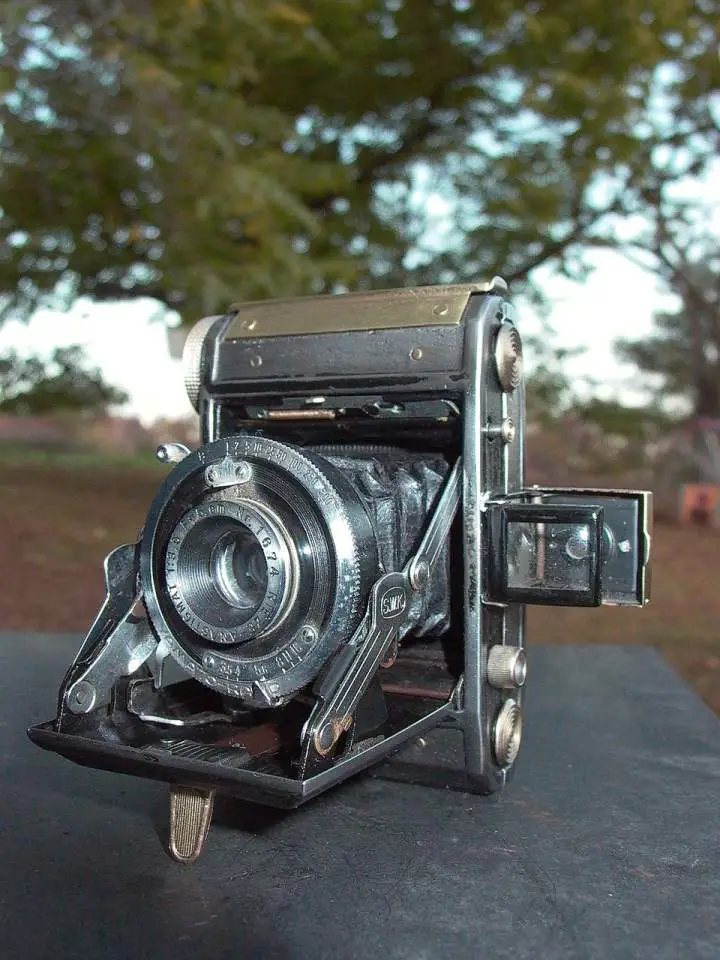 After six months I was contacted by an American in Los Angles who said he had the camera. I bought it and when it arrived it was the wrong viewfinder, a pop up type! I removed it and could see the holes for the original viewfinder that I had, so I swapped them. Now i had an original Semi Mulber ll of which only four are known in the world.
That was the start to collecting Japanese WWII folding cameras. It wasn't long before I realized that McKeown's had used much of the data from Sugiyama's book and sadly the Sugiyama book, a legend in its field, was full of errors!
Therefore so was the McKeown's. I started sending Jim McKeown corrections to his book and missing models and variations on the models. We worked for a while together then he grew silent. I suspected he was ill? He was,  and I am still not sure what the new edition, the 13th will be like.
As for me a long trial of research, buying and selling and repairing started. It's been over 10 years now. I cross out and correct Sugiyama's book and Mckeown's book weekly when I find something wrong. In the meantime, I have written over 35 articles for Camerashopper magazine, published by the Temper family in Connecticut, USA. It's a magazine that specializes in collectible cameras and is online or printed.
In my collection of Japanese folding cameras are over 100, very rare, rare or uncommonly found Japanese folding cameras. Most are 120 roll-film types, a few 127 are mixed in. Semi and 6x6cm is the format of the negative area.
Most of my examples are very old, 75 years. Some in bad shape, many WWII cameras are in rough shape.
I tried to service the shutters and optics whenever possible, or swap out holed up bellows by buying the same model camera with other problems.
eBay is famous for being a good source, BUT all the model information is of course; totally wrong, on ebay. Ten years of trying to help sellers on eBay use the correct description has been a struggle at times, rewarding at other times. Telling sellers that the info they read in books or have written is incorrect, is often a shock to people. 
The cameras
An example of some of the rare gems in the collection is this Sola marked Mamiya Six lll K.O.L. lens 7.5cm F:3.5 No. 75767 below.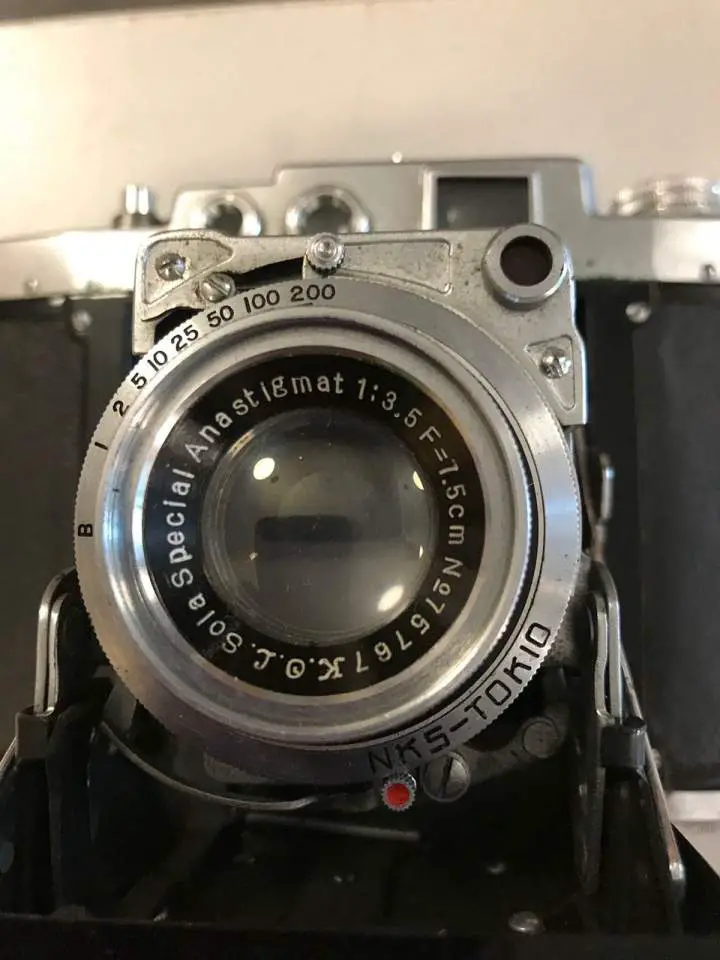 The Sola special Anastigmat f/3.5, 75mm is a very rare four elements lens and rarely ever found on surviving examples of WW2 folding camera. This K.O.L. lens has a very early serial number and the lens ring looks like it's hand written- etching. No other surviving example of Mamiya Six model lll exists with Sola markings.
K.O.L. lenses in Leica screw mount were made by Gojō Kōki Seisakusho during World War II. They were succeeded by Sun lenses after the company became Sun Kōki. Just after the war, a few Prominar 7.5cm or 7.3cm f/3.5 lenses (s/n 71xxx, 72xxx) were made with no indication of the maker, perhaps right before the company was renamed Sun Kōki. These became the Sun Sola 7.5cm and 7.3cm f/3.5 (s/n 72xxx), re-using the Sola brand name previously used for some K.O.L. lenses on the Mamiya Six.
To hide the WWII military history activity of lens making K.O.L. changed their name to Sun Koki, but they kept their brand name Sola; this was a common practice after WWII to hide a Japanese optical firm's involvement in the war.
And there are more…
This along with the following list comprises roughly half of the collection:
Tsubasa semi Super iv #1254

Riken Kogaku Kogyo RKK 1940

Please Six

Zeitax Semi WW2

B.B. Semi First lll

Green Semi Gotex varaition

Welmy Six W

Atom Six llb

Gelto S Semi Gelto ll

Mamiya Six lll variant B

Mamiya 6 model 4 CPO marked

Kuribayashi Petri R.F. <EP> Folder #1396

Minolta auto-Press #1198 in Sugiyama

Aires Viceroy Folder

Semi Masmy ll

Semi Leotax wartime auto stop

Semi prince  1935

Semi Luck #1323 in sugiyama

Vero Four 3rd ver in RED

Mamiya Six lll No. 5810 early wartime

Mamiya Six  model ll #1174 Sugiyama

Mamiya Six  model l 1940

Mamiya Six ll 1943 #1174 in Sugiyama

Semi Condor # 1036 Sugiyama 1940

Semi Mulix ll 1941 wartime

Semi Mulber l 1940

Semi Apus 1935  year 8 Showa KSK

Semi Kulex KSK  1948

Semi Kulax lll  2061 wartime military code

Semi Atom Six ll b 1951

Gotex 6×6  2061 code 1943

Ehira Six llla 1949

Kuribayashi petri 1948 type

Semi KIKO ww2 1943 moel A

Zeitax lll

Welmy Six W in Black nariko

Victory Go model A 1936

Orient New Type 1930 no need darkroom

Minion IV 1943

Baby Leotax #1158 in Sugiyama

Semi Lyra ll 1941 model F

Semi National lll 1941

Minion Six model ll

Semi KIKO A

Semi Auto First #1061 in Sugiyama

Semi Mulber ll 
It is indeed a massive collection that would be the envy of many a collector or museum. Don has exhaustively researched the history of his pieces and is a virtual encyclopedia of the era's folding cameras. Any interested parties can contact us for further details.
MN