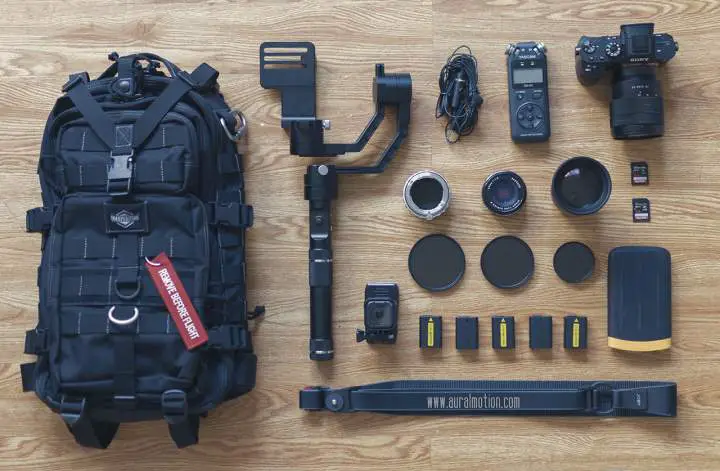 In your bag No: 1483 – Alex Moreán
Alex shares a totally digital bag with us today. Everything a travelling photographer/videographer might need.
My name is Alex Moreán, and I'm a freelance filmmaker currently traveling around the world.
I'm not one of those travellers who left an office job because he felt suffocated by the routine and blah blah, but more like I'm in a creative retreat where I'm not really retreated at all. I'm just looking for a playground where I feel inspired and my art has no boundaries.
At the beginning of the adventure, my gear was quite different as it included several more lenses and two tripods. After eight months on the road, I've sold or sent back home lots of weight as I realized what I really used on a daily basis and what never left my bag. Often I miss a lot of equipment. This lens would help me in this shot, that rig would have come in handy… But what I've realized is that the less toys I drag around, the more creative I feel and the better the outcome is.
My basic gear (not including misc stuff like moleskines, gaffer tape, etc.) consists of:
– Sony A7SII – For stills it's just enough, but its low light capabilities and it being less demanding towards lenses made me chose this one over the RII.
– Sony SEL2470Z 24-70mm f/4 ZA OSS Vario-Tessar T* – At the beginning I wasn't really happy about this lens's specs, but on the field it's sturdy, lightweight, fast enough paired with this body and really really sharp.
– Samyang/Rokinon 85 1.4 Aspherical IF – As manual as it gets, yet a solid piece of equipment. Drop all that electrical automatic fanciness and what you get is sharp rich beautiful image in a tight budget. Perfect portrait lens.
– Nikon E 50 1.8 – Cheapest part of my kit, but most valued by far. It's plagued with fungus which makes it look even better, with a rich tecture and beautiful soft flares.
– Lens adapter – just a chunk of metal to keep everything in place.
– A bunch of batteries and cards just because this Sony camera is a hungry beast.
– Tascam Dr05V2 + Audio Technica ATR3350 – for interviews and wildtracks, it's a surprisingly good pair when you want to travel light and lay low.
– Joby BWW Pro Sling Strap – Amazing quality and the concept is really comfy. Delivers what it promises.
– Maxpedition Falcon II – This thing is made of molle webbing and a thousand straps, so it's really really versatile yet comfy. It's got a pocket for everything I need, it's made out of abrasionproof-waterproof-bulletproof(not) nylon material that also makes it somehow discrete, especially in black color.
– Zhiyun Crane 3 axis gimbal – The best of its kind in this budget. We call this thing the magic wand for a reason. It's so easy to use, the construction is really solid, comes with an app to fine tune every aspect and can carry a really heavy camera without a sweat. Plus, it's kind of beautiful in its own way.
You can watch my stuff on my personal website and the blog I work for:
Thanks for sharing your bag with us, Alex. I hope you have an enlightening travel.
Keep them coming folks, we need more submissions, so get your bag on Japancamerahunter.com
Send me a high resolution image of the bag. Optimum size is 1500px across. Please ensure there is a bag in the shot, unless you don't use one. The more you can write about yourself the better, make it appealing and tell us a story. Snapshots of your gear with a camera phone and no words will not be featured.
Oh and don't forget your contact details (twitter, flickr, tumbler et al). Send the bag shots here. Please understand that there is a long wait now as there is a backlog of submissions. Not all make the cut, so make sure yours is funny/interesting/quirky. And please make sure the shot is of good quality, as the ones that are not do not go up.
Cheers
Japancamerahunter