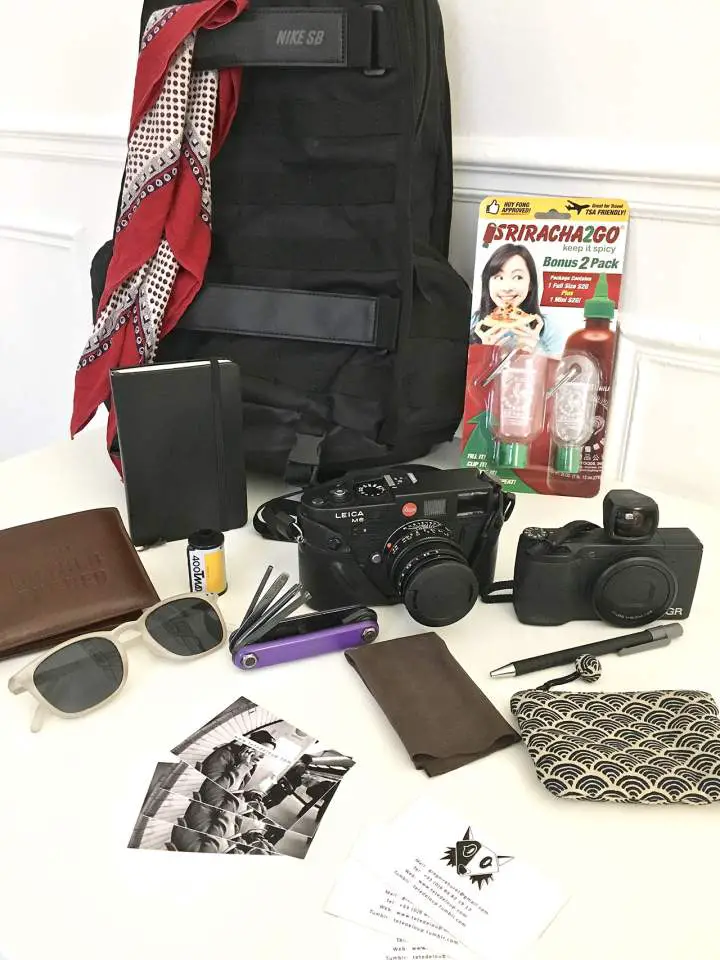 In your bag No: 1480, Grégoire HURET
Grégoire is back to share his bag. As you can see he also has a bit of a thing for hot sauce, which is perfectly fine in my book. Check out this awesome kit.
Hi Bellamy, this my second bag I send to you. The first one is here
This one was before my trip to NYC; I was very excited about packaging my stuff, you may know this feeling… it's like you'r already gone !
So, I've bought a new bag which is quite good I've to say and this is all my survival kit for this trip:
1- bandana, it's very usefull and it could be fashionable
2- note book and it's pen because when I'm travelling I love to note spots, restaurants, places and others stuffs
3-  Bad Mother Fucker Wallet , big fan of Pulp Fiction but who not ?
4- sun glasses
5- Leica M6, summicron 50mm f/2, my baby
6- kodak Tmax 400
7- Ricoh GR that I use for the night shot in Manhattan, this gear is blast for street photography
8- A multi-tool that is VITAL trust me ! Everybody need this. Normally I'm got knife but you can't bring it with you inside the plane.
9- Cards
www.tetedeloup.com
, it's always easier when you shoot someone in the street (and the guy seems to be pissed off) to get cards with you. I'm more confortable to explain and the guy will be conforted… Yeah I know it's a trap ;-)
10- a little Japanese purse for coins
11- I've found the trick to always bring with you hot sauce ! The SRIRACHA travel kit that you can match with your keys; this thing is crazy and when you go to NYC you gonna eat a LOT of slices of pizzas.
If you want to see my photographs:
All my best
ps; sorry for my english ;-)
Grégoire HURET
PARIS
Thanks for coming back to us, Grégoire. I need that rooster sauce mini set in my life.
Keep them coming folks, we need more submissions, so get your bag on Japancamerahunter.com
Send me a high resolution image of the bag. Optimum size is 1500px across. Please ensure there is a bag in the shot, unless you don't use one. The more you can write about yourself the better, make it appealing and tell us a story. Snapshots of your gear with a camera phone and no words will not be featured.
Oh and don't forget your contact details (twitter, flickr, tumbler et al). Send the bag shots here. Please understand that there is a long wait now as there is a backlog of submissions. Not all make the cut, so make sure yours is funny/interesting/quirky. And please make sure the shot is of good quality, as the ones that are not do not go up.
Cheers
Japancamerahunter