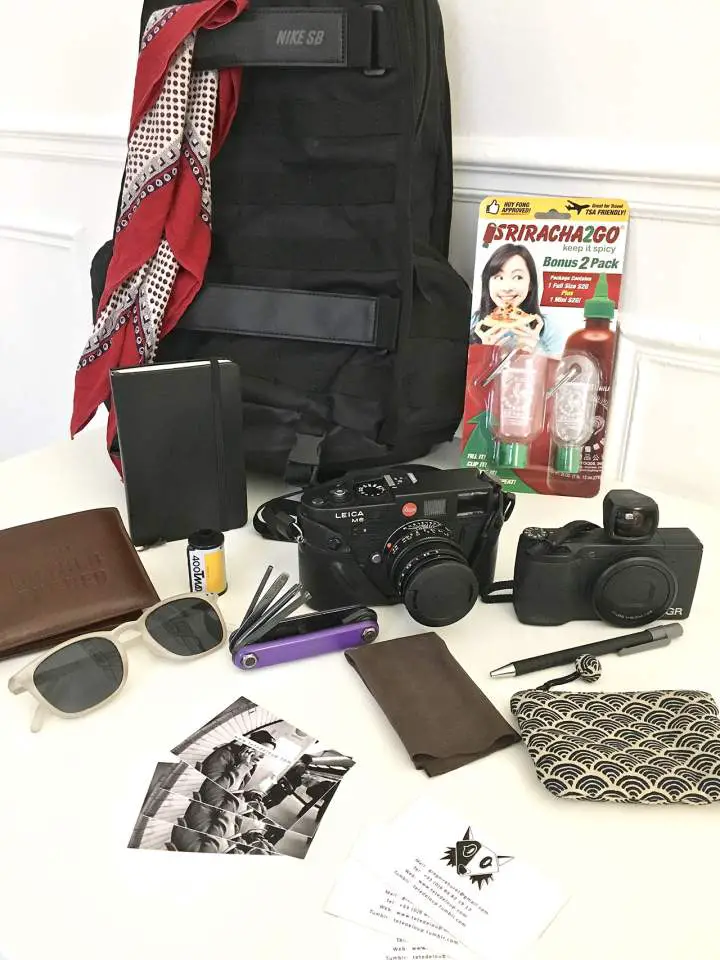 In your bag No: 1480, Grégoire HURET
Grégoire is back to share his bag. As you can see he also has a bit of a thing for hot sauce, which is perfectly fine in my book. Check out this awesome kit.
Hi Bellamy, this my second bag I send to you. The first one is here
This one was before my trip to NYC; I was very excited about packaging my stuff, you may know this feeling… it's like you'r already gone !
So, I've bought a new bag which is quite good I've to say and this is all my survival kit for this trip:
1- bandana, it's very usefull and it could be fashionable
2- note book and it's pen because when I'm travelling I love to note spots, restaurants, places and others stuffs
3-  Bad Mother Fucker Wallet , big fan of Pulp Fiction but who not ?
4- sun glasses
5- Leica M6, summicron 50mm f/2, my baby
6- kodak Tmax 400
7- Ricoh GR that I use for the night shot in Manhattan, this gear is blast for street photography
8- A multi-tool that is VITAL trust me ! Everybody need this. Normally I'm got knife but you can't bring it with you inside the plane.
10- a little Japanese purse for coins
11- I've found the trick to always bring with you hot sauce ! The SRIRACHA travel kit that you can match with your keys; this thing is crazy and when you go to NYC you gonna eat a LOT of slices of pizzas.
If you want to see my photographs: