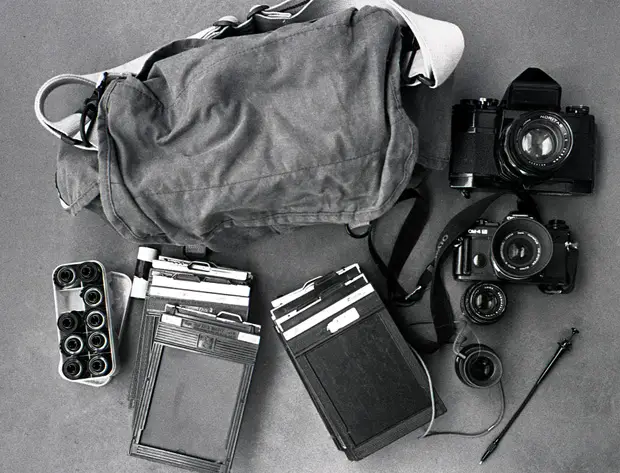 In your bag number 77, Jonathan Hillhouse
Now here we have a bag that I have wanted to feature for a very long time. Jonathan is a photographer who I have a great deal of respect for. I love his style and his vision, so it is a real pleasure to be able to feature his bag…

OK, my name is Jonathan Hillhouse, and this is my bag.
Of course, my gear changes depending on the situation but this is how it looked after an afternoon of portraits.
Domke F2 (waxwear)
Norita 66 + Noritar 80mm f/2
OM4Ti + Zuiko 40mm f/2
Leica Summicron 50mm f/2
4×5 film holders (HP5+, TX320, Acros 100)
Rodenstock 4x loupe
Fuji film case (Tri-X)
Cable release
Not pictured:
Leica M4-P + Summaron 35mm f/2.8 (around my neck)
Graflex Speed Graphic + Kodak Aero Ektar 178mm f/2.5 (mounted on Manfrotto tripod and carried)
I live in Oita City, southern Japan. I try and shoot as much as possible and love anything analogue! Check out my blog for more shots… http://jonathanhillhouse.tumblr.com (Note. You really really should check out his blog)
Thanks!
Jonathan
Short and sweet, but packed with great stuff. I have been following Jonathan's work for a long time now, and he is one of the reasons that I got back into shooting with film. It is an honour to have this bag on the site.
Keep them coming folks, we need more submissions, so get your bag on Japancamerahunter.com. Send me a hi resolution image of the bag (please make sure it is horizontal) and its contents, with some details about yourself and what you shoot. Oh and don't forget your contact details (twitter, flickr, tumbler et al). Send the bag shots here.
Cheers
Japancamerahunter