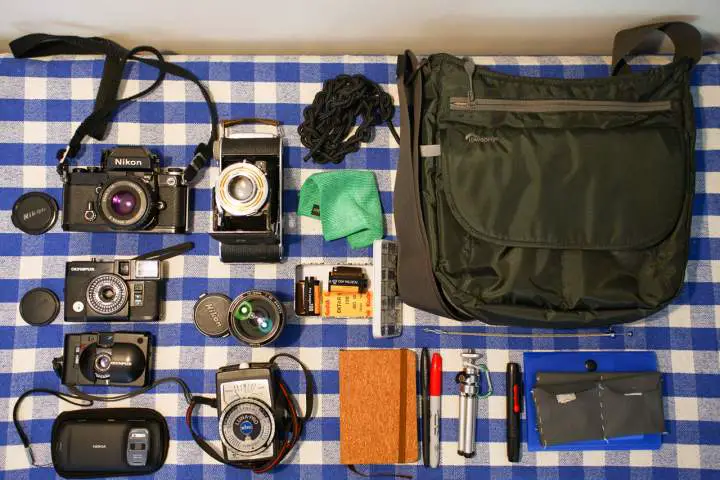 In your bag No: 1457, Guilherme Oliveira
Today we have a bag from Brazil, and it is stuffed to the gills with cameras. Guilherme Oliveira carries a wide array of gear around with him. No small undertaking, especially in the heat of Brazil.
Hello! My name is Guilherme Oliveira and I live in Petropolis, the Brazilian Imperial City.
I've been playing with cameras since I bought one of the first good "camera phones", a Sony Ericsson k790. Before that I had no interest in photography beyond registering memories.
Things escalated quite quickly as they usually do with me: after the Sony Ericsson k790, I bought a Sony Ericsson k850. Hated it. I decided then to get a "real" camera – a crappy Sony Cybershot w150 that was quickly replaced by a superzoom Nikon P90, then by a Canon SX10. 
After that, I moved to SLRs: Canon 450D, 60D and, finally, in 2012, a 5D Mark II, my only digital camera since then. I can see clearly now that I was looking for something that just didn't exist in digital photography.
Fast forward to this year's February at a friend's antique shop. I had some credit in his shop since I left a few things there for him to sell. It was then that I saw "her": a beautiful TLR Yashica D. My first thought was to get it so I could use it for decoration. Surely something so old looking couldn't work anymore.
Nope. The thing was fully funcional. I spent all day reading about it until I found its user guide in PDF form. In the next day I was looking for 120 film and bought a couple rolls of Kodak Ektar 100. Some weeks later I had the results on my hands and was completely in love.
Since lots of film cameras have accessible prices, I bought quite a few of them to experiment and keep. My last one was the gargantuous Pentax 6×7, an anvil that also takes pictures.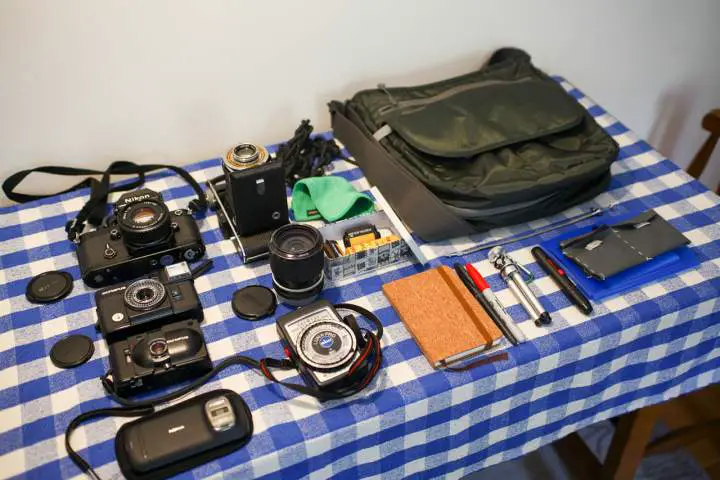 …
Anyway, let's talk about my "everyday" bag:
Lowepro Streamline 250 shoulder bag: Its specifications suggest it to carry a mirrorless and a pair of lenses. In my experience it was perfect for the usually small film cameras. And hey, even my TLRs fit in the middle part. Cheap, light and fun to use.
Nikon F2 AS: A lot of people say this is the best mechanical SLR ever made. Hard to argue. I like to use it with a 50mm Series E, extremely thin. I like to carry the second version of the 43-86mm zoom (the first version is awful according to the internet) when I need some extra ranges.
Olympus Pen EF: The last of the venerable film Pen series. This is a fully automatic half-frame camera with a small flash coupled. Very fun to use. Pens usually are.
Olympus XA: If you have one then you know that it should be with you all the time.
Franka Rolfix: a few months ago I found a handful of old B&W negatives at my grandma's house. They were huge. Soon I found that they were 6×9 format. I had to find a camera that could give me something like that and bought this surprisingly pocketable fold camera. It even has a mask that allows me to also use 6×6.
Nokia 808: Does anybody remember this 2012 camera phone? It was the last Symbian device made by Nokia. There's a reason some people still love it: its 41 MP almost 1′ sensor creates amazing photos by combining close pixels, making "super pixels" and converting them to 3, 5 or 8 MP pictures. It is a bit nightmarish to use it four years later because the Symbian interface is really sluggish, but the results pay off. It's a great backup camera, really, if you have the patience to use it.
Gossen Luna Pro SBC: one of the best analog photometers ever made. If you have one, keep it.
Etc: Piece of paracord, generic microfiber cleaning cloth, lens cleaner pen, tin box with extra film rolls, notebook, a remote cable, a red Sharpie and a terrible self-made pocket-y thing to store four filters
Thanks for sharing your bag with us, Guilherme. Do you have a website that you can share with us?
Keep them coming folks, we need more submissions, so get your bag on Japancamerahunter.com
Send me a high resolution image of the bag. Optimum size is 1500px across. Please ensure there is a bag in the shot, unless you don't use one. The more you can write about yourself the better, make it appealing and tell us a story. Snapshots of your gear with a camera phone and no words will not be featured.
Oh and don't forget your contact details (twitter, flickr, tumbler et al). Send the bag shots here. Please understand that there is a long wait now as there is a backlog of submissions. Not all make the cut, so make sure yours is funny/interesting/quirky. And please make sure the shot is of good quality, as the ones that are not do not go up.
Cheers
Japancamerahunter