In your bag No: 1449, Patrick Ludolph
Patrick has already left on a epic journey, and he has taken this setup with him. A huge amount of gear for a very ambitious project. Check it out.
Hey, I'm Patrick from Hamburg in Germany,
on Saturday (Sept 2016) I will fly to Singapore where I'll go on board of the Leverkusen Express (http://www.marinetraffic.com/en/ais/details/ships/shipid:152670/mmsi:218565000/vessel:LEVERKUSEN%20EXPRESS) a 13.000 container vessel from Hapag Lloyd. We will then ship to Shanghai through Shekou, Kaohsiung, Kwangyang and Busan.
I will photograph a reportage on board of the ship which should be focussed on the people on board, from the mechanic to the captain, about their work and their life. It was always a dream to to such a trip and after more than a year of preparation it came true. This is the first trip, two or more trips to other continents should follow. When I come back, I plan to make a book from this reportage. I can't tell you much more about my journey, as I don't know what happens know, but I'm very excited.
Most of the reportage will be digital, but I also take my M6 with me to take some film shots for personal use. Reportage workhorse will be my Leica Q and my M240. Leica in Wetzlar was so nice to support the project and borrow me a backup body and two lenses, as I don't own everything by myself.
Here is list of what's in my bag:
– Leica Q
– 2 x Leica M240
– Leica M6
– Summilux 24/1.5
– Summilux 35/1.4
– Summilux 50/1.4 (special retro edition)
– Summicron 75/2.0
– Summarit 90/2.4
– SF 40 flash
– Kodak Tri-X
– Fuji Acros
– Ricoh Theta S for 360° fun stuff
– DJI Osmo for some making of video footage
– Manfrotto Pixi
– WD Elemetss HDD 2 TB
– ND filter 10 stops for the Leica Q
– a bunch of memory cards
– my self made straps
– the backpayk is an ONA Camps Bay 
My blog (http://neunzehn72.de/) and my facebook page (https://www.facebook.com/neunzehn72/) are in German, but if you are interested in my journey, you can follow me on instagram (https://www.instagram.com/paddy.lu/). switch from models to ships there the next weeks ;-)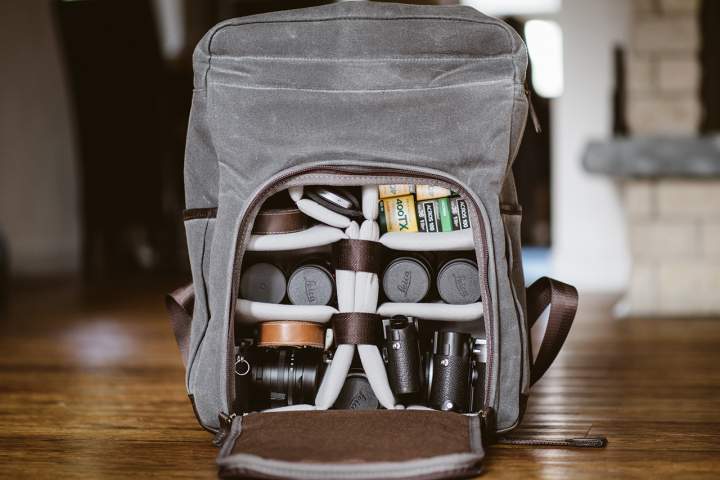 Thanks for sharing my story and my bag. Keep the nice work. 
Patrick
Thanks for sharing your bag with us, Patrick. I hope your trip has been a lot of fun.
Keep them coming folks, we need more submissions, so get your bag on Japancamerahunter.com
Send me a high resolution image of the bag. Optimum size is 1500px across. Please ensure there is a bag in the shot, unless you don't use one. The more you can write about yourself the better, make it appealing and tell us a story. Snapshots of your gear with a camera phone and no words will not be featured.
Oh and don't forget your contact details (twitter, flickr, tumbler et al). Send the bag shots here. Please understand that there is a long wait now as there is a backlog of submissions. Not all make the cut, so make sure yours is funny/interesting/quirky. And please make sure the shot is of good quality, as the ones that are not do not go up.
Cheers
Japancamerahunter