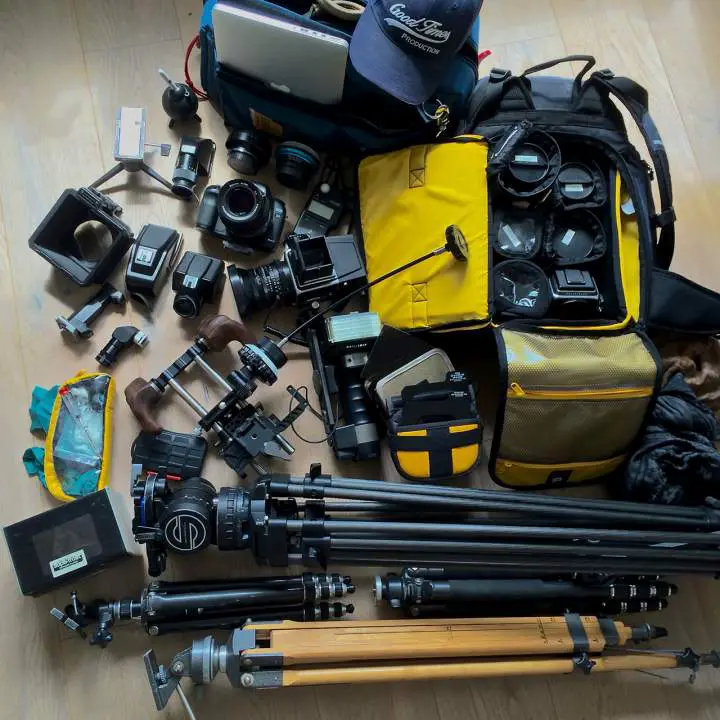 In your bag No: 1412, Spencer Vos
Spencer carries more gear than I think I have ever seen anyone carry. Seriously, this is an immense amount of gear, but each to his own. Come and check out what Spencer carries in his multiple bags.
My name is Spencer Vos from Amsterdam-Holland. I do landscape- and nature photography, product photograpy as well as sport.
One of my first camera's was a Contax analogue camera with a Carl Zeiss 50mm f1.4 that I took on trips all around the world. Very nice one.
Later I sold the Contax and bought the Canon 5DMKII. But I felt that compared to the analogue Contax- the red and brights that come off the Canon are not satisfying. For example product photography with meat or bright red peppers somehow never come out as I was used to shooting film. In print you would say those colors are out -of-gamut.
Then I bought the Phase One Digital Back P25 and some Hasselblad body's. Now thats a large step up. The depth of field, the bokeh but also the colors that come out of that DB are so nice that the 5DMKII is almost never used anymore. OK the Hasselblad body's are old -one body is from 1971, the lenses are not that fast starting at f4.0 but it works for me.  Editing I do in Phase One Capture One on a MacbookProRetina that I use also to shoot thetered as I can use the whole screen of the MacBookPro as viewfinder.
The P25, the first fully self-contained 22 Megapixel back that features almost full-frame 645 coverage is more than 10 years old. I bought this DB from a professional photographer that used the DB for studio work only. The P25 DB price was a hefty $29,990 in 2004. Pixel wise it's the same as the 5DMKII but thats the only thing they share.
What do I carry along? A lot. But it's worth it. At least I think so.
Camera body's:
Hasselblad 501CM,
Hasselblad 500C,
Phase One Digital Back P25 that fits on both Hasselblad body's.
Canon 5DMKII.
Lenses:
Carl Zeiss Hasselblad 
CF f4-40mm FLE floating lens element, ±medium format equivalent 21mm on a FF 35mm
CF f4-50mmFLE floating lens element, ±medium format equivalent 35mm on a FF 35mm
CF f2.8- 80mm, ±medium format equivalent 50mm on a FF 35mm
CF f4-150mm, ±medium format equivalent 80mm on a FF 35mm
CF f5.6 250mm, ±medium format equivalent 150mm on a FF 35mm
I still search for a affordable Hasselblad CF 30mm and CF 350mm to complete the kit.
Lens pouches
Every lens I own has it's own lens pouch from Portabrace: snow, rain and dust proof while still being able to see whats inside the pouch.
Easy to stack lenses to each other, give more room for more inside the bag and protect the lenses against each other.
Extention rings, with an extention ring a lens can be closer to the subject, a 8mm on a 150mm is nice for portraits.
I've got 
Hasselblad 8mm
Hasselblad 16mm
Hasselblad 32mm
Hasselblad 56mm
Viewfinders: a whole lot
Hasselblad lightshaft viewfinder
Hasselblad PM90 
Hasselblad PM5
Hasselblad HC3 it depends of the pictures and weather what I put on the Hasselblad body's.
An 90 degrees angle viewfinder for the Canon 5DMKII for low angle shots.
Lens adapters:
These are adapters so my Hasselblad lenses fit on the Canon body.
I use Fotodiox adapters only as they are very good build quality and have a tight fit.
The former ones I used corroded easy-resulting in a jammed Hasselblad lens on a adapter because of the salt air in Thailand, that took days to get working again..
ND Throttle- This variable ND filter can go from ND2 tot ND1000 so I can get up to 30 seconds exposure at a low ASA value in bright sun, for blurred movements on streets, streams, rivers and oceans. 
And then a AF confirm adapter for Autofocus Confirm when I use the Hasselblad lenses on the 5DMKII. 
Why a Hasselblad manual lens on a Canon 5DMKII?
As a full frame 21mm lens acts like a wider (for example 50mm) lens on a non full frame camera such as aps c, the convertion ratio.
The opposite is for medium format lenses on a FF 35mm camera.
A 40mm medium format lens acts like a 80mm lens on the Canon FF. 
A 80mm medium format lens acts like a 150mm and a 250mm f5.6 medium format lens acts like a 500mm f5.6 prime lens.
With just a few lenses in the bag I can cover a large range of lens lenghts. 
The best optical part of the lens is the centre of the lens. As the 5DMKII only uses that centre part of the medium format lens… well It's a matter of taste really. Sharpness with the Hasselblad lenses is just exact on one spot.. a bit off in focus and the picture is just unsharp.
The Hasselblad lenses on the Canon are even more difficult to get spot on focus as the Bell curve of the focus spot is much shallower than on the Hasselblad body. Therefor the AF confirm adapter.
Difference between the Hasselblad +Phase One and the Canon 5DMKII? 
To me the pictures are just so much better with the P25 that I rarely use the 5DMKII.
The colors, the sharpness but also the lack of moire. 
In editing the P25 can be pulled almost from black underexposed or almost white overexposed and still end up in a usable picture,
so deep shadows and over the top sky highlights are not a real issue. The Canon in comparison with the P25 gives almost plastic faces, the P25 is almost analogue color wise. The P25 is not a 100% full frame 6×6 sensor size but the ratio is just 1.1 easy to live with although it still is non square as the 6×6 film.
The focus glass off the Hasselblad is much much larger than that of the 35mm Canon and with the Acute Matte D it is very bright and easy to focus.
Tripod: 
again a lot I can choose from depending of the shoot.
Gitzo travel tripod
A old school wooden Berlebach tripod- never jams, can be put into water, does not freeze, does not become hot in the summer. Perhaps I will do a paint job on the Berlebach in nature camouflage.
The the Sachtler Carbon Cine Tripod with 7×7 head; super stable but at a cost: although fully carbon it still weight almost 10 kilo with the head. But the weight is worth it. 
A matt black black stainless steel ultra mini tripod- a table tripod for low shots.
For video shoots I use Canon 5DMKII, a follow focus rig, two Aaton wooden handgrips, 15mm rod spacing, Tilta Follow Focus.
This video rig I also use for photography; the whole rig locks on the Sachtler tripod. 
For video I also have a special US made anti moire filter that fits in front of the mirror of the 5DMKII.
The matt glass I changed for a split view, sniper crossed one I bought in Hong Kong, not too bright but better focussing than the Canon original matt glass.
A Hasselblad lens has a very long focus throw around the lens, very accurate and smooth.
Having the focus at 90 degrees angle to the lens gives a better ergonomy for focussing so I use the rig for photography also.
Every body has a Manfrotto baseplate, every tripod has a Manfrotto mount on it.. 
Every lens has a USA Half INch Rails Zip Tie lens gear on it, this to be able to mount the lens to the follow focus. But also without follow focus I prefer the feel of the Zip Tie on the lens for manual focussing.
Perhaps I will change the base &mount on every body and tripod to a Manfrotto hexagonal quick release plate. 
Because sometimes with the follow focus on a longer lens, the follow focus pushes the lens to the left. The hexagonal mount has 2 screws instead of just one.
The bag.. I've got 3 bags I carry along.
A Burton Photo camera bag, very nice and well designed.
The lenses and camera are behind a zipper at the rear side of the bag inside a protective soft casing.. 
The camera and lenses can only be reached when the bag is off the shoulder, weather proof and safe.
Having to put the bag off before I can reach the camera's and lenses is no issue for me.
The second bag I carry is a Portbrace, this is where I put all other lenses, compedium and filters in.
And last: the Sachtler Tripod Bag.
What else? a small long screwdriver in the case a Hasselblad lens locks..
Some lens cleaning. 
A Lightmeter
Compendium Hasselblad 6093 V/H with Hasselblad Shades for the 150mm and 250mm.
Glass Lee filter kit: ND Grad, ND3, ND6, Cosmetic, Wratten 85A, Tiffen Polariser, 1980's Wilson Supafrost (complete rare to find Wilson soft focus filter set)
Iphone for some apps: Alpa II, Cartage Directors Viewfinder,  Color Temperature Meter, Lightmeter, EV meter…
Flash: a Hasselblad Metz with a range of reflective umbrella's
A de-duster.. the P25 has a very very large sensor.. easy to reach and easy to clean with the de-duster.
Some Shemags, to block dust when I'm in the desert.
Thats inside-my-bag, so here it is.
Links to some footage
https://www.flickr.com/photos/axelerator/albums/72157647494365050
Thanks for sharing your gear with us, Spencer. That is an incredible amount of gear, I don't know how you do it.
Check out the links and please come and comment.
Keep them coming folks, we need more submissions, so get your bag on Japancamerahunter.com
Send me a high resolution image of the bag. Optimum size is 1500px across. Please ensure there is a bag in the shot, unless you don't use one. The more you can write about yourself the better, make it appealing and tell us a story. Snapshots of your gear with a camera phone and no words will not be featured.
Oh and don't forget your contact details (twitter, flickr, tumbler et al). Send the bag shots here. Please understand that there is a long wait now as there is a backlog of submissions. Not all make the cut, so make sure yours is funny/interesting/quirky. And please make sure the shot is of good quality, as the ones that are not do not go up.
Cheers
Japancamerahunter