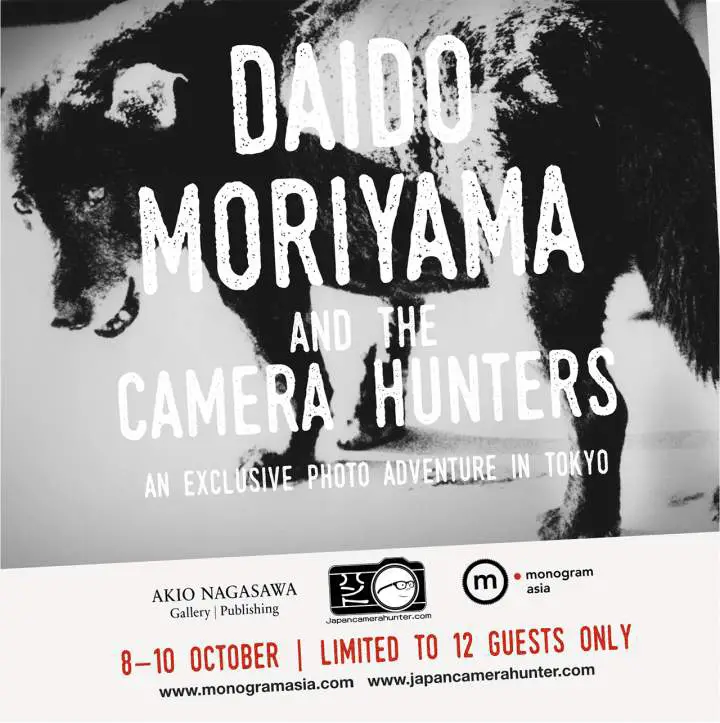 Daido Moriyama And The Camera Hunters
This October 2016,  Monogram Asia and JCH in conjunction with Akio Nagasawa Gallery will be hosting an event from the 8th to the 10th in Tokyo. So what does that mean? Well,  this is your chance to meet Japanese photography legend, Daido Moriyama. Oh, and you will have the pleasure of putting up with me too.
So this is the deal, for 3 days you will get to take in the spots of Tokyo, checking out camera stores, a camera fair and interesting shooting locations. And on the final day you will be whisked off to the Akio Nagasawa Gallery, for a private Q&A session with Daido Moriyama, including a look at new work and possibly even him signing things (I dunno, like cameras?)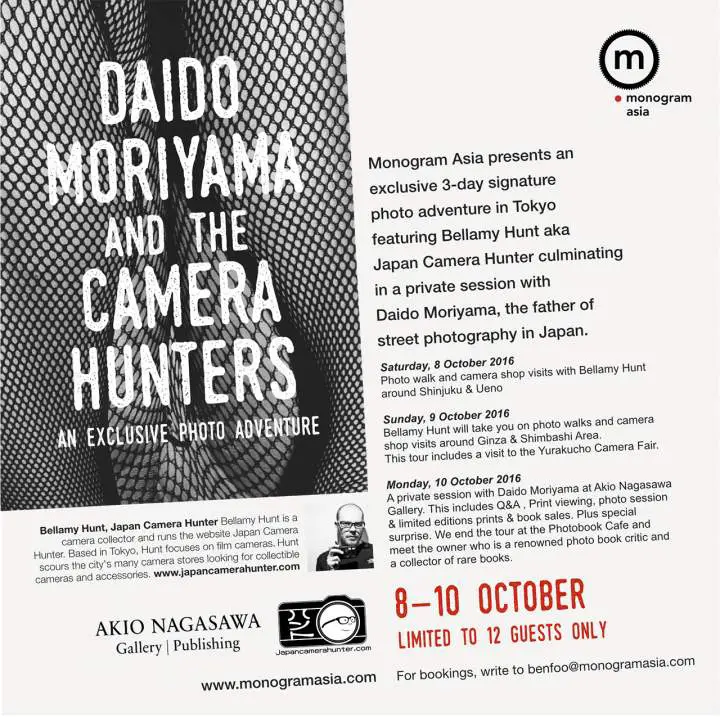 Monogram Asia have very kindly asked me to co-host the event and be a sort of guide to Tokyo, so we will get a couple of days to explore the city, maybe find some camera bargains, eat some funky ramen and have a lot of fun. There will also be a special surprise at the end, but I am not telling, you will just have to come.
The schedule will include:
3 DAY ITINERARY (SUBJECT TO CHANGE)
Saturday, 8 October 2016
Photo walk and camera shop visits with Bellamy Hunt (and assistant) around Shinjuku & Ueno
Sunday, 9 October 2016
Bellamy Hunt (and assistant) to take you on photo walk and camera shop visits around Ginza & Shimbashi Area.
This tour includes a visit to the Yurakucho Camera Fair.
Monday, 10 October 2016
A private session with Daido Moriyama at Akio Nagasawa Gallery. This includes Q&A , Print viewing, photo session & limited editions prints & book sales. Plus special surprise. We end the tour at the Photobook Cafe and meet the owner who is a renowned photo book critic and a collector of rare books.
You can contact Monogram Asia for bookings and inquiries here Click this link
I hope to see you here in Tokyo. Places are strictly limited, so please get your booking in early.
Cheers
JCH