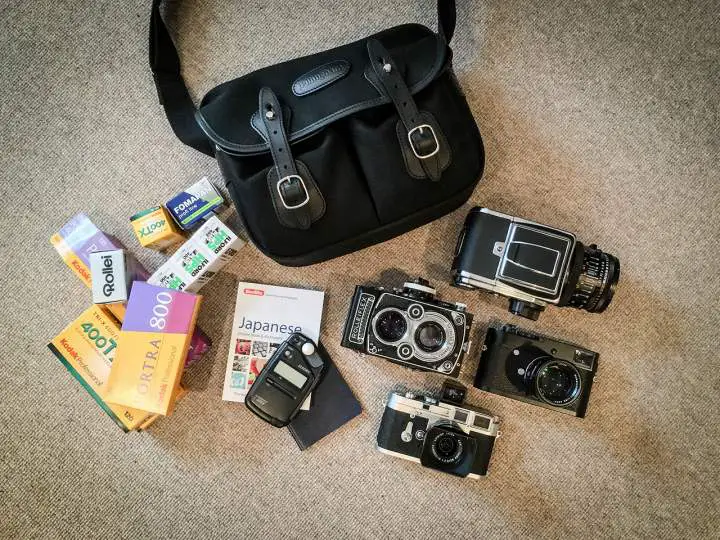 In your bag No: 1395, Paul
Paul here is from London, and he shares with us some of the gear he likes to take out when he shoots the streets of London. Including a rather interesting book that looks a little out of place. I wonder why…
My name's Paul and I'm from London. I shoot mostly street photography. 
Just over a month ago, I took my foray into film by purchasing the Leica M3 to accompany my digital M-P 240. 
Well … after developing my first few rolls, I just couldn't stop there and picked up a medium format camera. And then another one. 
I've also taken up making my own prints, having set up a darkroom in a spare room. This has taken my newfound appreciation for film to another level and I'm excited about the possibilities which lay ahead. 
I have the Billingham Hadley – Small, which will accommodate any two of my cameras at a time. I'll usually take one compact, and one medium format with me on any given day. 
* Leica M3 + 28mm Elmarit 2.8 (newly released version) 
* Leica M-P 240 + 50mm Summilux 1.4
* Rolleiflex 3.5F – Planar
* Hasselblad 500c/m + 80mm CF T*
I'm thinking about visiting Tokyo within the next few weeks, where I intend to pick up a Contax T2 (or T3), which you've often spoken so highly of. Your website will prove to be an invaluable resource on my travels no doubt. 
You can view my work at http://flickr.com/pa_px or on Instagram @pa_px :) 
Thanks! 
Paul 
Thanks for sharing your gear with us, Paul. Nice selection of gear you have there.
Check out the links and please come and comment.
Keep them coming folks, we need more submissions, so get your bag on Japancamerahunter.com
Send me a high resolution image of the bag. Optimum size is 1500px across. Please ensure there is a bag in the shot, unless you don't use one. The more you can write about yourself the better, make it appealing and tell us a story. Snapshots of your gear with a camera phone and no words will not be featured.
Oh and don't forget your contact details (twitter, flickr, tumbler et al). Send the bag shots here. Please understand that there is a long wait now as there is a backlog of submissions. Not all make the cut, so make sure yours is funny/interesting/quirky. And please make sure the shot is of good quality, as the ones that are not do not go up.
Cheers
Japancamerahunter