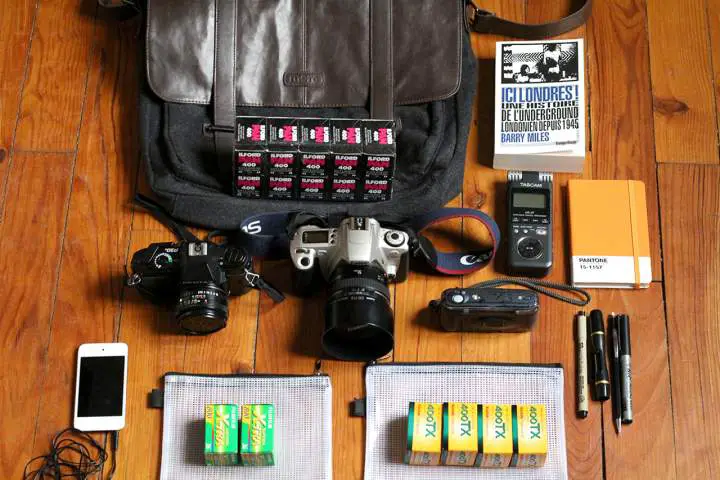 In your bag No: 1372, Gildas Lepetit-Castel
A French photographer, using Japanese cameras, to shoot the streets of Belgium. C'est fantastique! Come and check out this well organised street shooters bag.
Hi ! I'm Gildas Lepetit-Castel, french photographer. I love to walk and shoot in the streets. 50mm is my favorite lens to observe the world around me. This day I'm going to Belgium for shoot the last pics of my coming ​street photo ​book.
In my London's Merc bag, solid and perfect to be discret, I put :
– a Canon eos 300v camera with a 50 mm f/1.4. I love canon eos,
​I​ have a lot of 300, 500, 50 & 5 camera I buy for some money.
– a Pentax P30 with a Ricoh 50mm f:2. A good friend offer it to me. I use it for shooting color rolls. It's a solid and small camera very simple and good working.
– an old Minolta Riva Panorama for some panoramic shot. I love this small camera !
– BW Films : Ilford Pan 400 use at 400 or push to 800. And some rolls of Kodak Tri-x. I push them to 1600 or 3200 by night. I like his grain in Rodinal
– Color Films : some rolls of Fuji X-tra 800.
– lenspen, pen and Notebook
– Tascam recorder for savong some ambiant sound.
– always a lot of albums (jazz, rock) in my ipod.
– & a good book about a city I love.
Gildas Lepetit-Castel
Thanks for sharing your bag with us, Gildas. It is a very long time since I have seen one of those Minolta Riva's.
Keep them coming folks, we need more submissions, so get your bag on Japancamerahunter.com
Send me a high resolution image of the bag. Optimum size is 1500px across. Please ensure there is a bag in the shot, unless you don't use one. The more you can write about yourself the better, make it appealing and tell us a story. Snapshots of your gear with a camera phone and no words will not be featured.
Oh and don't forget your contact details (twitter, flickr, tumbler et al). Send the bag shots here. Please understand that there is a long wait now as there is a backlog of submissions. Not all make the cut, so make sure yours is funny/interesting/quirky. And please make sure the shot is of good quality, as the ones that are not do not go up.
Cheers
Japancamerahunter