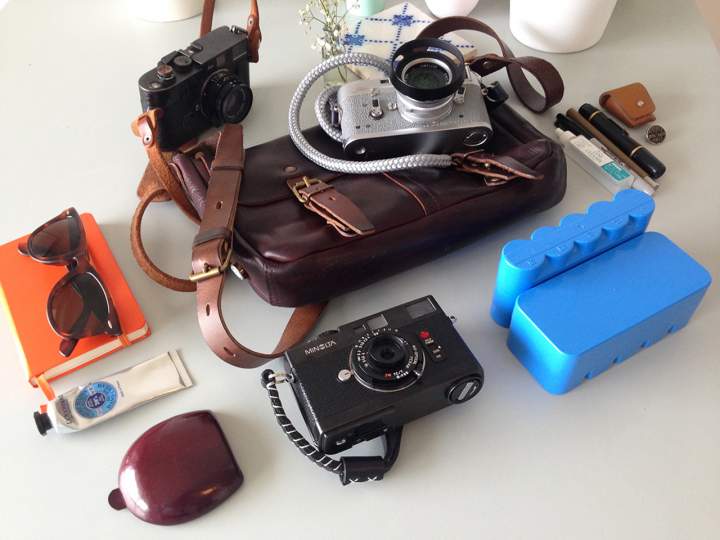 In your bag No: 1370, Baptiste Ledebt
Baptiste is back, and with a brand new bag (that never gets old). This time around with some cool accessories and an new direction for his photography. Come and check it out.
HELLO EVERYONE
This is my second submission here and my bag has evolved since the last time. (https://www.japancamerahunter.com/2015/04/bag-no-1157-baptiste/)
First of all, thanks to JapanCameraHunter to publish my stuff.
My name is Baptiste, I'm a french architect with a profound interest in photography. I live in Nantes, French Britanny (FR)
I continue to take pictures from my trips.
But I start in the same time to think about series to create something special, my first works.
Actually, I'm working on the fair ground but especially on people. So I contact them, read books, etc… before to meet them and take pics.
I hope to succeed to follow a group to understand their lives.
And like one project couldn't be alone, I must to learn how to develop and create my website…
Actually I'm walking with several cameras:
A Minolta CLE, a Leica M4, a Leica M6 (+ a Nikon FE2 and a Rolleiflex T Grey, not on the pics)
My fav' one is my all grey M4, I've developed a special relation with it.
(The little story is that I've lost a really nice cat the same day I've ordered this camera. I really liked it… and I've decided to change the leather in grey to remember my grey cat. It's name was Jade, so I call my camera with the same name)
With them, I've got different lenses:
– MS Optical Perar 24mm (on my Minolta CLE – I used the full viewfinder)
– Minolta M Rokkor on the M6 (modify to bring up the 35mm frame)
– Zeiss Biogon 35mm f/2.8
– Nikkor P 45mm f/2.8
– Nikkor AIS 28mm f/2
I like to have just one camera in my bag to travel light.
Sometimes I take two, but only to have one in B/W and the other in Colors.
So I've bought this leather bag, made by Bleu de Chauffe a french brand. It's very small and very beautiful (IMHO) and doesn't look like a camera bag.
Inside you could find JCH film cases in blue with Fuji XTRA 400 and Ilford HP5+.
-a sharpie pen marker.
-a fountain pen
–a cura lens cleaner
-an orange leuchtturm notebook
-a Lumu lightmeter
-my Ray Ban Wayfarer with Bausch and Lomb glasses. (a special gift from my father)
-my wallet
– and my hand cream from l'Occitane
(The bottle of whisky stay at home, I don't take it with me everyday ;) )
To see my works, you can go to my flickr page: https://www.flickr.com/photos/baptisteledebt/
Baptiste Ledebt
Thanks for coming back to us, Baptiste. A lovely Featured On JCH pin you have there too.
Keep them coming folks, we need more submissions, so get your bag on Japancamerahunter.com
Send me a high resolution image of the bag. Optimum size is 1500px across. Please ensure there is a bag in the shot, unless you don't use one. The more you can write about yourself the better, make it appealing and tell us a story. Snapshots of your gear with a camera phone and no words will not be featured.
Oh and don't forget your contact details (twitter, flickr, tumbler et al). Send the bag shots here. Please understand that there is a long wait now as there is a backlog of submissions. Not all make the cut, so make sure yours is funny/interesting/quirky. And please make sure the shot is of good quality, as the ones that are not do not go up.
Cheers
Japancamerahunter