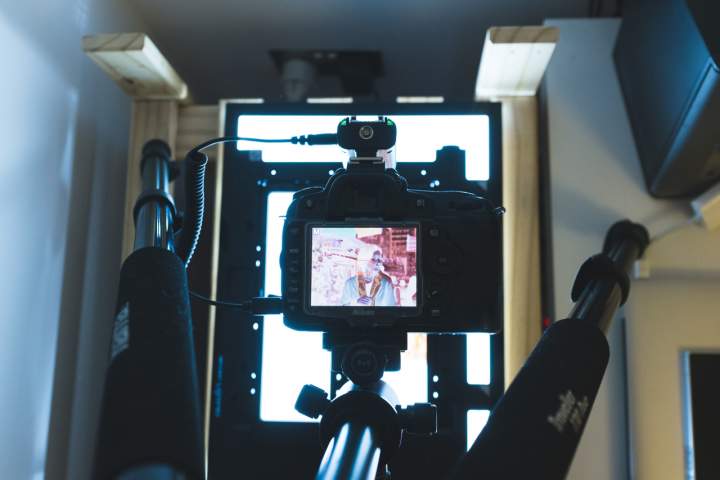 Scanning film with a digital camera – by Adrien Saint-Pierre
Today we have a guest article on how to scan your film negatives with a digital camera. Cutting out the need for a flatbed scanner and making use of what many photographers have at home. Adrien Saint-Pierre takes us through the process in this excellent guide.
Hi everyone,
I am an amateur photographer with a love for film and as a student, my budget is fairly limited. I shoot mainly a Bronica ETRS medium format camera with Portra 400 and Ilford HP5+. I made the choice not to develop my own negatives but I can't afford the cost of high-res scan. When I decided to scan negs by myself, flatbed scanners were not cheap and I was not very impressed by their quality. On top of that, it did not look very straightforward either to get a decent scan out of their terrible proprietary software.
A friend of mine then suggested to use my old DSLR as a joke, it turned out that many people were already doing it with impressive results. I quickly put a scanning setup together and results with black and white were great, colour was still messy. After many experiments, I want to share with you my colour film scanning process. This method relies on a basic DSLR, a macro lens, a light table, and Adobe Photoshop. In this tutorial, I will rely on a collage algorithm to get a high resolution scan of a 645 negative. More importantly, these are tools that most photographers already own, making the all process very affordable while being highly qualitative.
 What you need to get started
–  A digital camera with a liveview capability. I use my old Nikon D90, it works like a charm. If you are planning to scan a consequent number of negatives, get at least a spare battery.
–  A macro lens with a 1:1 reproduction ratio. I use a Micro-NIKKOR 55mm f/3.5 with a PK- 3 extension ring.
–  A tripod/column to attach the camera. You have to take the shot facing down so you need a tripod where the column can either be inverted or used horizontally. I use a quite sturdy tripod and a ballhead.
–  A level to make sure things are perfectly parallel. I use my phone with an app, it does the trick.
–  A light table. Forget about using an iPad, pixels will be showing, no matter what. Get a proper one, it's cheap and always useful to review negatives anyway.
–  A negative holder. I use one coming from an old Epson Perfection 4990. This one is ok but it's not always easy to maintain the negative perfectly flat. I'll get back to that later.
–  Release cable/remote. I use the Yongnuo RF remotes I already had, any cheap one will do.
–  A blower/brush to get rid of the dust.
–  Optional but recommended, a calibrated monitor. I use a x-rite display calibrator, great investment.
–  A proper cup of coffee/tea and some relaxing music. I can't stress enough this last point, it makes a world of difference.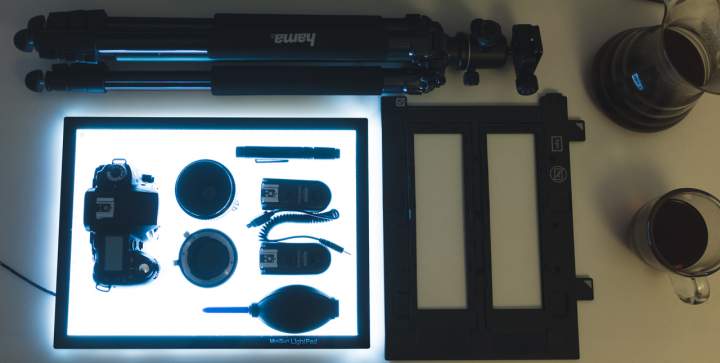 Overall, this particular setup cost me £30 for the negative holder, £30 for the light table, £40 for the lens, £20 for the extension ring. So a total of £120 excluding the camera, the tripod, the remote, and the software I already had. Not too bad.
1. The capture process
Make sure that your focal plan is perfectly parallel to your light table. It can be tedious but it is a crucial step, do it with care as the camera won't be moved after that. On the picture you can see the setup with my phone used as a level.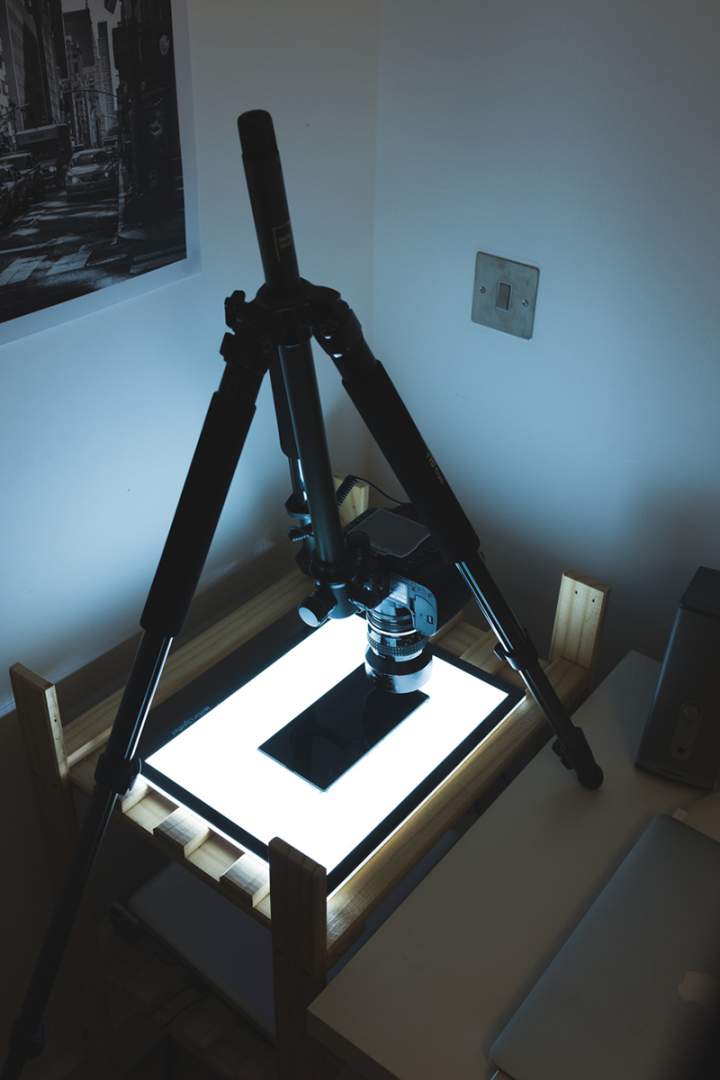 Place the film in the holder. Make sure the negative is as flat as possible. A tiny flatness issue not only distorts your image but can also get it out of focus. It's also a good time to dust off the light table and your negative. The more you remove now, the less time you will spend getting rid of it in front of your computer.
Time to place the film holder under the camera. You now need to get the focus right and this is where the liveview comes in handy. Once again, this is a tedious process and probably the most critical too.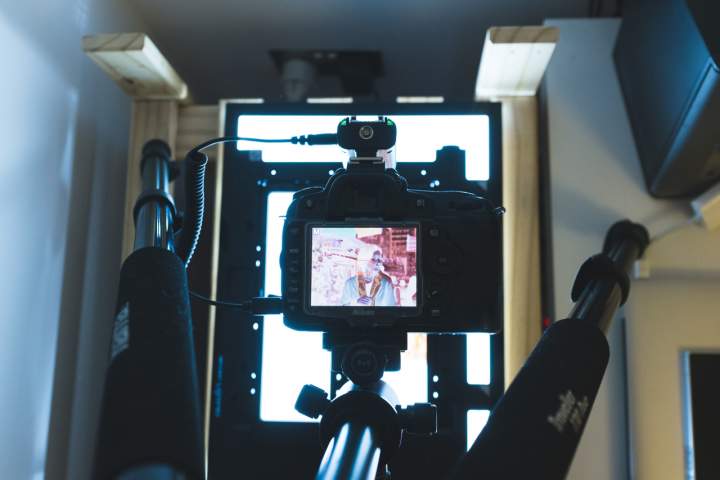 Coming to the settings, I go by f/8 and 1/10 of a second for colour film, 1/40 for black and white. As you should shoot raw, fixing the white balance does not matter at this stage. You might need to play a bit with these parameters as trial and error is the way to go. If you use a DSLR, I also recommend delaying the exposure after the mirror is up.
Time to scan! Now you need to take as many pictures as needed to cover the all negative by sliding the film holder. You need to make sure they overlap sufficiently and that you are also capturing the unexposed part of the neg, this is very important for the following steps. I usually take 9 shots for a 6×4.5 and I am left with a final resolution of about 50 megapixels, this will depend on the result you are targeting. You can do this tethered or with a memory card, totally up to you.
2. Processing
1. Import the photos into Photoshop, no particular adjustment is needed. I find that a bit of sharpening can sometimes help the collage algorithm though.
Once all photos are open, go to File>Automate>Photomerge and select Collage. Click on "Add Open Files", make sure the "Blend images together" box is ticked and press "OK
Depending on the computer you are using, this might take some time. There is also a small chance that the Photomerge fail. In this case, be patient and start over making sure your focus is properly done and your film is flat. Bear in mind that the more detailed the picture, the more chances of success. If it works, you should get something like this:

Now, we need to sample the film stock where it is not exposed to get rid of the orange mask. Select all layers and merge them together. Add a "Levels" adjustment layer. Select the White eyedropper and set the "Sample size" (upper left) to "11 by 11 Average" to begin with. Click a few times on the unexposed part of the film, if the results are consistent, your "Sample size" is adequate. If not, change it until you obtain consistent results.

Now we need to invert the picture. Add an "invert" adjustment. The picture looks ugly but don't panic, everything is under control.

For this step, we need to get rid of everything which is not the picture itself, including the borders. Use the crop tool.
Now we are ready for the last operation, the tonal curve adjustment. Add a "Curves" adjustment layer. Open the "Auto options…" and make sure the following parameters are selected: "Enhance Per Channel Constrast", "Snap Neutral Midtones", "Shadows Clip" to 0.01%, "Highlights Clip" to 0.01%. Click on "OK".

Click on "Auto" and voila! If you can still observe a cyan cast, select the Red curve in the RGB menu and move it slightly to the left.
Now, the rest is on you. You should have a relatively well-balanced and detailed scan to work with in a convenient PSD file format.
To end this tutorial, I would like to acknowledge and thank Michael Fraser for the orange protective layer removal process he once shared on his blog. My scanning process relies heavily on it and before that, I had pretty much given up on colour film. Of course, this is only one way of doing it and you should experiment to improve and adapt it to your own needs.
Below are some examples of scans I made using this process: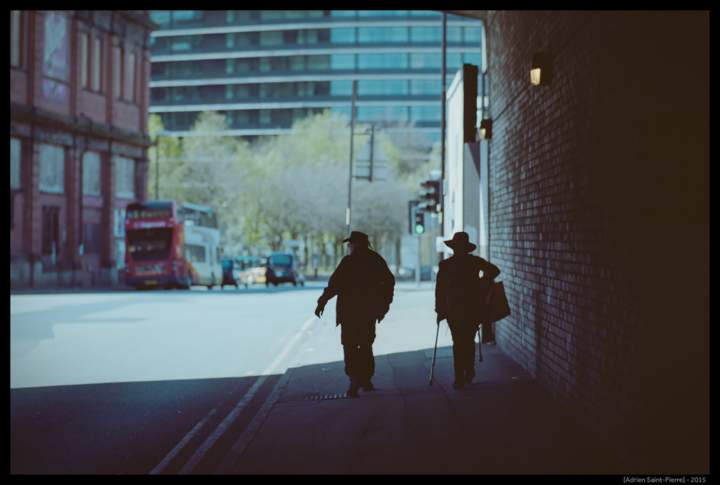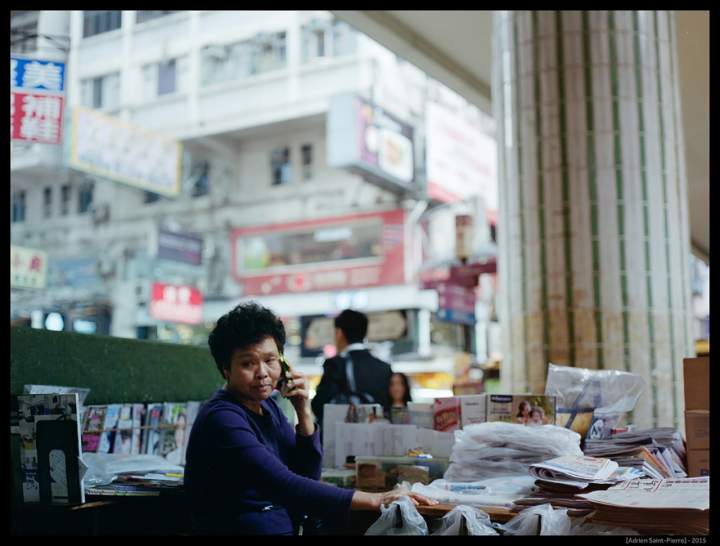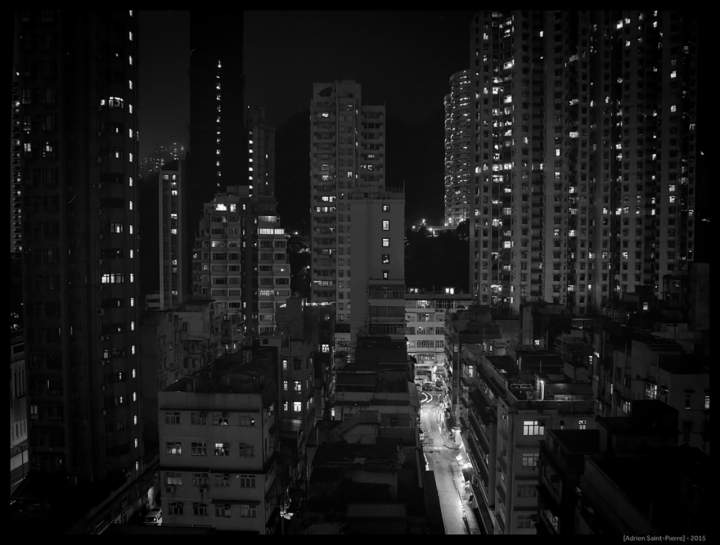 You can find some of my scanning tests on my flickr:
https://www.flickr.com/photos/asaintpierre/
If you have any question or suggestions, please share them in the comments!
Thanks for taking the time to put this guide together for us, Adrien. It is greatly appreciated.
Cheers
JCH