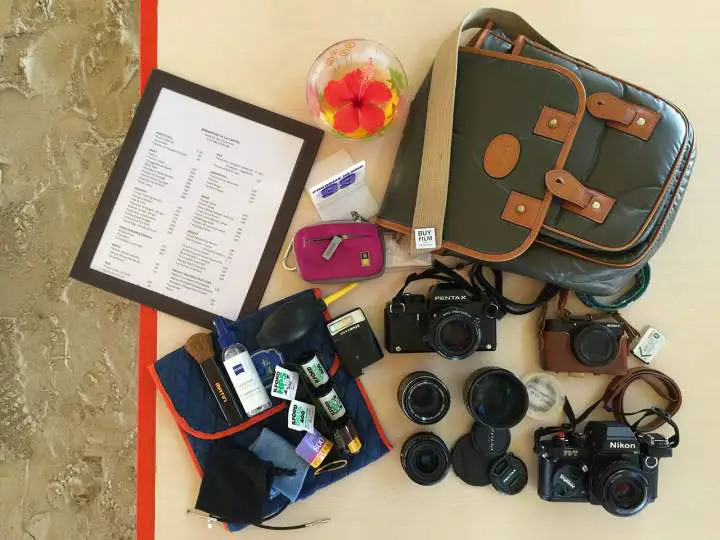 In your bag No: 1346, Gavin
Gavin returns to us (after not a great deal of time compared to some) and shares with us how his setup has evolved since his last feature. Still some cracking gear in there though. Check it out.
Hello JCH fans and Bellamy aka "The Hunter".
This is my second submission to update and show what I have now in my bag.   My first bag submission was #1297.  
Finally, my family had a chance to go and visit Davao City, Philippines.  Purpose of which is to try if we can handle our 15th month old baby when travelling.  This is in preparation for a Japan trip during the used camera show and cp+ exhibition this February 2016.  Of course, the Japan trip is not for her but for me!.  I wanted them to join me and have a vacation since I will surely miss my baby girl.  We never go on vacation and our life is all work to be honest.
I had so many bags that I wanted to submit but seem work really gets into the way.  Of course, in real life I change always in every travel but submitting too much isn't also I think a good idea.  This goes to show how many I have bought on my first year of photography.  I travel a lot for work and every opportunity like an hour in the morning or at any hour of the day I try to take pictures and what a year 2015 (my first year) was.
This time I had the opportunity to try again the Nikon F3 Voigtlander 40f2 loaded finally with Portra 400 my favorite color film so far, Ilford Delta 400 my favorite (after I'll try the Tmax 400) and Ilford HP5 400.  I'm honestly loving the F3 except for the weight.  I find it very heavy.  But this is really what I can say a pro feel camera.  
In my bag.
Hansa Bag – Bought for US$6 in a Japan Surplus Shop in Philippines.  Written on the tag is Yen5400.  This is a new old stock.  So far, to my surprise, this has been my favorite and go to bag for most of my trips.  I plan to make my own bag based on this design in the future.  Surprisingly, everything in the picture fits this bag except for the Menu/Table number/Flower :).
Buy Film Not Megapixels Pin – This was given to me by JCH on my second purchase.  It is now permanently attached to my favorite bag.
Pentax LX – I love this camera to be honest.  The simplicity of where the controls are.  In my opinion, the best and most straight forward design I have used so far.  The weight is not so heavy. This was bought in one of my trips to Hongkong.  I bought it in Matsuya.  Usage marks is very palpable but who cares if the camera performs.  Strap is from Taiwan using Italian leather.
Pentax SMC Pentax-A* 1:1.4 85mm – This is one of I think my best priced lens.  Everytime I shoot with this one, it makes me shake my head with the results.  It is crazy sharp and dreamy bokeh at the same time in my opinion. I'm not into pixel peeping by the way so please don't comment on reviews made by pixel peepers.  This was bought impulsively at Matsuya when I got the LX.  The guy knows exactly how to tempt a weakling.  So, I just bought it trusting him.  I never regret buying this one even if I bought it at a high price (how high I don't know the market price until now – I might regret it).  My purpose is to use it anyway and not put it on the shelf.
Pentax SMC Pentax-M 1:3.5 135mm – I didn't understand why I bought a 135mm for K and MD.  Actually, I wanted a 135mm for all my system but now this focal is my least used one.  I guess I'm stopping.  If am not mistaken this was bought in my Guangzhou trip.  I think guangzhou has some gems to be found btw.
Pentax SMC Pentax-A 1:2.8 28mm – This is my favorite focal in addition to the 50mm.  All of my system have both.  I don't know each time I use 28mm even on my zooms for digital it just gives me almost the right distance.  I never use 35mm and actually don't have any lens having 35.
Pentax SMC Pentax-A 1:1.4 50mm – I'm loving this lens.  You see I never lust for a lens that is wider than 1.4.  Using 1.4 sometimes gives me not enough depth of field.  I don't get how people shoot with a 1.2.  I like sometimes having bokeh on my shots but shooting under the sun all the time I will stop down to 5.6 at least.  At night, it will be with a flash for sure.  Using a flash will be at f5.6 and f8.  Buying a very expensive lens with a wide aperture is something that I still don't understand.  Since March will be my 1st year anniversary in taking pictures, I will surely attempt using filters to be able to shoot wide open under the sun.
Nikon F3/T – This is my 2nd purchase from Bellamy after the Olympus 4Ti.  I brought this along to test as stated above with my favourite films.  My test film usually is the Agfa Vista 400, Kodak Color Plus 200, Kodak Ultramax 400 and any expired film (if the camera is a junker).  I'm loving the experience I am having and the results from the Agfa Vista 400 was great.  The meter I think is the most accurate I have tried of course still waiting for the next 3 films I shoot on this trip.  I will buy type p focusing screen to have a diagonal split for easier focus.  The one I have doesn't have a split focusing screen.  With this I'm learning to be more specific on the purchases I will have with Mr Hunter :).  I haven't learned with my first purchase where I wanted a black Olympus 4Ti but got a titanium coloured one (I never regretted this because I liked the condition anyway).  Brown strap from the leather casing of RX100.
Voigtlander Ultron 40F2 SL – This is my first lens from Bellamy and the condition is like new.  This purchase with the F3 made me want to buy so many cameras from Bellamy and as I have told him so many times – I hate him for being so accessible and convenient.  I just want to buy everything that I fancy from him.  I'm starting to feel this 40mm focal length.  The macro is still something I'm trying to get used to.  It maybe the prism but I can't focus properly. 
Sony RX100 M3 with extra battery – The blue flowery strap  connected was bought in Taiwan (not so clear on the picture) as well as the leather case.  This is my wife's camera.  I'm always so impressed with that quality of this point and shoot.  It is so light and so nice to bring along.  The worst thing about Sony is the battery life.  This also goes with the RX100M3.  I just can't bring the Sony a7II the 16-35mm (I really love this lens) as I'm almost always using film.  I still find it so heavy considering it is a mirrorless.  I don't understand amateurs carrying huge DLSR.  One friend told me that a great photographer told him that all "old" photographers use and buy point and shoots when they get old.  I realise that this is true so I prefer small and light cameras so when I get old I can still use my collection. 
Caselogic pouch – This is where I put the flash, voigtlander macro and extra batteries.  This was a pouch from my sister Marie who places her Pentax point and shoot water resistant which broke.  This gets me thinking of Nikonos as an interest next purchase.  This is due to the fact that I can't bring the F3 get wet during this trip.
Olympus Flash – This flash which I got as an add-on from an OM2000.  This is my favourite flash.  It is so compact and basically can be used to any camera that I have.
Zeiss Cleaning Fluid, Matin Brush, Generic Blower, Cleaning Cloth and pouch – I can't seem to leave a cleaning kit even if I don't clean as often as I should.
Free Matsuya lens pouch – This is a very useful pouch I got from Matsuya when buying the LX and 85mm lens.  Bellamy should make and sell these things.  It will help minimise usage marks for the lens or gear we have.  Although, Japan might not be a affordable choice to make these things.
JCH half case black – Not so clear because I placed the films on top.  Great case and keeps you organise.  Usually, I use the black for un-used and white (meaning exposed) for used.  This is a short trip so I didn't brought too much film.  Red will be for urgent for purpose of FIFO once I get back home.
Ilford Delta 400, Ilford HP5, Portra 400 and Portra 800 – I have not used the 800 but I hope to use it one of this day to test night photography.  I love ISO 400 films and will use them most of the time.  I try not to push film (I forgot to use the right term since I don't do my developing).  Best results I think will always be the suggested ISO.  I've shot quite a number of brands on my first 9 months – 65th 35mm roll and 7th 120mm roll.  I will simplify soon and focus on either a Tmax 400 or Delta 400 for B&W while Portra 400 for colour.
Leica Cable Release 50 – Usually in the cleaning kit pouch but never been used.  
Paradise Beach Samal Island Menu, Gumamela Flower on Vase and Table 99 number – Obviously not in my bag but part of the table.
This was taken on our table on the beach.  The orange is the border color of the table and the left part is the sand at the bottom.  This is using Iphone 6 as the camera which stays on my pocket and not my bag.
I think every camera and gear we have has a story behind.  I'm loving the story I'm able to create using the gear and the story behind buying a gear. 
Looking for more bag configuration in 2016.  I have 2 more great cameras from Bellamy coming when I get back to Manila – Mamiya 6MF with 50 and 75mm and Nikon S3 with 50F1.4!!!  I'm hope I will find time to use both soon.  I'm sure already of their condition because he said the words "Looks great" for the Mamiya while "stunning" for the Nikon S3.  I'm in sales and usually I lower expectation and I think Bellamy using those words will really mean something.  As of press time :), I have unboxed both Mamiya 6MF and Nikon S3.  I can't believe how lucky I am to experience having these cameras.  I hope to load film and shoot with them soon.
My simple/newbie Flickr page.
https://www.flickr.com/gp/gavingo/2X56x0
I got a lot of stories that I wanted to share on my experience.  I hope that somebody will benefit with it and spend less time and make less mistakes as I did on their first year back doing photography.
Thanks.
Thanks for coming back to us again, Gavin. Very interesting to see how your bag has developed.
Check out the links and make sure you come and comment.
Keep them coming folks, we need more submissions, so get your bag on Japancamerahunter.com
Send me a high resolution image of the bag. Optimum size is 1500 across. Please ensure there is a bag in the shot, unless you don't use one. The more you can write about yourself the better, make it appealing and tell us a story. Snapshots of your gear with a camera phone and no words will not be featured.
Oh and don't forget your contact details (twitter, flickr, tumbler et al). Send the bag shots here. Please understand that there is a long wait now as there is a backlog of submissions. Not all make the cut, so make sure yours is funny/interesting/quirky. And please make sure the shot is of good quality, as the ones that are not do not go up.
Cheers
Japancamerahunter